Established 1971
Los Angeles, CA 91394
1-818-366-9400

All of our jukeboxes have been professionally reconditioned
and come with a full one year parts warranty,
excluding transportation.

We ship worldwide.


1954 Seeburg
45 - RPM Jukebox
Model "R"
100 Selections
SOLD!
"Lighting up" in Chatsworth, CA.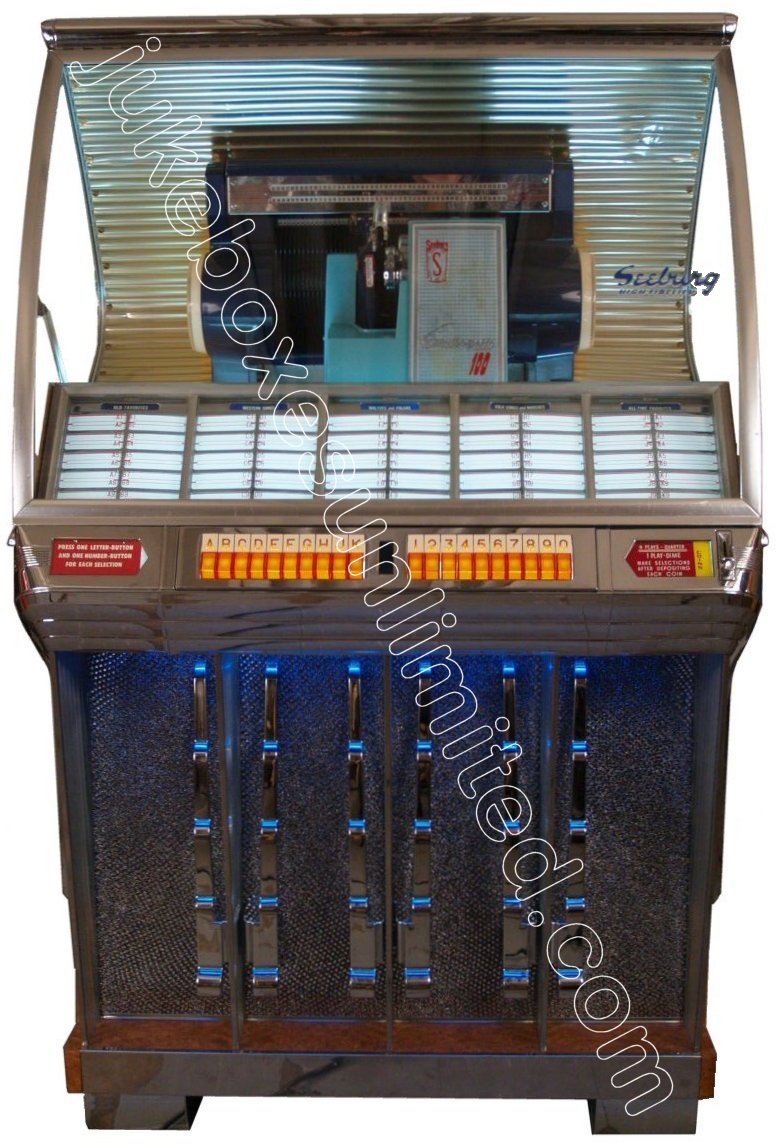 Most everybody likes the "R". It has classy period styling and 5 speakers. Besides an improved Hi-Fi amp the "R" went to a permanent magnetic speaker system using various sizes. Previous Seeburgs used a dynamic 15-inch speaker. Thus the "R" was better capable of reproducing the "highs".
Some production units had UTAH and others JENSON brand speakers. Jenson was a very popular consumer brand at the time. The Pickering (red head) cartridge introduced the year before on the "G" model was retained, making this one very modern HI FI juke.
Lots were sold and even today the "R" registers as one of the more desirable of the '50s jukes. Like many jukes of the '50s, the coloring on the "R" cabinet was bland. In fact many manufacturers of the day used a type of Polaroid photograph decal as the final finish. That way all cabinets of a specific model were identical.
This particular unit had one original nice side and one that had too many scratches in the decal. Therefore, we opted to take it down to the original veneer and stain it. It came out dang nice so we clear coated it after that.
As for the burl wood effect that originally came as part of the decal set covering a portion of each side as well in the front below the grill we applied, with heat, a commercial grade vinyl designed to last many years, even outdoors. It won't shrink like contact paper that some folks apply.
As for where this specific juke came from, let's just call it an orphan. It and a Seeburg "JL" were discovered huddled together in a corner of the shop a few months ago. No one seems to know from whence they appeared or if they came in at the same time. This jukebox is looking for the attention your family can give it.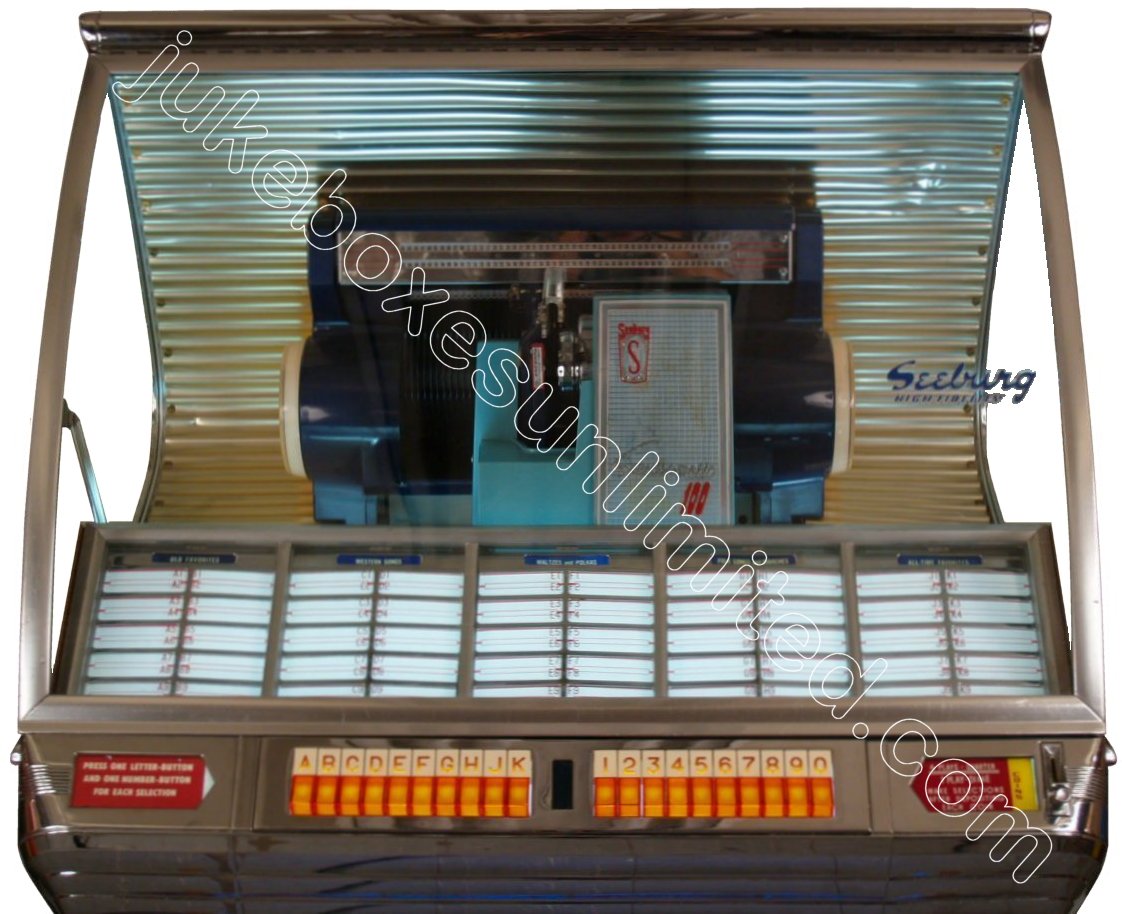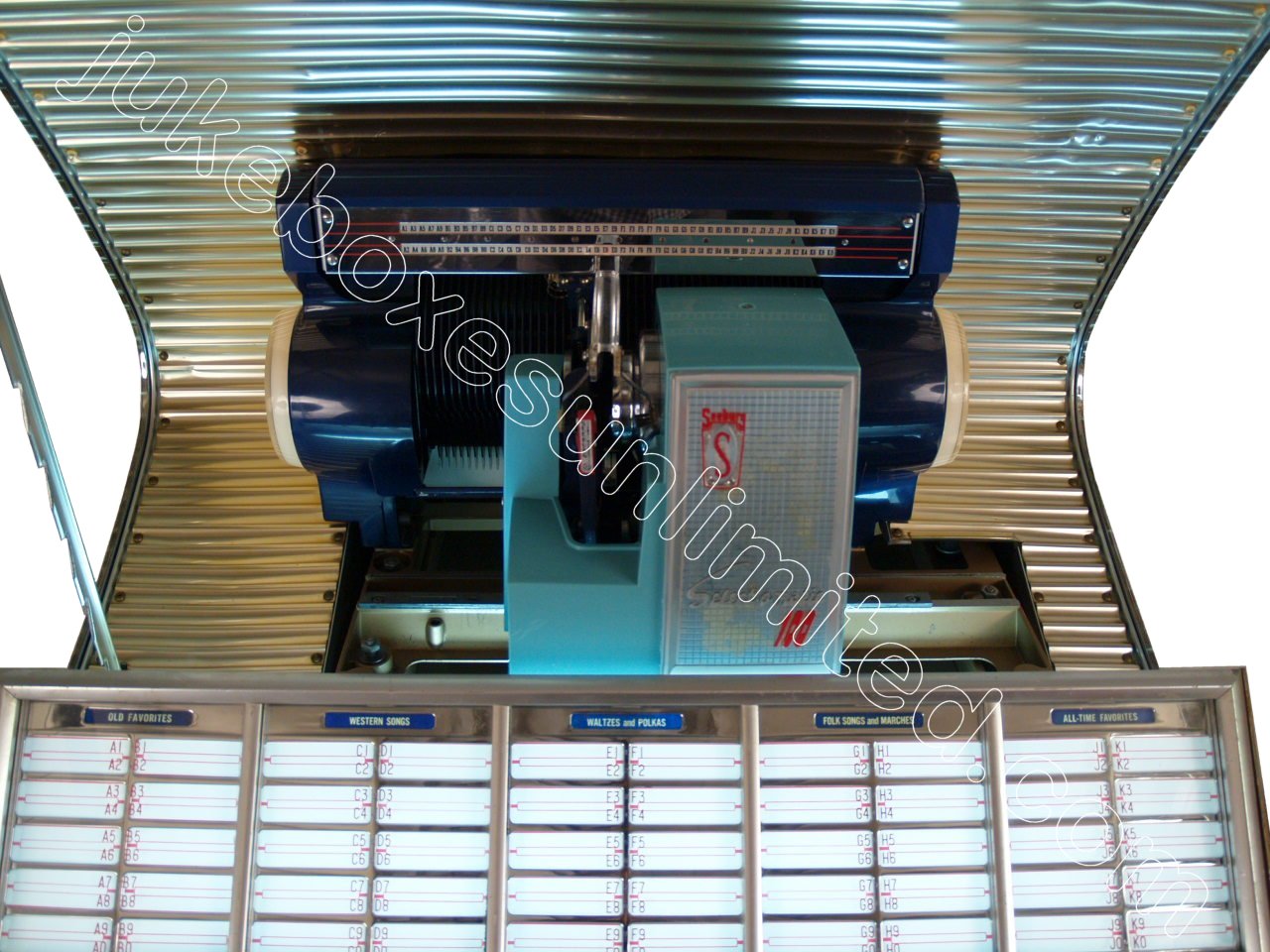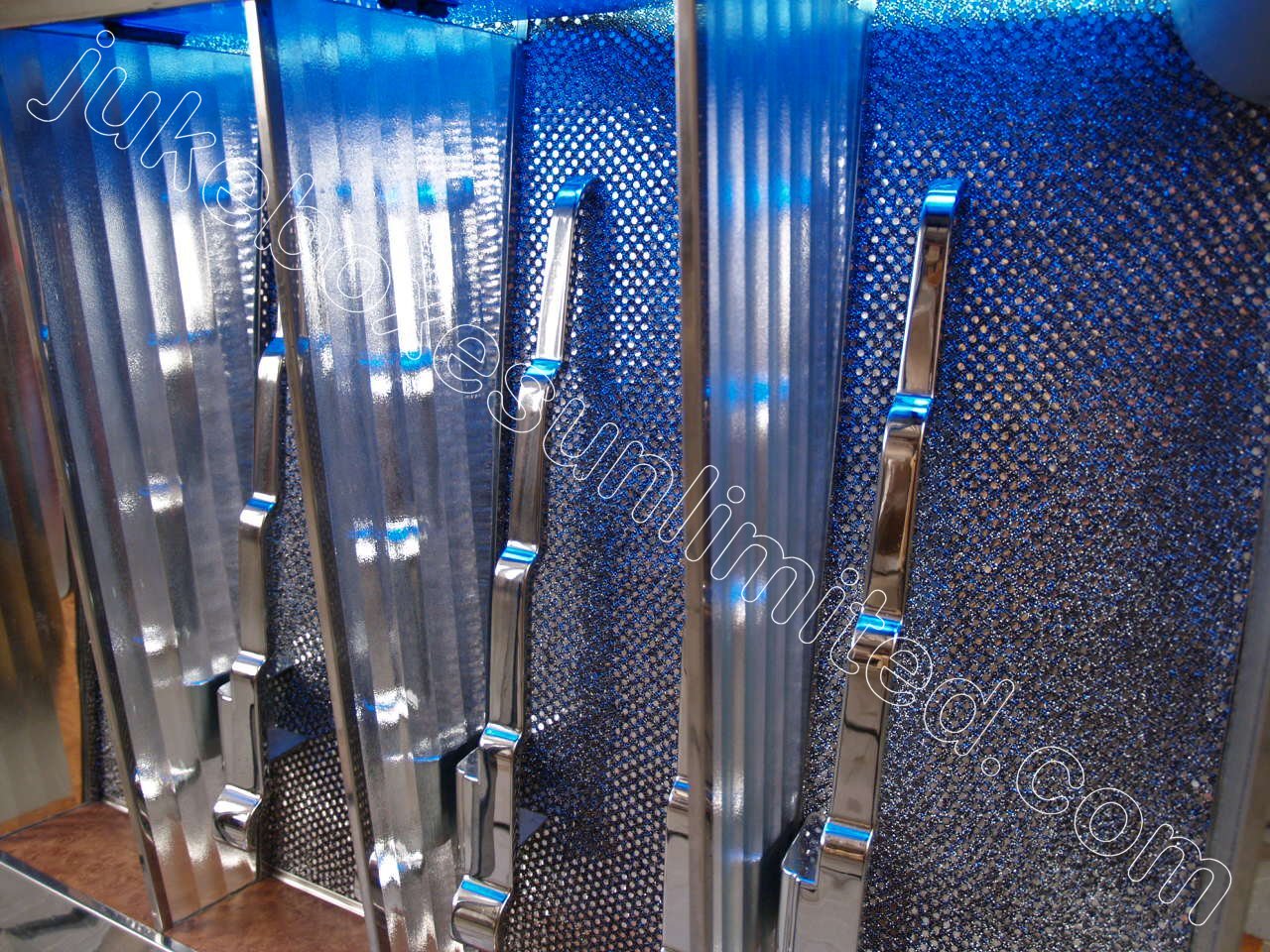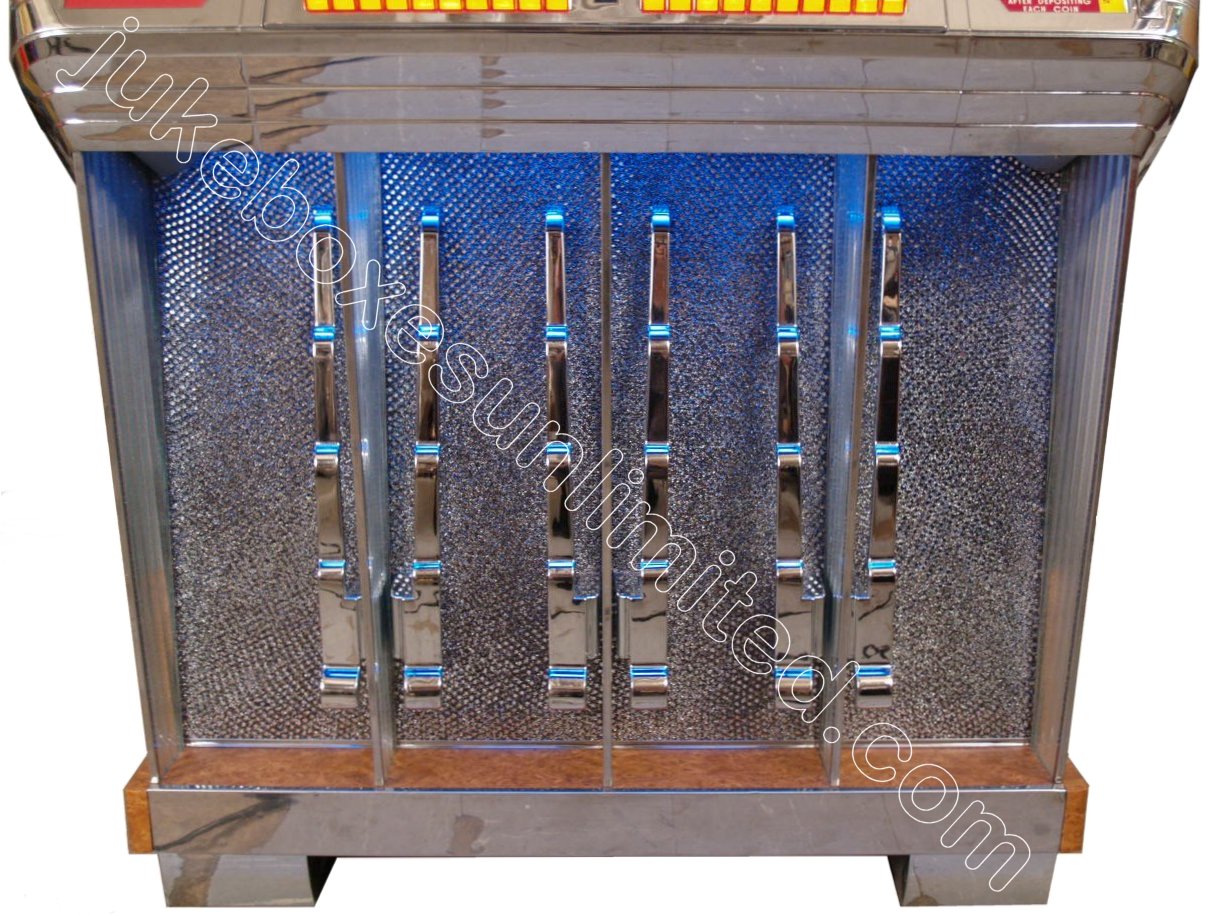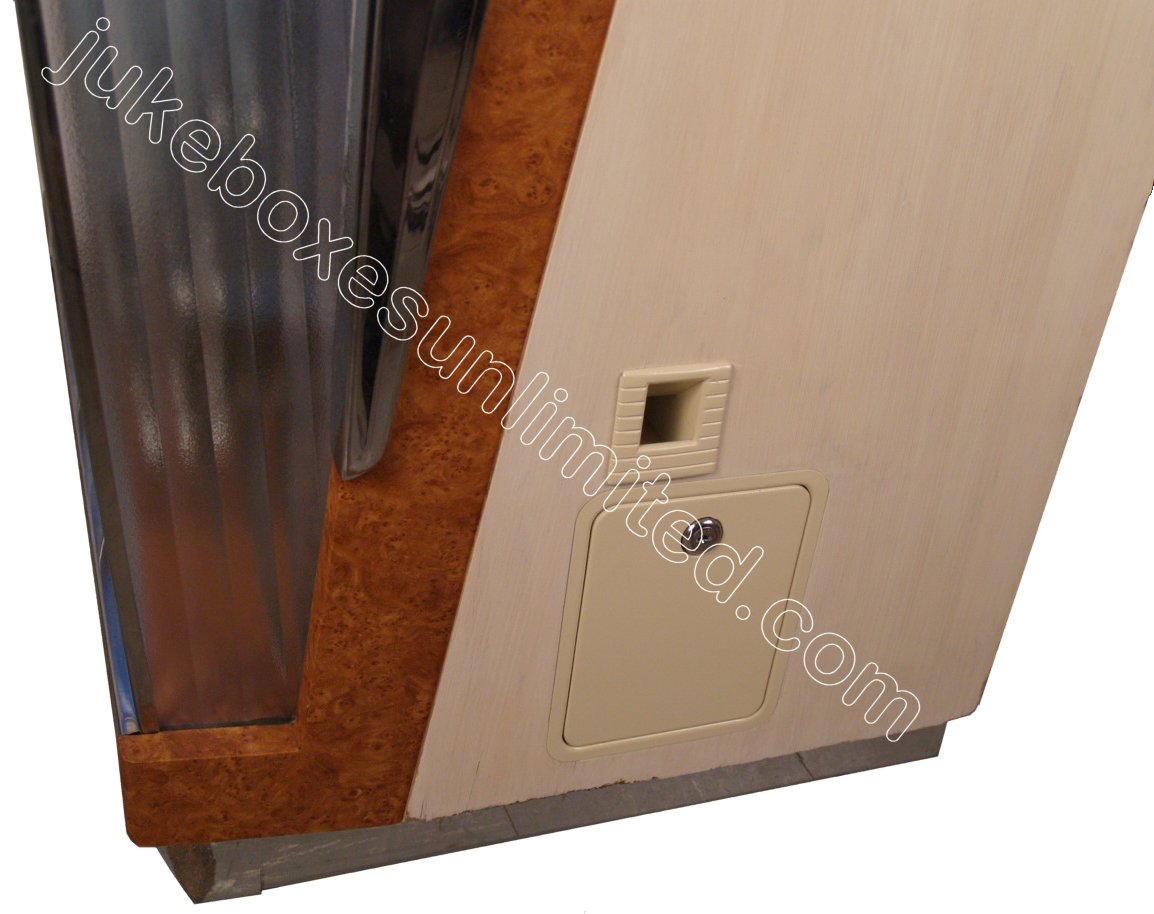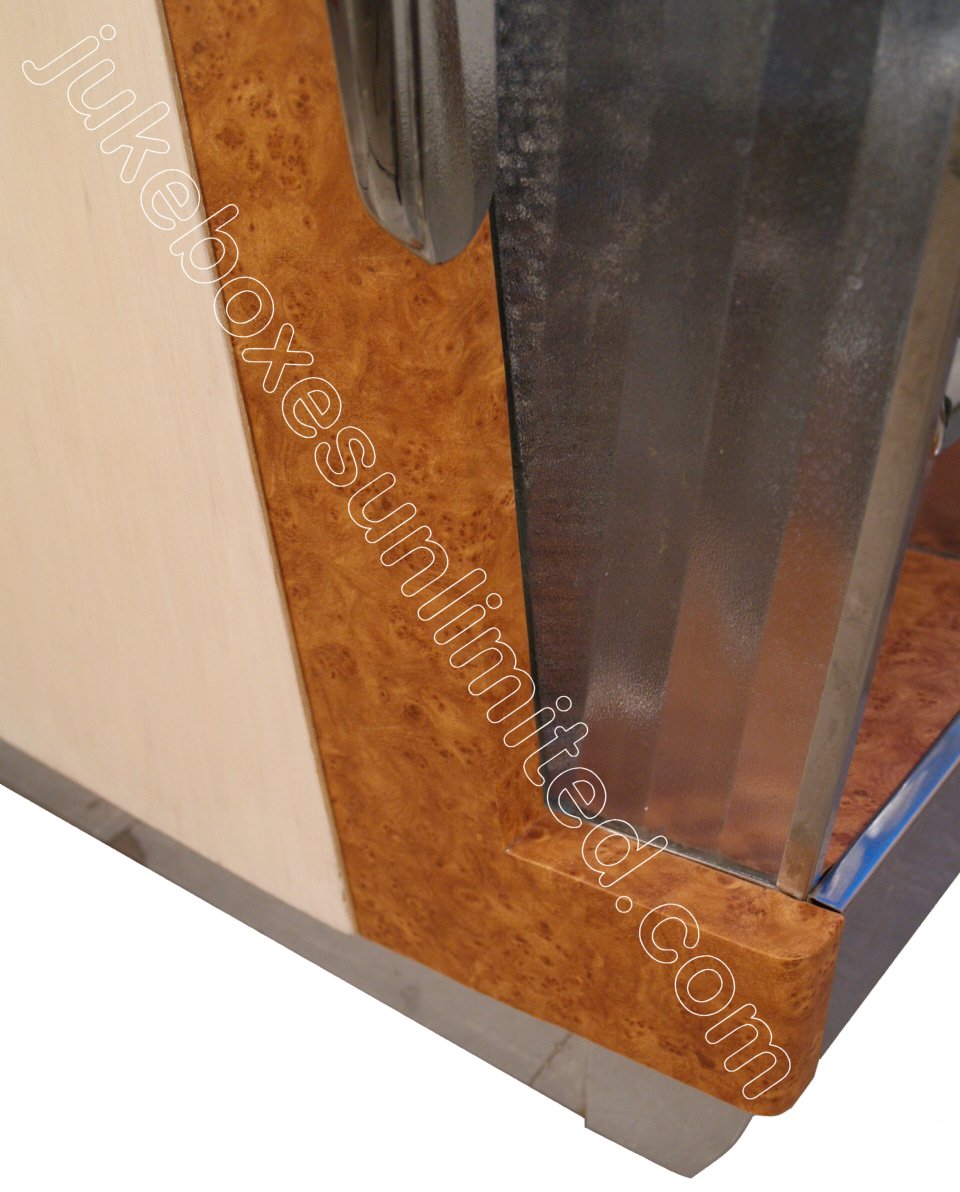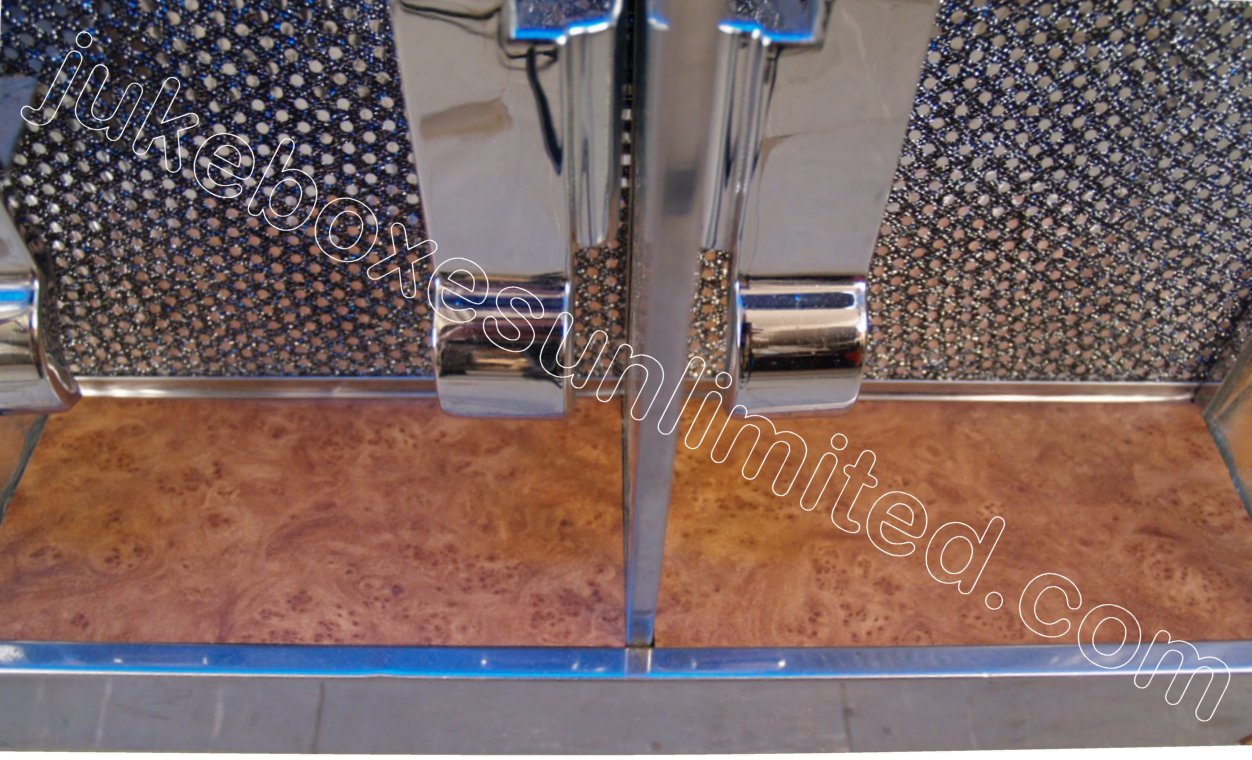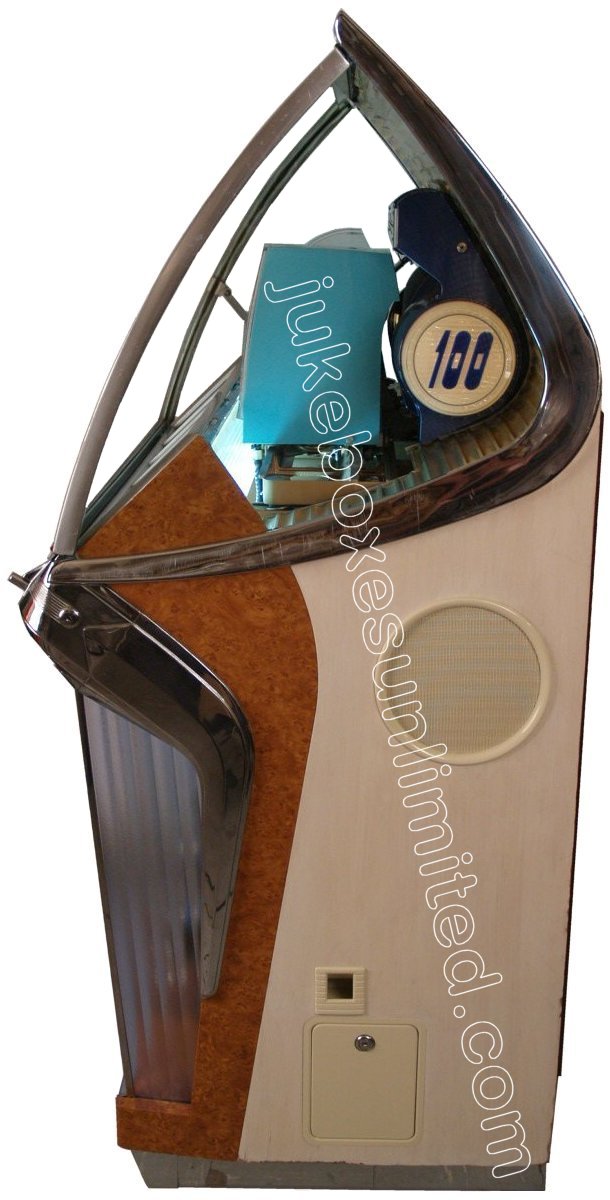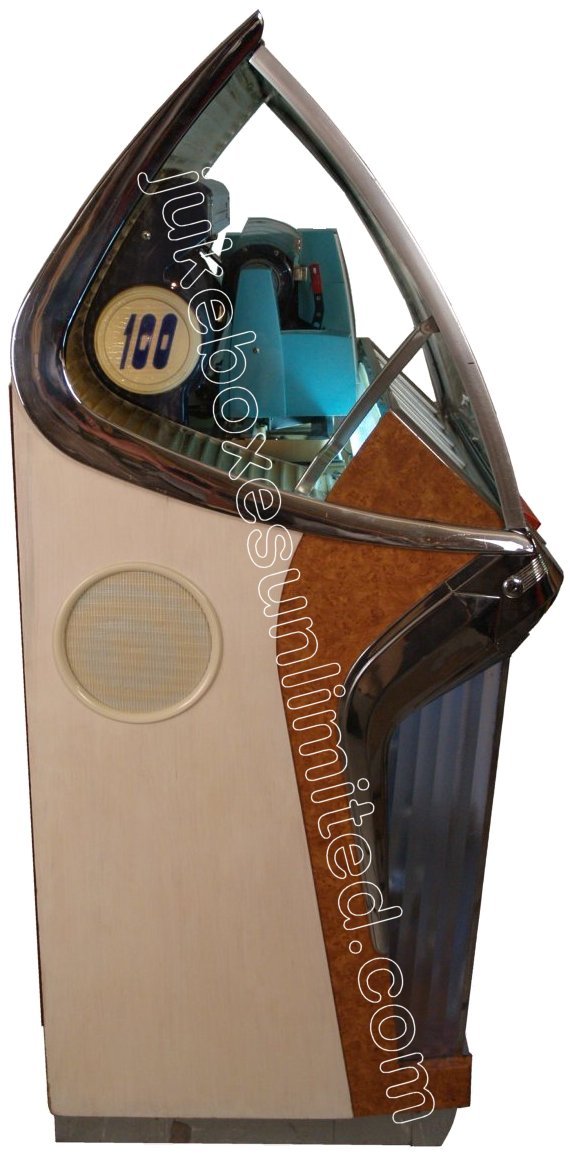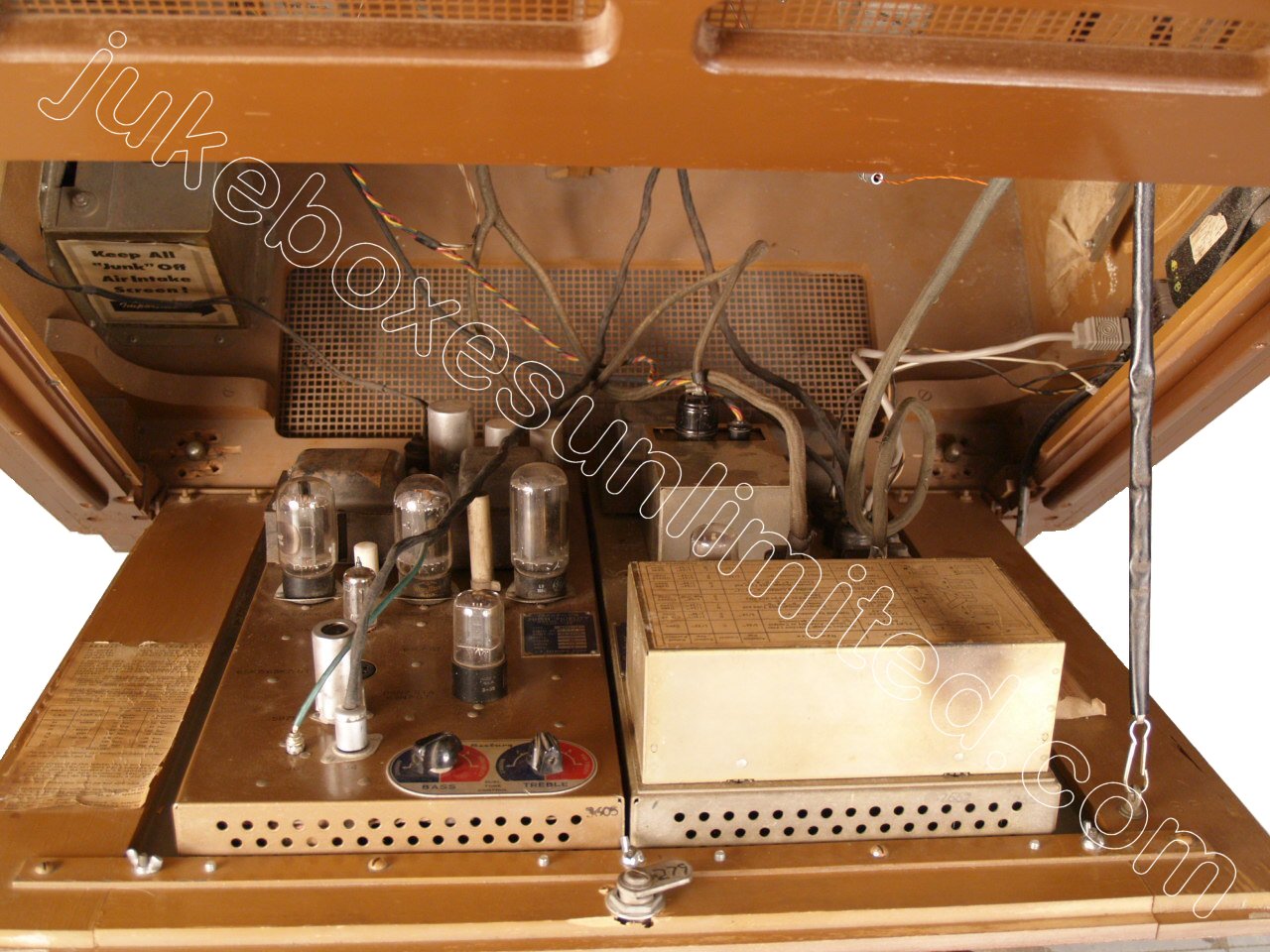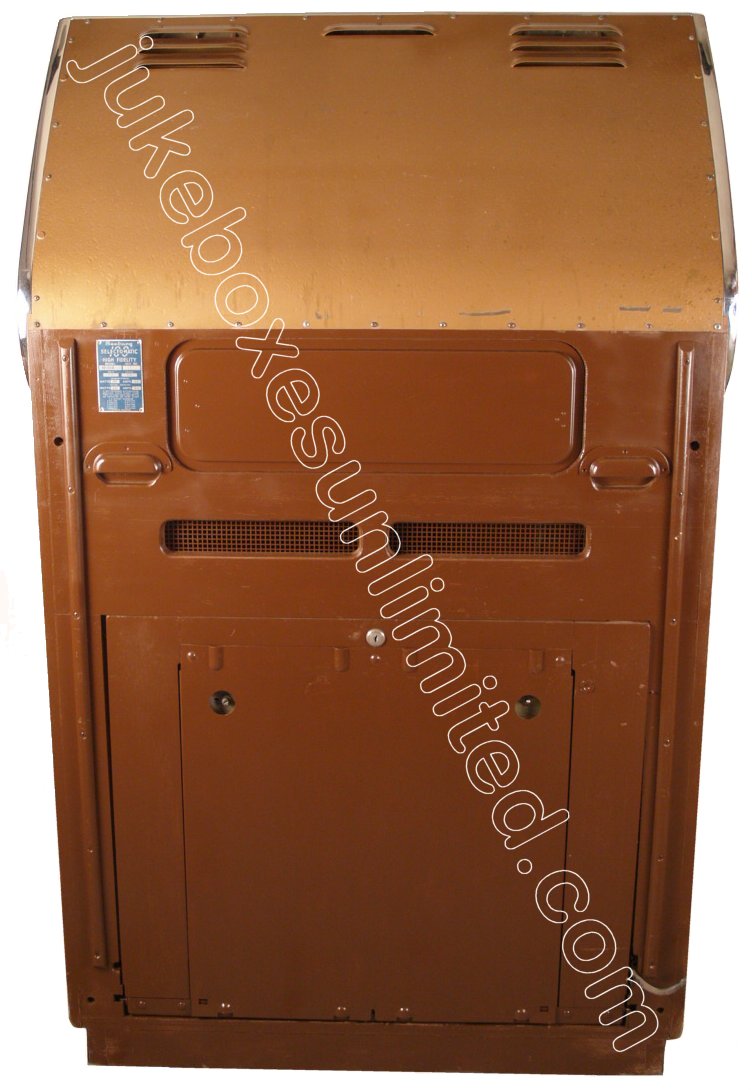 We ship worldwide and to insure proper care we crate the jukeboxes ourselves. Call us with your shipping address and we'll get you a competitive shipping/insurance quote (prices vary according to value and destination), unless you'd like to pick it up or have us deliver it in the Southern California area.
Our experience in servicing jukeboxes bought elsewhere through the Internet is that many sustain some kind of damage in transport. When you buy a jukebox from us we make sure the components inside are properly secured. In some cases we can send you detailed photos and instructions on how to unpack the unit and get it up and running.

"We only sell quality reconditioned jukeboxes that we'll be happy to service in the future.
This we've done since 1971."



If you're interested in this or any of our other jukeboxes call us at:
1-818-366-9400, 10AM-6PM P.S.T. Mon.-Sat. or e-mail us: Info@JukeboxesUnlimited.com.

For jukebox rental information in the Los Angeles area visit Jukeboxes For Rent ®.