Jukebox owners thank their lucky stars for Don Muller, the sole local practitioner of the nearly lost art of jukebox repair. He is warm, gracious and all smiles, reminding one of Dr. Teeth, the rambunctious leader of the Muppet band the Electric Mayhem. And he has one of the largest vinyl-record collections in the country.
For the past 33 years, Muller has been on call, servicing, repairing and renting jukes personally through his San Fernando Valley–based company, Jukeboxes Unlimited ® (in Arizona until 1977). Not only is he the man Steven Spielberg, Hugh Hefner and Island/Def Jam Records rely on to keep their machines in working order, he's pretty much the only man in town to call when your jukebox is on the fritz. Why? In 1978, there were 18 stores selling jukeboxes in the L.A. area, and by decade's end, Muller, now 61, had put them all out of business. He's also responsible for getting the first slang word (Jukeboxes) its own heading in the Pacific Bell yellow pages.
Unlike mass manufactured products of today, jukeboxes were built to last. "A '54, '55 Seeburg will run forever, if you keep it lubricated. I just serviced a '51 that this fellow inherited from his folks. He remembers dancing to it with his grandmother in her living room when he was a toddler. It hadn't been serviced in 50 years! Now that's a quality product."
Muller now rents about 250 jukeboxes a year for house parties, office parties, bar mitzvahs and themed events. Customers can choose from, among other models, a flashy, stereo Rockola, an original '55 Happy Days Seeburg or an authentic replica of the colorful 1946 Wurlitzer 1015, known as the "Bubbler." And they can customize the playlist from Muller's collection of 9,000 45s — everything from Al Jolson's "California, Here I Come" to the orchestras of Gene Krupa and Tommy Dorsey, from ELO and Neil Diamond to Pink and Incubus.
As for his massive vinyl library, Muller keeps it meticulously housed in a specially built, 1,600-square-foot building behind his house. With over 400,000 45's, 10,000 LP's and "somewhere between five and 10,000" 78's, he treats his vinyl with as much care as the 11 jukes in his home. "Jukeboxes are like The Benny Hill Show," he says. "There's nothing bad about them." —Skylaire Alfvegren
Don Muller (818) 366-9400, www.jukeboxesunlimited.com , www.jukeboxesforrent.com and www.recordsleeves.com .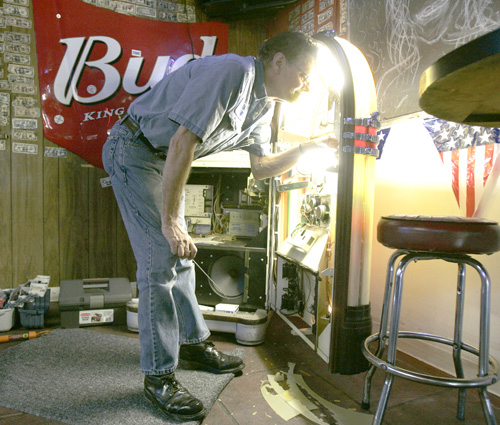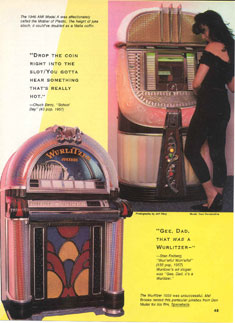 SH-BOOM Salutes the
jukebox on its 100th
Anniversary!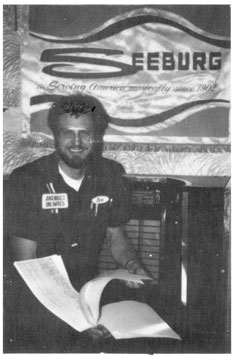 Scavenging Thru the
Treasury of Seeburg's
Glorious Juke History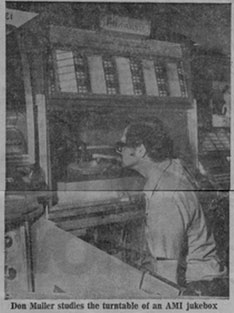 Jukeboxes renovated
by ex-disc jockey