Established 1971
Los Angeles, CA 91394
1-818-366-9400

All of our jukeboxes have been professionally reconditioned
and come with a full one year parts warranty,
excluding transportation.

We ship worldwide.


1996 Wurlitzer
CD Jukebox
Model "OMT" (One More Time)
Over 3,000 Selections*
SOLD!
Now calls Woodland Hills, CA. home.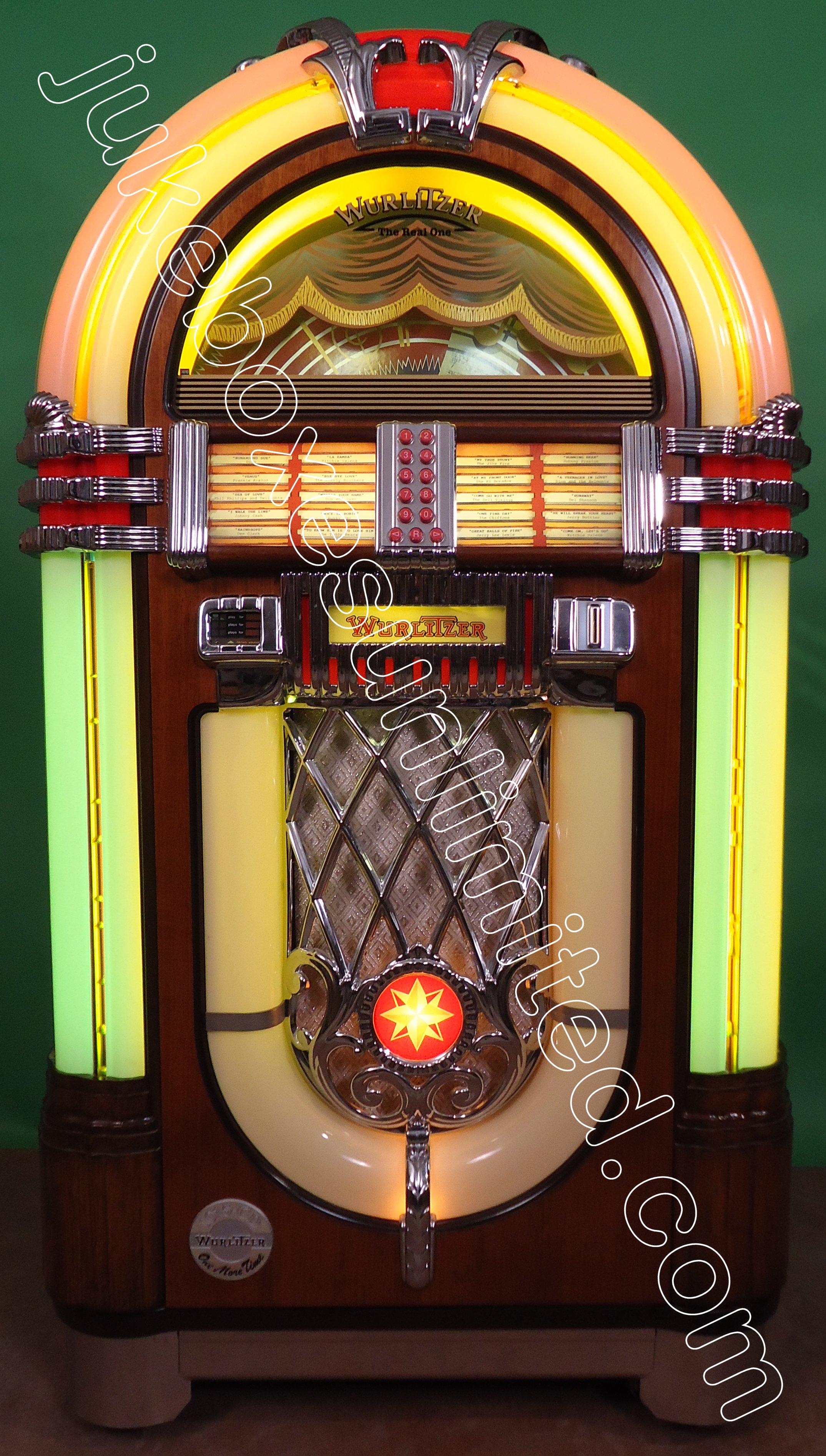 OMT is short for "One More Time" and refers to the Wurlitzer Model 1015 "Bubbler", originally made by Wurlitzer in 1946. Wurlitzer might end up being the last one making CD jukes before long. These are great machines and if you can only have one juke to your name, this should be the one. Classic looks, great sound and exceptional dependability. Not to mention a few thousand tunes.
This particular machine was purchased from a lady in Encino, CA who had bought it brand new in 1996. Her husband passed away so she was downsizing and moving to a smaller place.
We've dusted if off and blown it out. We've replaced rubber components and installed a newer rebuilt CD player. Total play meter shows 2122. Although this beautiful jukebox was made in Oct or 1996, it could easily pass as brand new in the condition it's in. It's perfect.
That said, in our infinite attempt to improve on every jukebox we encounter, we made a little 'updating' on this one. We've installed a Bluetooth receiver so you can remotely (30' away) play tunes from your iPod, tablet, phone etc. No need to place your iPod into a dock.
We've also installed a factory Wurlitzer wireless remote control system with which you can make selections, turn volume up and down, mute and cancel your "bubbler baby" from your easy chair.
And if that enough, try this. A while back my long time friend from radio days (1965) Art Laboe (Los Angeles radio D.J., radio station owner and owner of Original Sound Records) asks me if we include CDs in the jukes we sell. I told him we didn't 'cause that would just add to the price of the jukebox and besides everybody would want different tunes.
He says "I bet they'd like some great oldies?" Well, duh! So he tells me to drop by his Sunset offices "whenever" and pick up a few. I get there and he GIVES me cases of his wonderful Oldies But Goodies series of CDs on Original Sound Records. He's a very good friend.
So now 240 fantastic oldies hits are included.

* Selection count varies with number of tracks per cd used in jukebox.

We ship worldwide and to insure proper care we crate the jukeboxes ourselves. Call us with your shipping address and we'll get you a competitive shipping/insurance quote (prices vary according to value and destination), unless you'd like to pick it up or have us deliver it in the Southern California area.
Our experience in servicing jukeboxes bought elsewhere through the Internet is that many sustain some kind of damage in transport. When you buy a jukebox from us we make sure the components inside are properly secured. In some cases we can send you detailed photos and instructions on how to unpack the unit and get it up and running.

"We only sell quality reconditioned jukeboxes that we'll be happy to service in the future.
This we've done since 1971."



If you're interested in any of our other jukeboxes call us at:
1-818-366-9400, 10AM-6PM P.S.T. Mon.-Sat. or e-mail us: Info@JukeboxesUnlimited.com.

For jukebox rental information in the Los Angeles area visit Jukeboxes For Rent ®.