Established 1971
Los Angeles, CA 91394
1-818-366-9400

All of our jukeboxes have been professionally reconditioned
and come with a full one year parts warranty,
excluding transportation.

We ship worldwide.


1946 Wurlitzer
78 - RPM Jukebox
Model "1015"
24 Selections

SOLD!
Showing the folks of Binghamton, New York a "good time".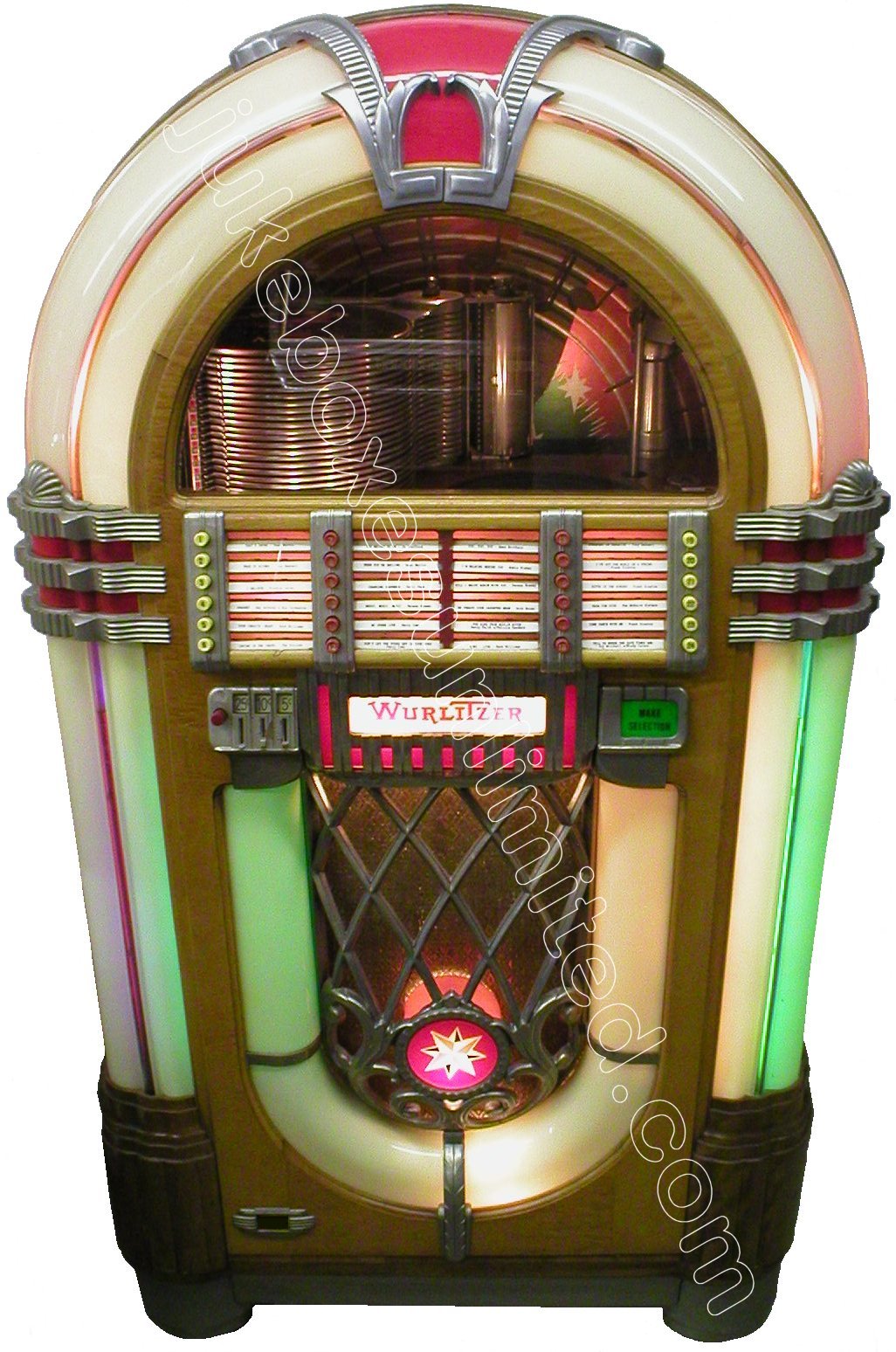 This is one from our "Celebrity Jukes Collection". Not that it was owned by a celebrity, but that it's a celebrity itself, having been recently featured in the television series "Cold Case". They needed a "working" jukebox for an old time drugstore or bar scene.
We acquired this pretty baby about 5 or 6 years ago from a home in Camarillo, CA. It was sitting unused out in the pool room for 30 years. Prior to that it tended bar in Brooklyn, NY.
Being a wonderfully "Original" example of a 62 year old "Bubbler", we purchased it with the intention of keeping it in our company's private collection. But we just can't keep 'em all! If this were an old car, it might be called a "barn find" due to its nearly un-restored condition.
Only a few parts such as ballasts for the fluorescents and the AC cord have been replaced for safety reasons.
Although most folks who restore these machines re-do or replace just about everything, here is a list of some of the items that are absolutely original on this juke:
Complete operating coin system with unaltered coin entry casting.


Working popularity meter.




Working coin counter.




Working play meter with lead "tamper-tag" intact.




Back door mural.




Side mirror tile.




Many cabinet plastics.




Nickel cabinet castings.




Inside / outside paint.




Cabinet veneer.




Metal Identification plate that matches stamp in cabinet wood.




15 - inch speaker. (Although we've installed new rubber mounts).




Speaker grill cloth.




Lollipop tone arm with original finish.




Keyboard buttons.




Johnny one-note tray stack decal.




Numbered tray stack decals.




Gold cabinet foil.




Backdrop curtain.




Oil drip pan.




Factory Wurlitzer front and back door key.




Factory Wurlitzer cashbox key.




Tube chart.




Warranty card.




Stenciling on amplifier, junction box and volume control.




Coke-Bottle tubes in the amplifier.
Aside from being highly original, you can tell this unit has had very little use. For one thing, there is a lack of significant wear on the bottom lip where the front door passes. Due to their weight and lack of decent internal support, these doors normally hang down and scrape the lip severely. This in turn twists the cabinet thus preventing the door to align properly. This one closes and aligns perfectly.
Also the factory paint on the back of the cabinet is still in very nice condition indicating it hasn't been moved very much.
We cleaned and adjusted the mechanism as well as installed taller casters (so it could be maneuvered easily on the set of the TV show). We've also replaced the color wheel motors so they don't wear out on you.
Since this unit isn't all gussied-up with shiny chrome, guests in your home will be inclined to ask if it works. (Keep in mind the metal castings on the 1015 model were not chrome but nickel). Then you tell them to press a few buttons and find out.
What comes out is great sound and true 78 - rpm speed. It's stocked with records too.
So if you're into "ORIGINAL", then this would have been the jukebox for you.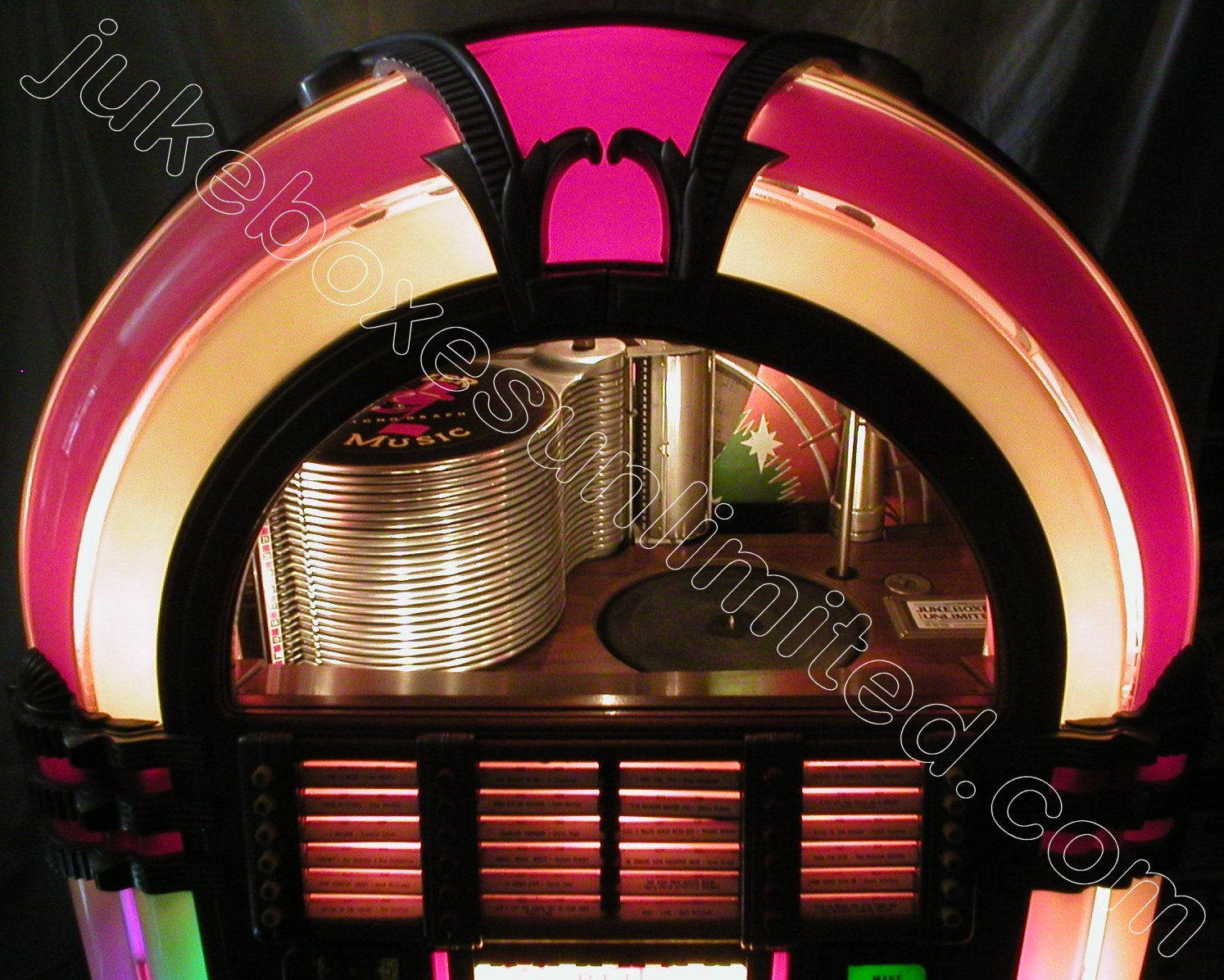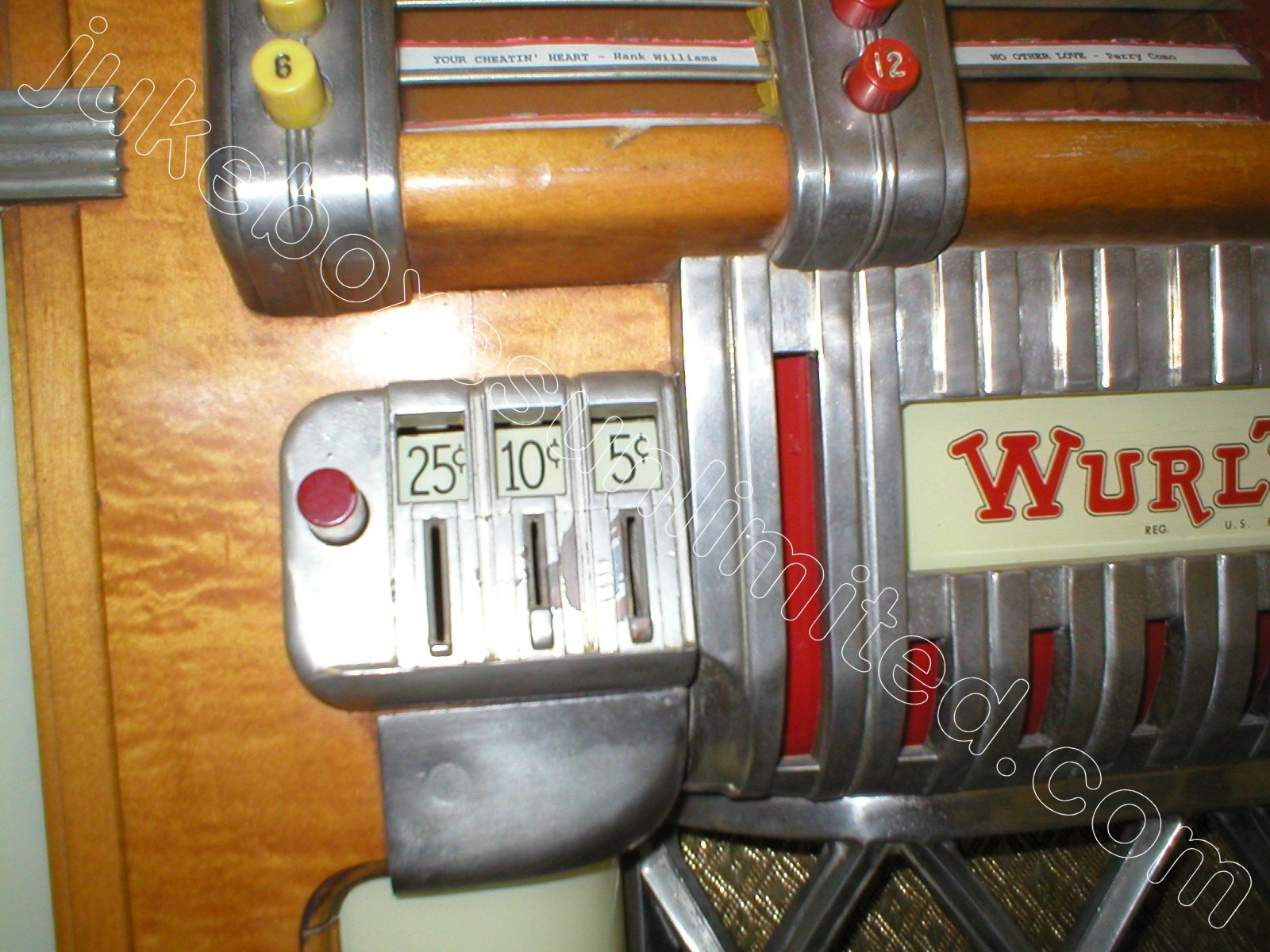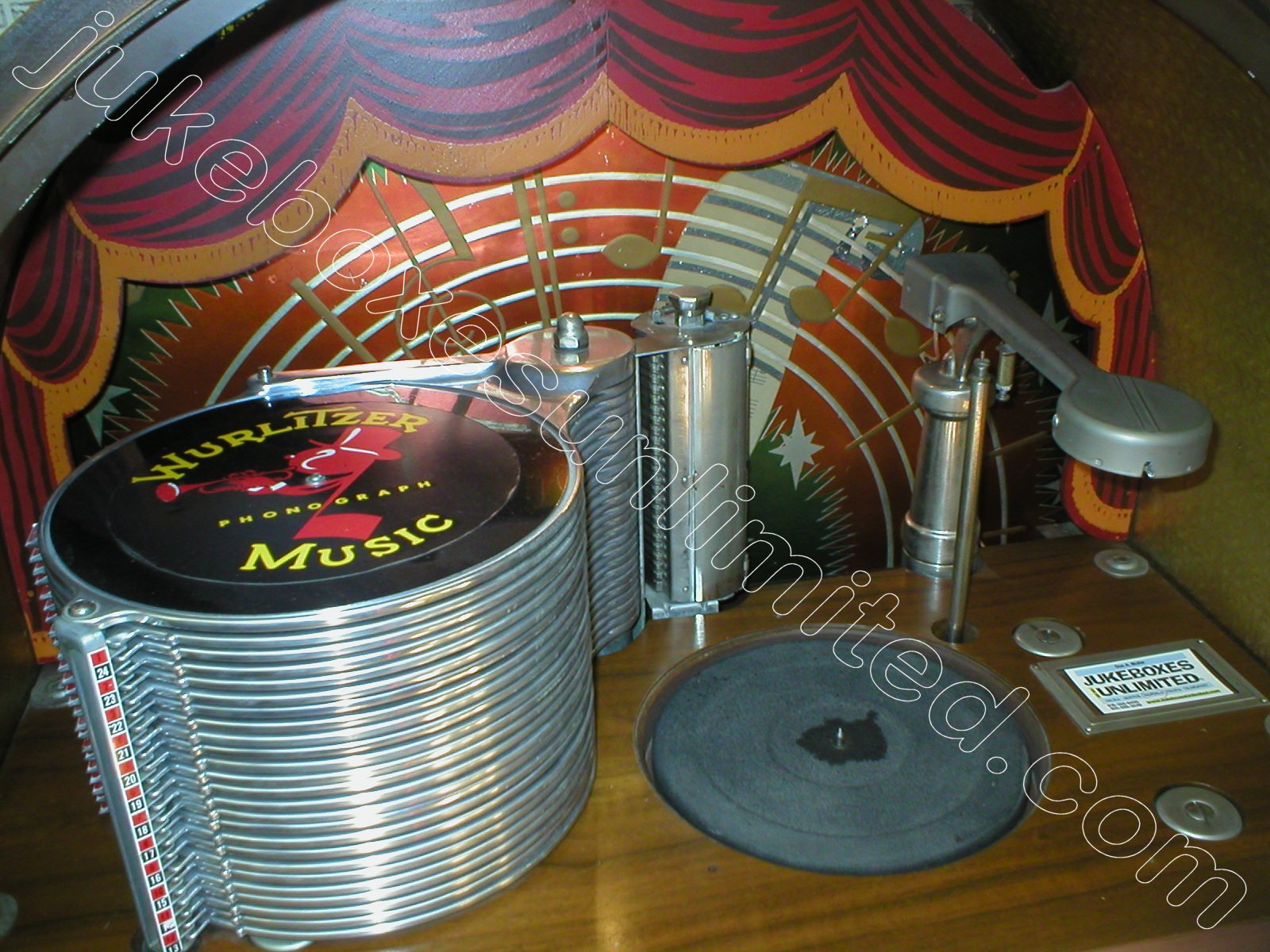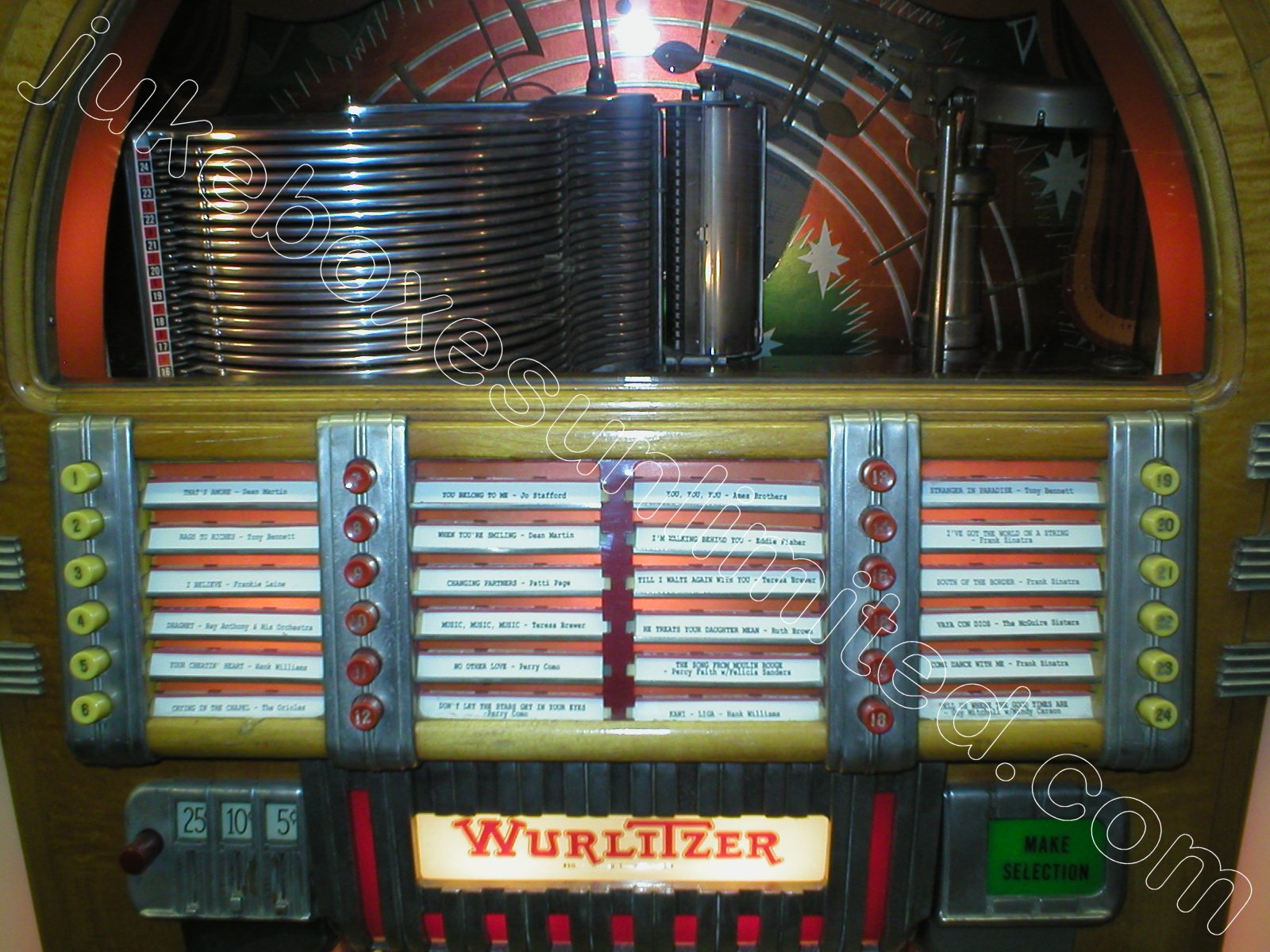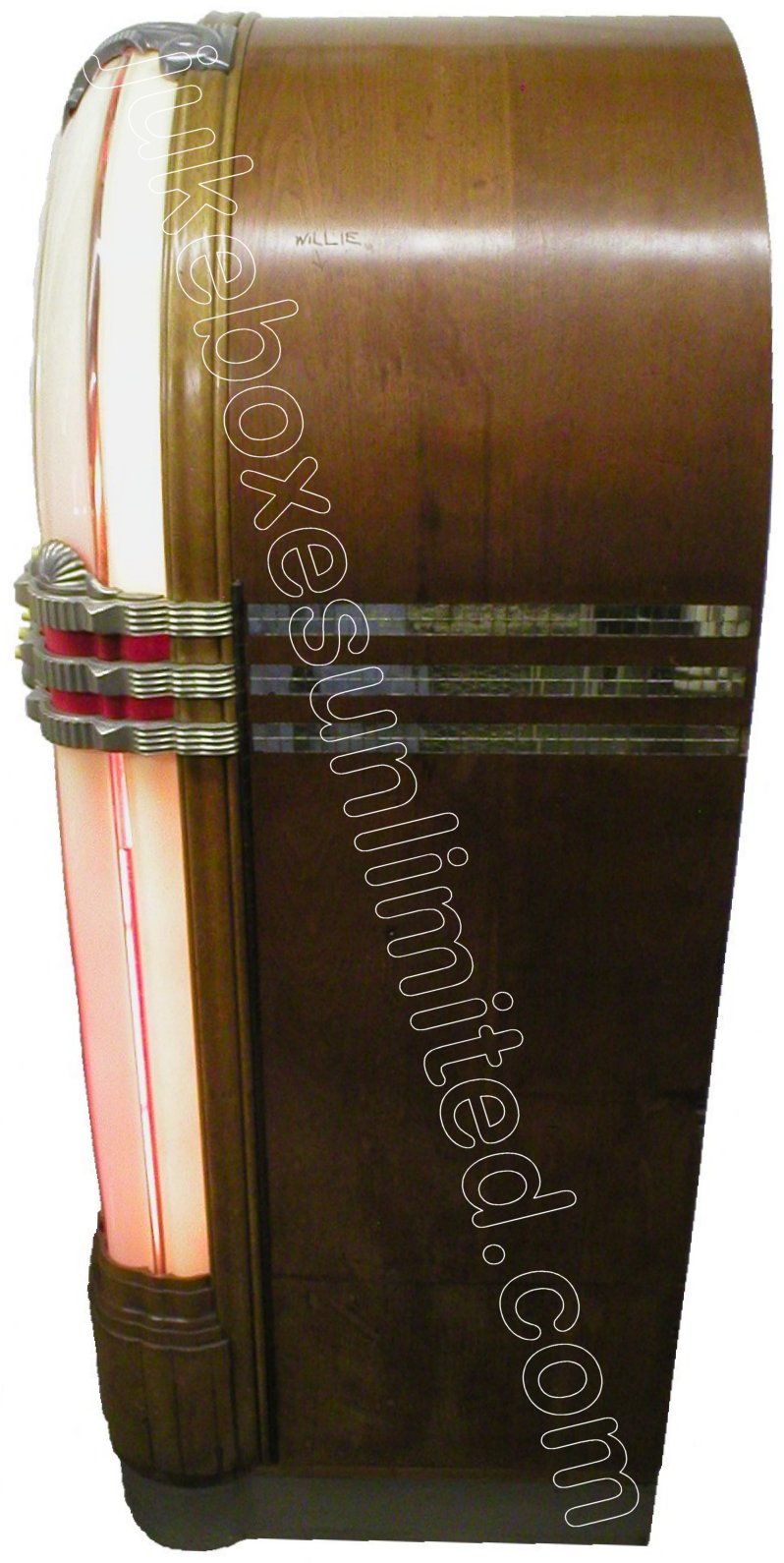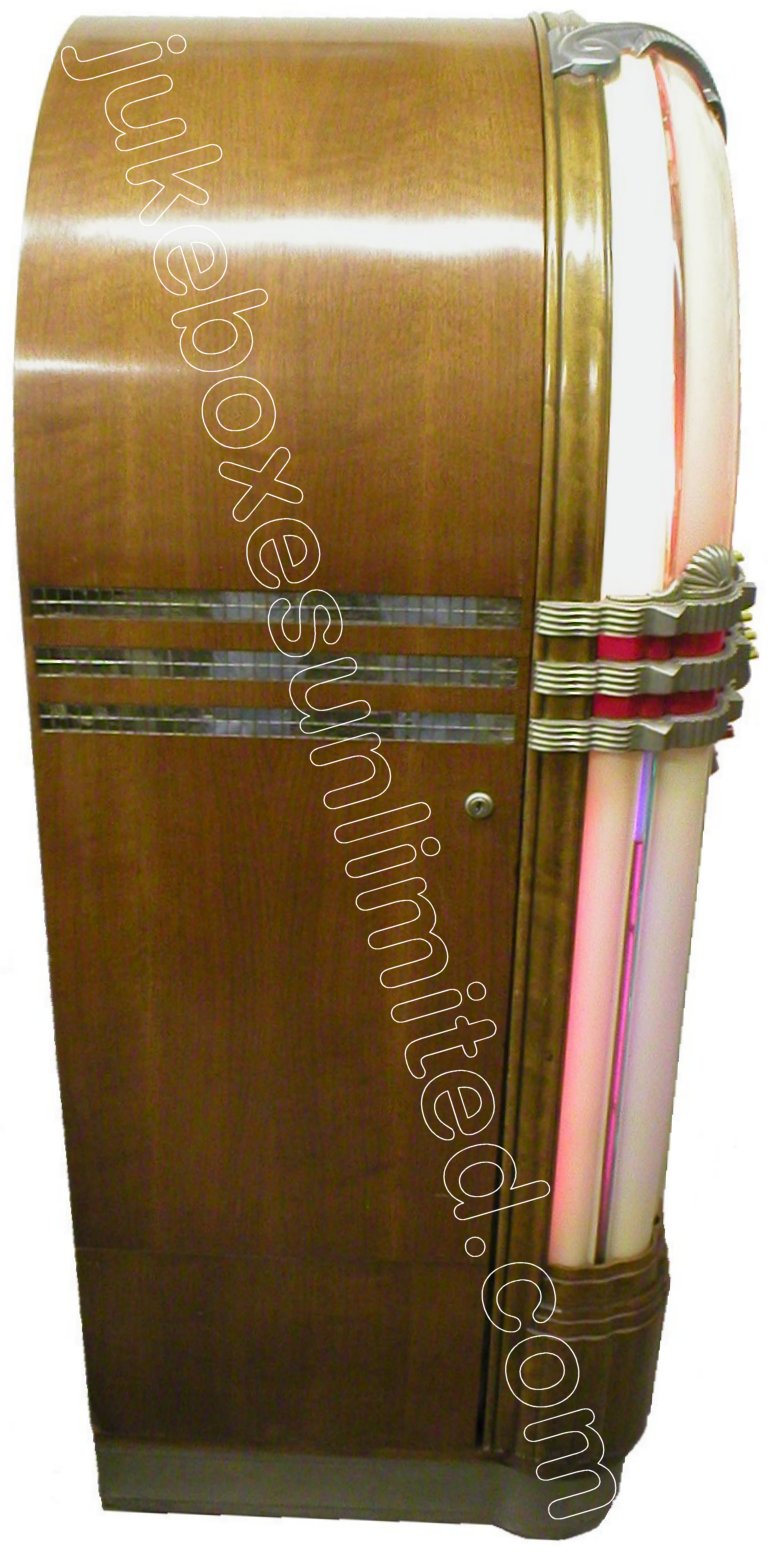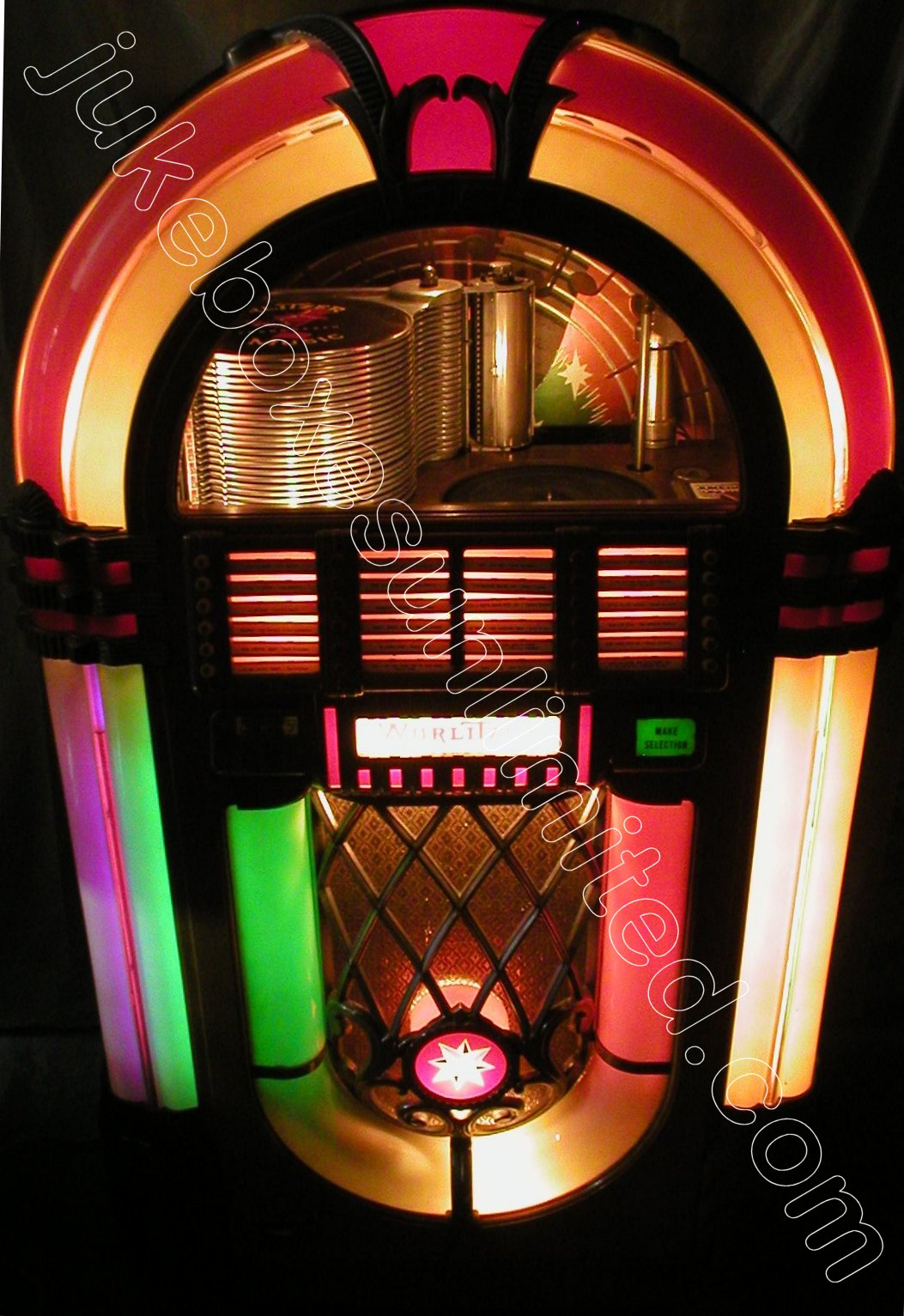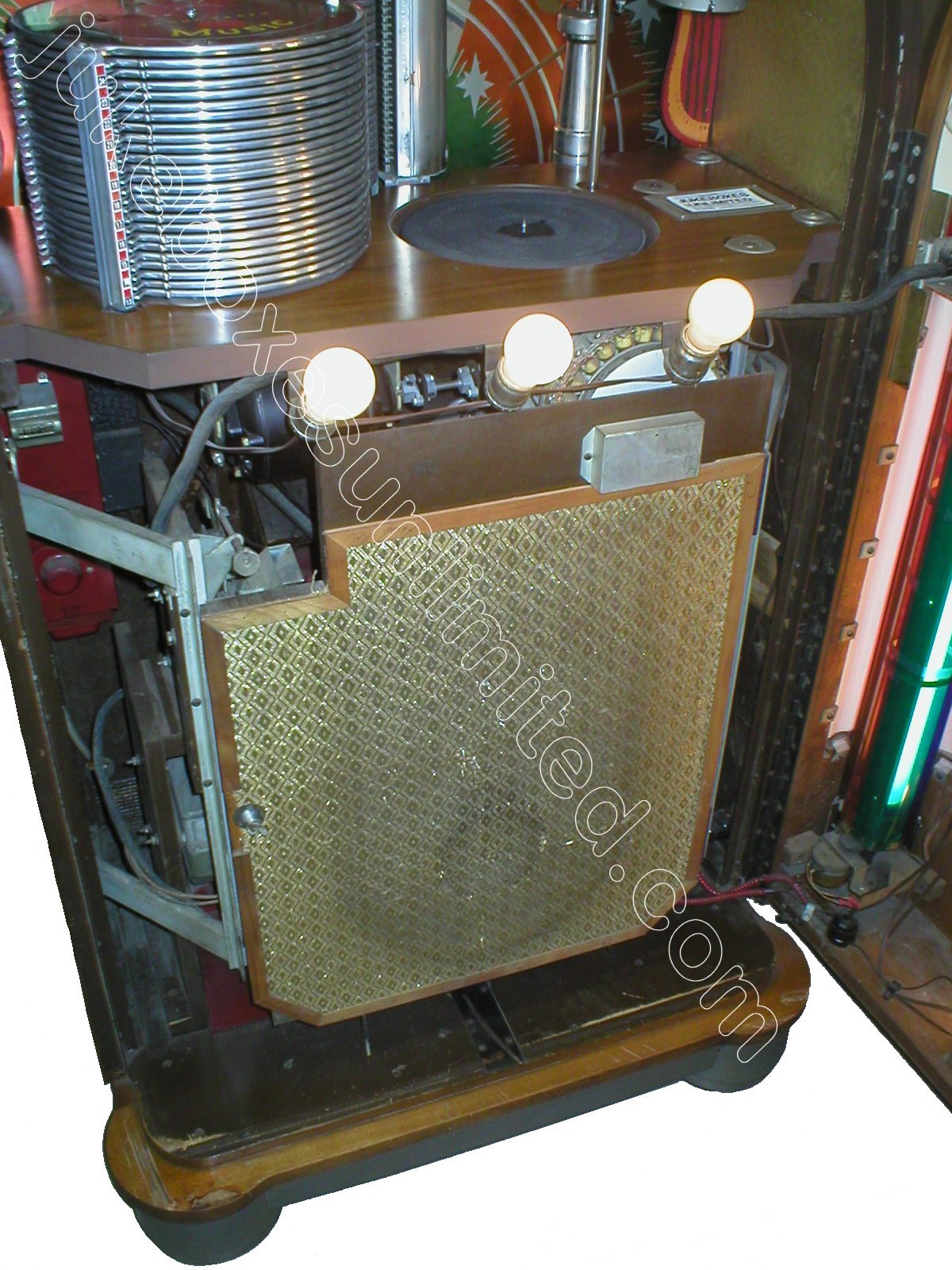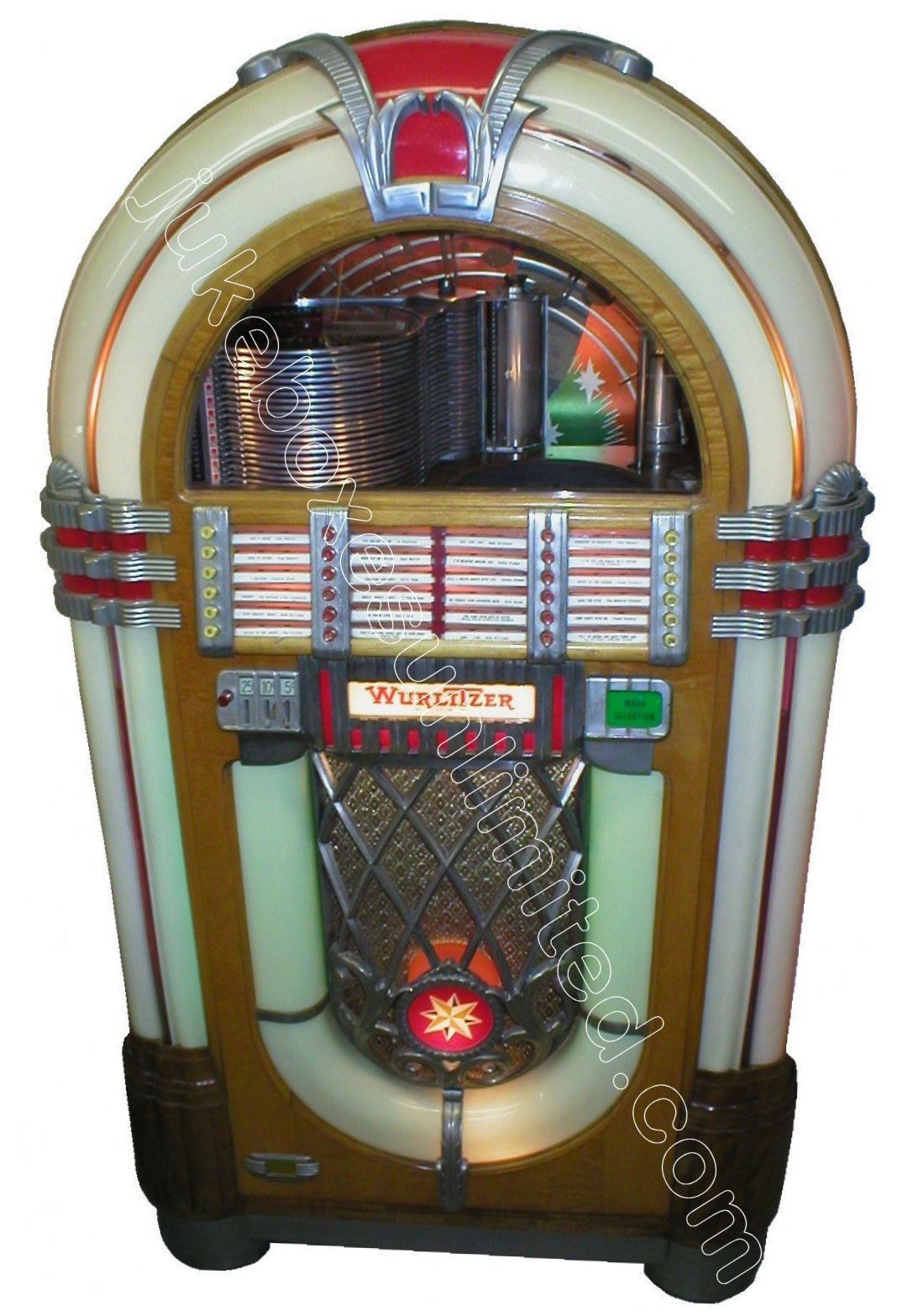 We ship worldwide and to insure proper care we crate the jukeboxes ourselves. Call us with your shipping address and we'll get you a competitive shipping/insurance quote (prices vary according to value and destination), unless you'd like to pick it up or have us deliver it in the Southern California area.
Our experience in servicing jukeboxes bought elsewhere through the Internet is that many sustain some kind of damage in transport. When you buy a jukebox from us we make sure the components inside are properly secured. In some cases we can send you detailed photos and instructions on how to unpack the unit and get it up and running.

"We only sell quality reconditioned jukeboxes that we'll be happy to service in the future.
This we've done since 1971."



If you're interested in any of our other jukeboxes call us at:
1-818-366-9400, 10AM-6PM P.S.T. Mon.-Sat. or e-mail us: Info@JukeboxesUnlimited.com.

For jukebox rental information in the Los Angeles area visit Jukeboxes For Rent ®.