JUKEBOXESUNLIMITED.com
Established 1971
Los Angeles, CA 91394
1-818-366-9400

This jukebox has been professionally rebuilt/restored
and includes a full one year parts warranty.

We ship worldwide.


1955 Seeburg
45 - RPM Jukebox
Model "V-200"
200 Selections
Coming Soon!
Call us today for more details.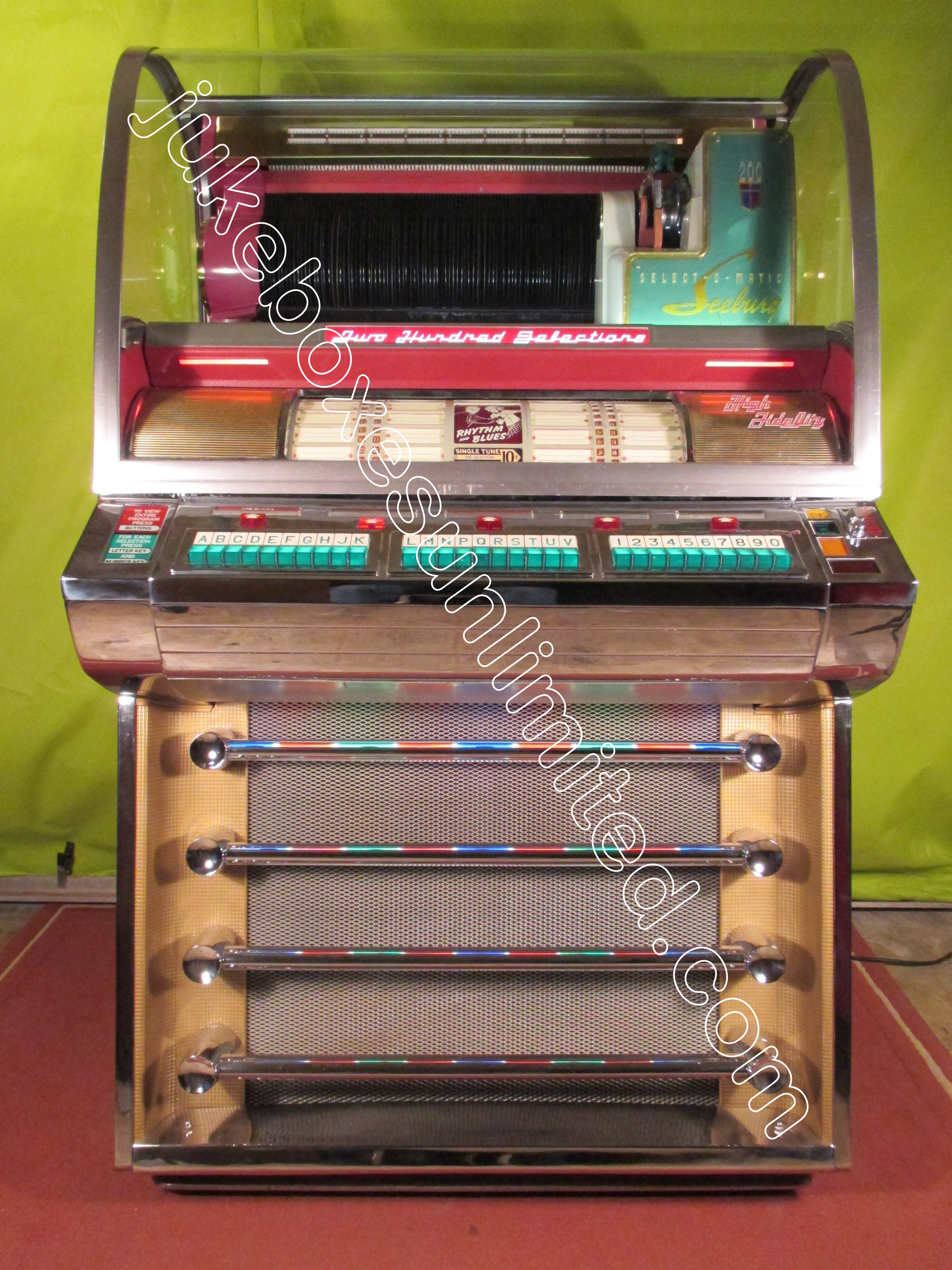 What can I say? This is one of the most desirable of jukes right up there with the AMI Continental and Wurlitzer 1015. But at 416 pounds uncrated and without records the V200 gives you more bang for your buck than the 1015 at 360 lbs. or the AMI at a measly 340 lbs.

This thing has a massive front bumper that could challenge a '55 Roadmaster. You wouldn't want to accidently run into it with your new Kia Soul though.

\

With its huge curved dome and revolving title strip holder drum it really stands out. Yet with twice as many selections as the sister juke of the same year the 100 "J", it is only one inch wider but 2 ¼ inches shorter. It's a miracle!

With the glow of its three fluorescent lights it can really dazzle. But what makes it such a great machine is the sound coming from a MONO 25 watt RMS, tube type, push pull amplifier into 4 UTAH speakers. I think the cabinet gives it a warm, rich, deep tone and dang nice volume. Of course you've got to know amps, like we do, to make it really impress.

All jukes prior to the V200 operated with an electromechanical system of coils and pins to make selections. The Seeburg "J" with 100 selections had 300 parts in what was called the "pin bank". These could be a pain if the juke wasn't played very often.

For the V200 Seeburg created a magical system called the Tormat memory unit that had no moving parts. Our old Seeburg guru Warren Rowe once told me that if you made a selection on a V200 and then unplugged it only to turn it back on 50 years later it would supposedly start up and play the tunes. Now that's MAGIC!

Back in the day jukebox operators hated that fact that male customers would put one foot on the bottom horizontal grill bar and one hand on the top of the cabinet while making selections. Kinda like the foot rest at the counter bar.

The lower bars were steel reinforced, but they got scratched up a lot. So operators would sometimes flip them over to the unused side.

Then kids would stand there for a long time and press the 5 buttons to see the drum roll around displaying all 200 selections.

So the operators hated all this, but they loved the coins that this 200 selection juke brought in. BTW, this is the first 200 selection jukebox ever made.

Introduced in August 1955 they sold to the operators for $1195. When we first started our business we thought that they were too big to sell to homes so we "parted them out". By 1980 we were selling them for around $2,000. 15 years ago we were selling them for $10,000. You don't want to know what we sell them for now unless you understand how classics can appreciate in value with age.

These are a solid investment at nearly double our 2004 price. These aren't cheap jukes and they never will be. Gold and silver are only good when you sell them, but this Seeburg entertains beautifully while you hold on to it.

This particular V200 is a wonderful specimen with great chrome and 98% original parts that give it character. I could go on and on about the attributes of this fine juke, but suffice to say I have had one at the edge of my dance floor since 1972.Are you ready to invest?

NOTE: We'd like to show you all the technical specifications of this unit, but we find when we post them, they're copied by unscrupulous folks for use on their own site or ad. A lot of this information isn't necessarily readily available to the general public or even folks in the industry. Its knowledge I've garnered through years in the business. So what they do is called plagiarism.

If you see, on another site, the same wording as I've used to tell you about the jukebox above, that person is a thief. It's called plagiarism and maybe you should think twice about dealing with someone who steals.

--------------------------------------------------------------------------------------------------------------

This is a professionally rebuilt/restored 1955 Seeburg 45 RPM jukebox model "V-200" with SR#: 102275 from JUKEBOXES UNLIMITED ®/Los Angeles. This jukebox comes with a full one year parts warranty, excluding transportation. This jukebox is not perfect and may have blemishes and cosmetic distractions not visible in the accompanying photos.

---------------------------------------------------------------------------------------------------------------------

We ship worldwide and to insure proper care we crate the jukeboxes ourselves. Call us with your shipping address and we'll get you a competitive shipping/insurance quote (prices vary according to value and destination), unless you'd like to pick it up or have us deliver it in the Southern California area.

Our experience in servicing jukeboxes bought elsewhere through the Internet is that many sustain some kind of damage in transport. When you buy a jukebox from us we make sure the components inside are properly secured. In some cases we can send you detailed photos and instructions on how to unpack the unit and get it up and running.


"We only sell quality reconditioned jukeboxes that we'll be happy to service in the future.
This we've done since 1971."




If you're interested in any of our other jukeboxes call us at:
1-818-366-9400, 10AM-6PM P.S.T. Mon.-Sat. or e-mail us: Info@JukeboxesUnlimited.com.


For jukebox rental information in the Los Angeles area visit Jukeboxes For Rent ®.