Established 1971
Los Angeles, CA 91394
1-818-366-9400

All of our jukeboxes have been professionally reconditioned
and come with a full one year parts warranty,
excluding transportation.

We ship worldwide.


1954 Seeburg
45 - RPM Jukebox
Model "R"
100 Selections
SOLD!
Basking in the sun of Fort Worth, Florida.
This is one of our "Celebrity Jukes". Not that it had been owned by a celebrity, but that it is a celebrity itself. In fact, it's been having it's 15 minutes of fame on the Style Network program called "Clean House" for some time now. It is pretty much the star of the show. You know it's Jukeboxes Unlimited ® on the show because our very own Don Muller is seen with our truck and actually buying this machine in the episode called "The Olsen Family".
Not long after Bill Haley's "Rock Around the Clock" was released by Decca, Seeburg introduced one of its most popular models, the HF 100 R. It's classic clean lines didn't hurt sales a bit.
With five Jensen speakers including one aiming straight out on each side, this was a machine you could hear all over the place. Because of these features, it eliminated the need for remote speakers in many a bar and restaurant.
This particular unit is a fine example with great chrome and all new louvered panels and metal trim in the grill. We even installed new grill cloth because someone had glued in fabric that doesn't allow the speakers to breathe.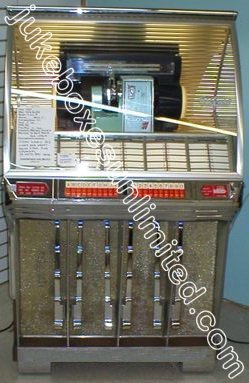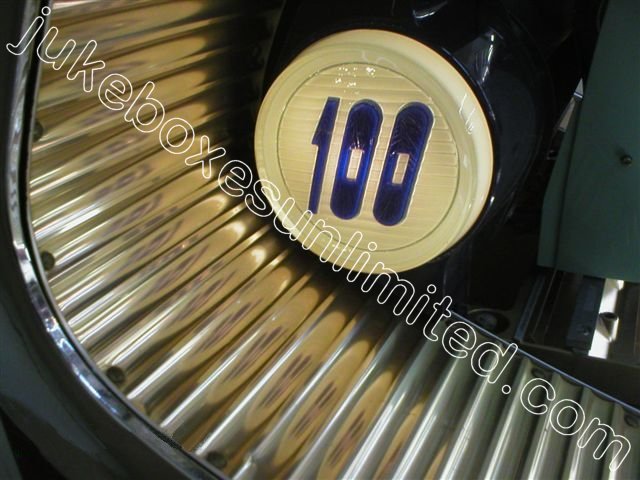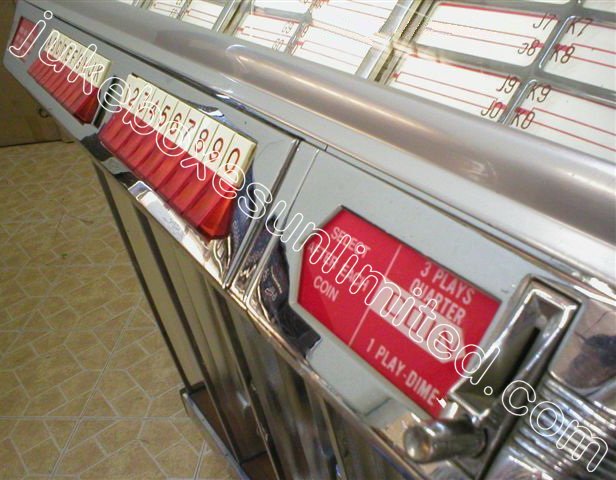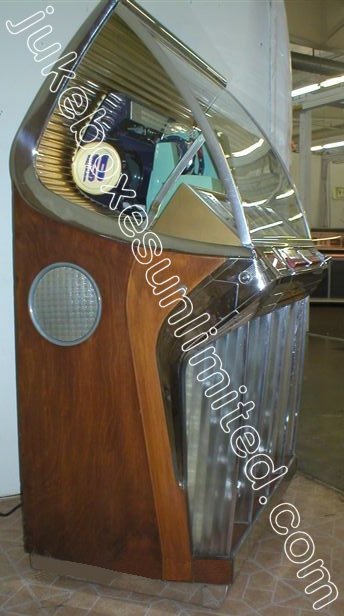 We ship worldwide and to insure proper care we crate the jukeboxes ourselves. Call us with your shipping address and we'll get you a competitive shipping/insurance quote (prices vary according to value and destination), unless you'd like to pick it up or have us deliver it in the Southern California area.
Our experience in servicing jukeboxes bought elsewhere through the Internet is that many sustain some kind of damage in transport. When you buy a jukebox from us we make sure the components inside are properly secured. In some cases we can send you detailed photos and instructions on how to unpack the unit and get it up and running.

"We only sell quality reconditioned jukeboxes that we'll be happy to service in the future.
This we've done since 1971."



If you're interested in any of our other jukeboxes call us at:
1-818-366-9400, 10AM-6PM P.S.T. Mon.-Sat. or e-mail us: Info@JukeboxesUnlimited.com.

For jukebox rental information in the Los Angeles area visit Jukeboxes For Rent ®.