JUKEBOXES UNLIMITED.com®
Established 1971
Los Angeles, CA 91394
1-818-366-9400

Our jukeboxes have been professionally rebuilt/restored
and include a full one year parts warranty.

We ship worldwide.


1957 Seeburg
45 RPM Jukebox
Model "KD-200"
200 Selections
Coming Soon!
Call us today for more details.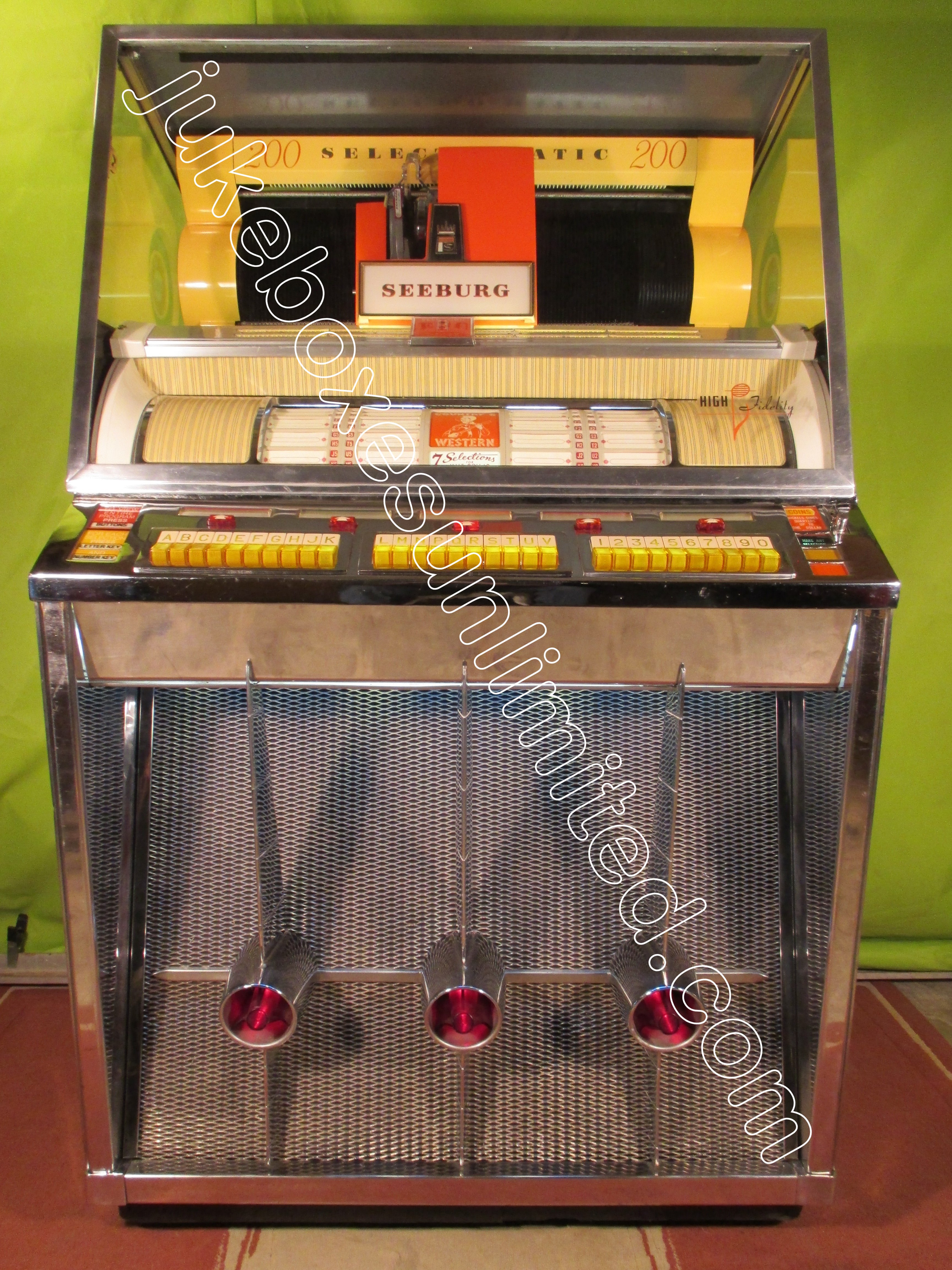 All KD/KS/KH 200 models were built between January and July of 1957 and first introduced in March of 1957. They sold to jukebox operators for $1325.00.
The cabinet styling was a dramatic change from previous models in that "rounded" corners gave way to squared off ones. The fascination of a rotating title drum was retained from those of the V and VL models just prior as was the infallible Tormat Memory System and "red head" Pickering cartridge.
Especially since the introduction of the world's first 100 selection jukebox in 1948, Seeburg was considered the brand to emulate. Their technical innovations led the way over the years and culminated in the introduction of the first commercial CD jukebox in 1986 aptly named The Crusader.
Seeburg wasn't afraid of taking chances either. They came out with the first 45 rpm jukebox which forced jukebox operators to throw away their thousands of shellac 78s and replace the same songs with the new vinyl 45s.
Of course in 1986 they forced the operators to toss their 45 library and go CD or be left behind. They even tried to get customers to use only paper money. Coin acceptors were optional for the operator to buy.
There were other things Seeburg did that weren't readily accepted by operators such as the first jukebox in 1982, the VMC, that had a video screen instead of paper title strips. Now the person who went out and changed records at the bar had to know how to type titles in a dark room full of drunks … er persons.
And they had thought it was bad enough when transistors took the place of audio tubes in 1959. Were these "changes" ever going to stop coming?
You have to understand that operators are a very different breed of persons. They'd like to be able to place a jukebox in an establishment and then once in a while change a few records as they were collecting half the "cashbox" contents. CHANGE was not in their blood.
When Seeburg introduced the K series and its little sister the L100 in 1957, operator eyebrows raised just a tad. Sure the styling was fresh, but these new models had printed circuit boards instead of hard wires in both the amplifier and selection receivers.
For a variety of reasons, these advances didn't go over well with operators and so Seeburg reverted back to hard wires with the next year's models 161 and 201. But do you think that blip in operator confidence fazed the R & D departments at 1500 North Dayton in downtown Chicago? Hell no!
In 1962 with "solid state" they completely eliminated audio tubes and wires in the amplifiers of the stylish new Low Profile Consol LPC-1.
Over the years we've (JUKEBOXES UNLIMITED) developed modifications to overcome technical issues thought to be problems, back in the day, with K and L series that now make them great working / sounding jukeboxes.
Of course we've rebuilt everything about this wonderful juke.
Enough of the "techie" jargon. What made this K series juke stand out was the three vertical "finned" tail lights in the grill / speaker area which closely resembled those on a '57 Chevy. Personally I enjoy putting a flashing bulb in the left one so it looks like the jukebox is turning.
I don't remember way back then (yeah I'm old enough though) if the taillights made these jukes stand out any more than other jukes placed in bars and restaurants, but they make a tremendous difference today.
Anyone who owns and loves a 57 Chevy wants ones of these jukes. If you or someone you know and love is into cars they must have one of these jukes.
This particular KS 200 is extremely clean with lots of original parts as well as great chrome.
So lay down some black and white tiles, lay out some cold cash and acquire this beauty for someone you love, even if it's yourself.
NOTE: We'd like to show you all the technical specifications of this unit, but we find when we post them, they're copied by unscrupulous folks for use on their own site or ad. A lot of this information isn't necessarily readily available to the general public or even folks in the industry. Its knowledge I've garnered through years in the business. So what they do is called plagiarism.

So if you see, on another site, the same wording as I've used to tell you about the jukebox above, that person is a thief and maybe you should think twice about dealing with someone who steals.
--------------------------------------------------------------------------------------------------------------
This is a professionally rebuilt/restored 1957 Seeburg 45-RPM jukebox model "KD-200" with SN: (pending) from JUKEBOXES UNLIMITED ®/Los Angeles. This jukebox comes with a full one year parts warranty, excluding transportation. This jukebox is not perfect and may have blemishes and cosmetic distractions not visible in the accompanying photos.
---------------------------------------------------------------------------------------------------------------------
We ship worldwide and to insure proper care we crate the jukeboxes ourselves. Call us with your shipping address and we'll get you a competitive shipping/insurance quote (prices vary according to value and destination), unless you'd like to pick it up or have us deliver it in the Southern California area.
Our experience in servicing jukeboxes bought elsewhere through the Internet is that many sustain some kind of damage in transport. When you buy a jukebox from us we make sure the components inside are properly secured. In some cases we can send you detailed photos and instructions on how to unpack the unit and get it up and running.

"We only sell quality reconditioned jukeboxes that we'll be happy to service in the future.
This we've done since 1971."


If you're interested in any of our jukeboxes call us at:
1-818-366-9400, 10AM-6PM P.S.T. Mon.-Sat. or e-mail us: Info@JukeboxesUnlimited.com.

For jukebox rental information in the Los Angeles area visit Jukeboxes For Rent ®.