Established 1971
Los Angeles, CA 91394
1-818-366-9400

All of our jukeboxes have been professionally reconditioned
and come with a full one year parts warranty,
excluding transportation.

We ship worldwide.


1954 Seeburg
45 - RPM Jukebox
Model "G"
100 Selections
SOLD!
In the home of "Man Men" creator/executive producer Matthew Weiner in Los Angeles.
After.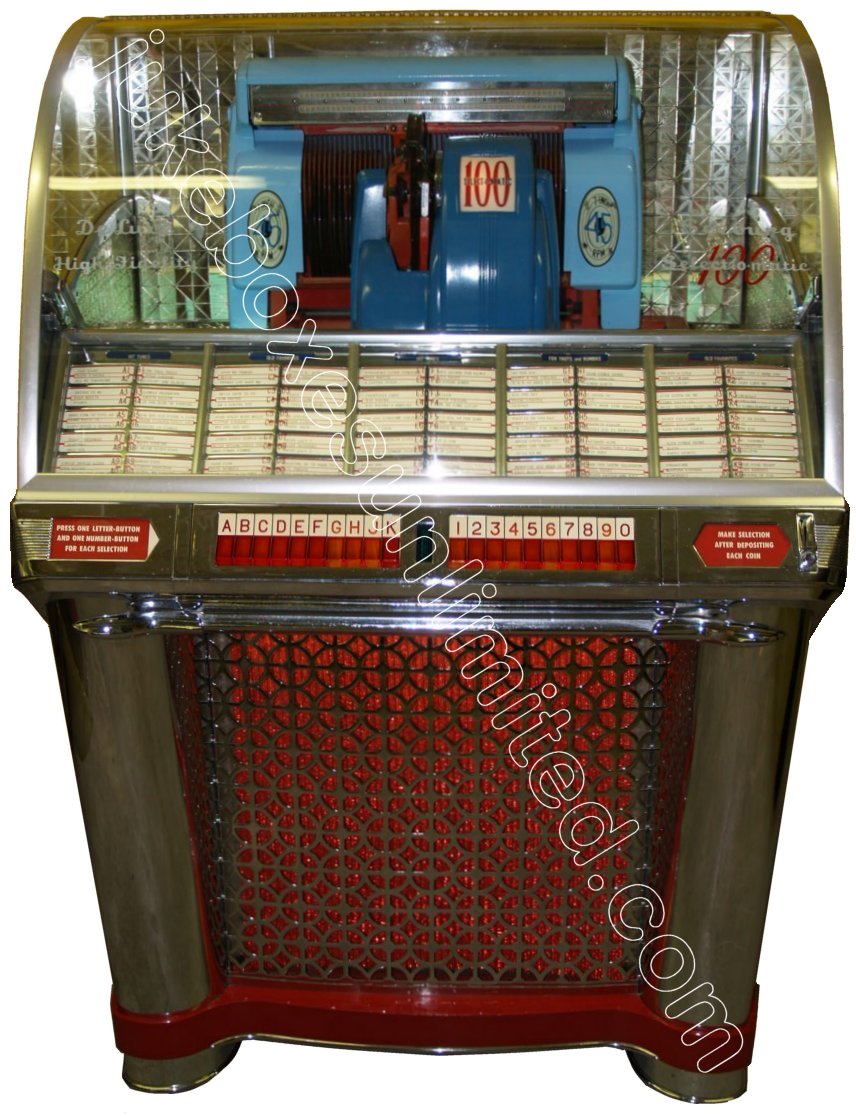 After.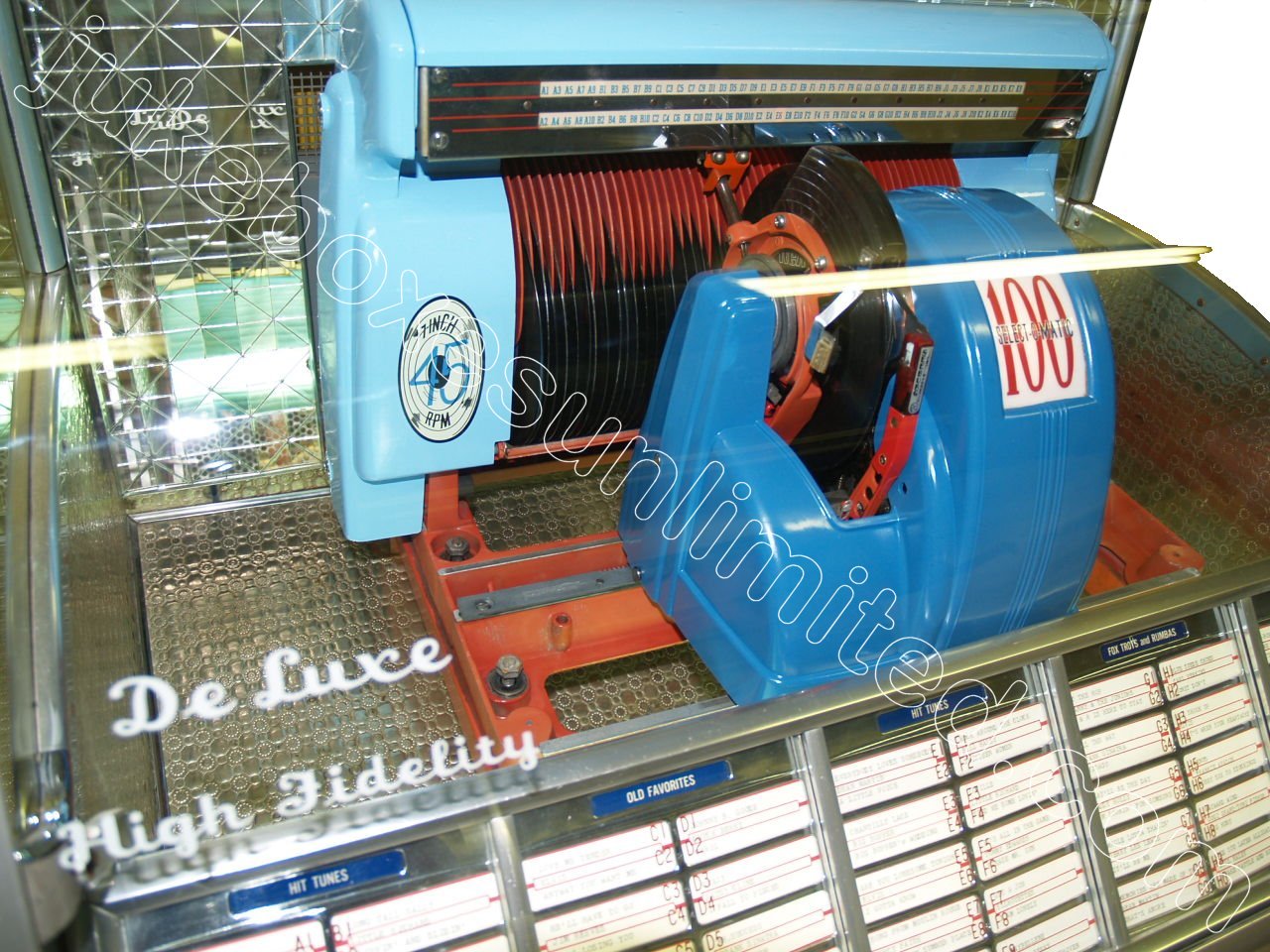 We've clean up this machine even more since first putting up.
Before.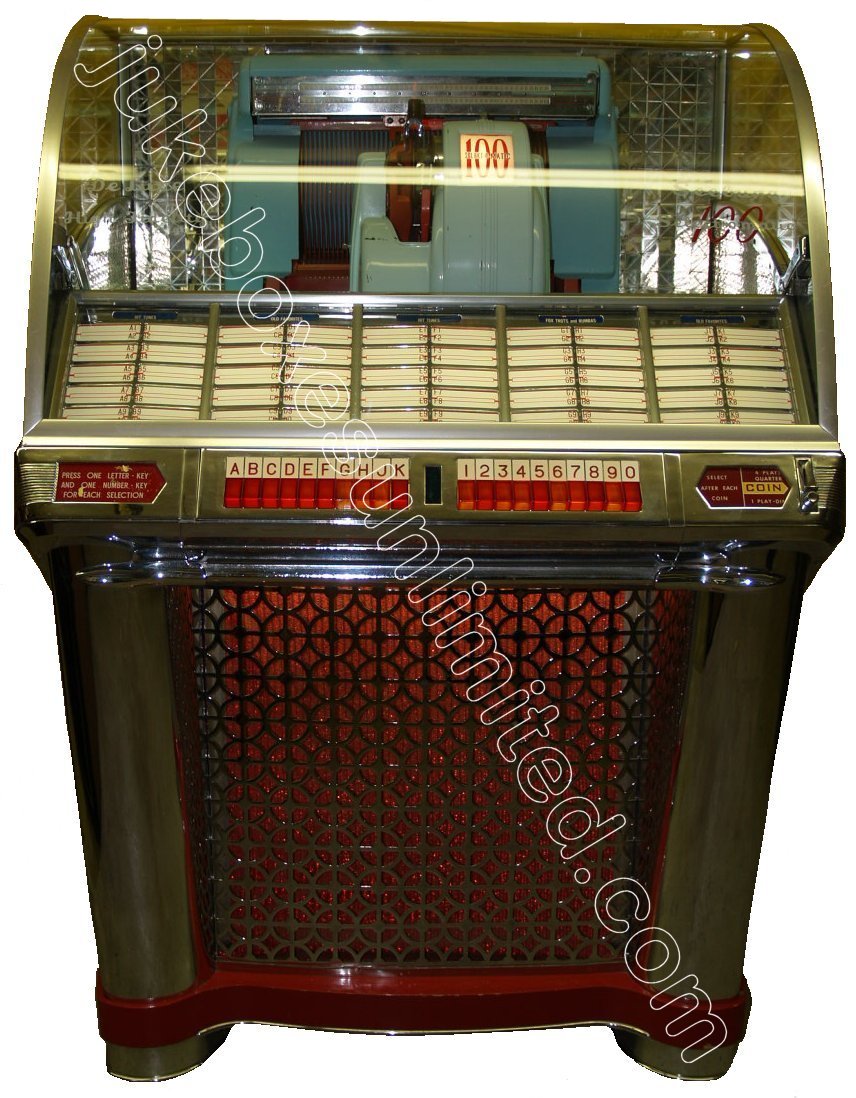 Following the tremendous success of Seeburg's M100C of 1952-3 came two nearly identical looking machines both introduced in September 1953 for the 1954 year. I wonder if the complaints that filtered back to the distributors regarding the fragileness of the front of the "C" had any bearing on the "100W" and "HF100G" being built considerably more rugged? Although the "W" had plastic pilasters, the noisy animation was even dropped.
The front of both the "W" and "G" was sturdy chromed metal and resembled the front bumpers of the cars of the day. That 'bumper' could probably hold its ground against the real front bumper of most of today's cars and even light duty trucks. The "G" went one step farther in ruggedness with stainless steel pilasters.
Ironically, those very features of the "C" that irritated jukebox operators of yesterday, (animation behind frosted plastic pilasters with round glass mirrors in the grill) is what drives buyers to seek out the "C" today.
Jukes can get pretty banged up while being drug from one location to another and pushed around in the shop. So a big difference between the "C" and the "W"/"G" was durability. Gone was the exposed wooden front covered only by a decal made from a Polaroid photograph. (You could order replacement decals).
From the earliest days, jukeboxes mimicked the styles of the new cars. So by 1954, with cars no longer having that "Tin Lizzy" look, it was natural for plastic to give way to chromed steel.
The "C" and "W" had basically the same sound system whereas the "G" was Seeburg's first High Fidelity jukebox. It incorporated an advanced amp and tweeter with a primitive dividing network besides the 15 - inch woofer of the "C" and "W". The "G" did sound better. In fact we've even gone a step farther by adding one transistor. We might call it a "Hybrid".
Someone had already begun rebuilding this particular juke when we got a hold of it. So rather than tear it down and start from scratch, we've corrected a few technical errors and completely rebuilt the workings.
Practically everything metal that could be removed, had already been chromed. Even the original stainless steel pilasters looked dang nice. We've also done a little cosmetic work to the cabinet.
Before.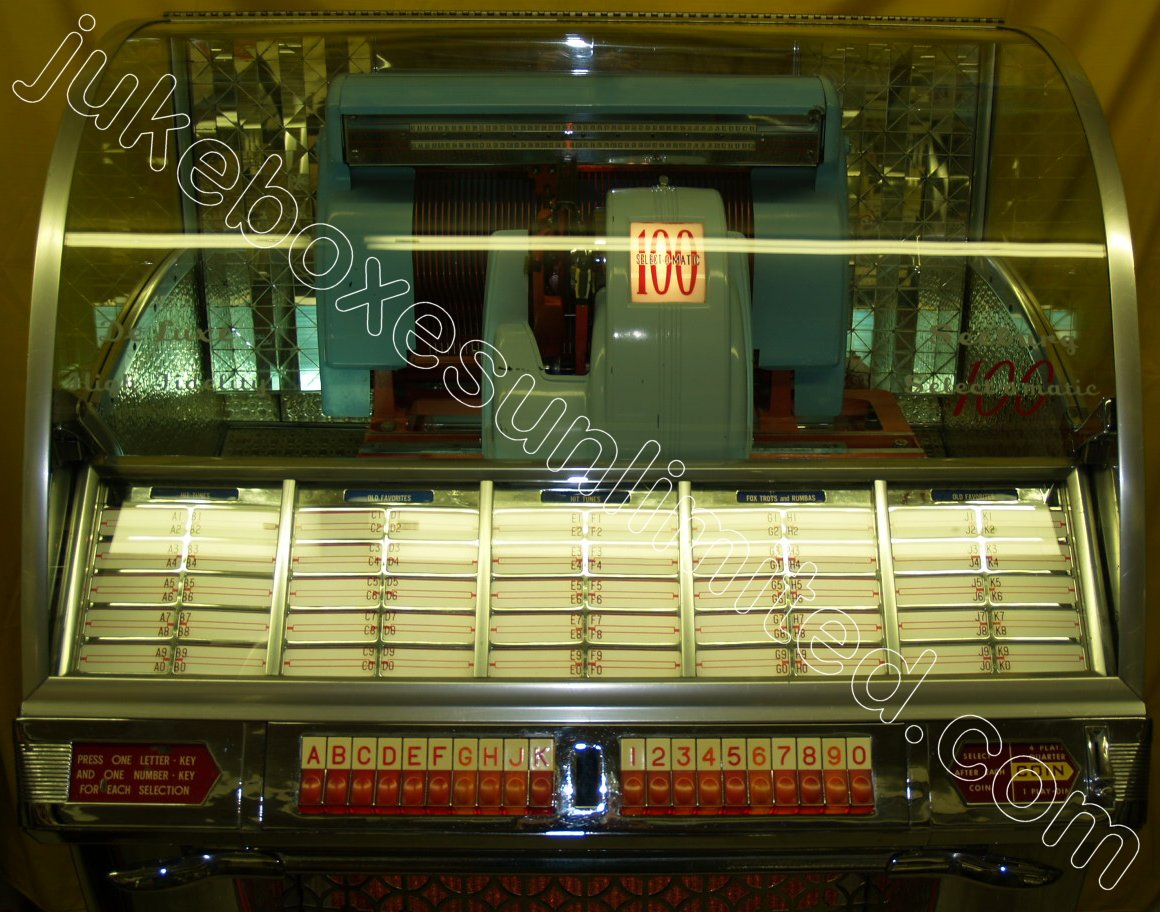 After.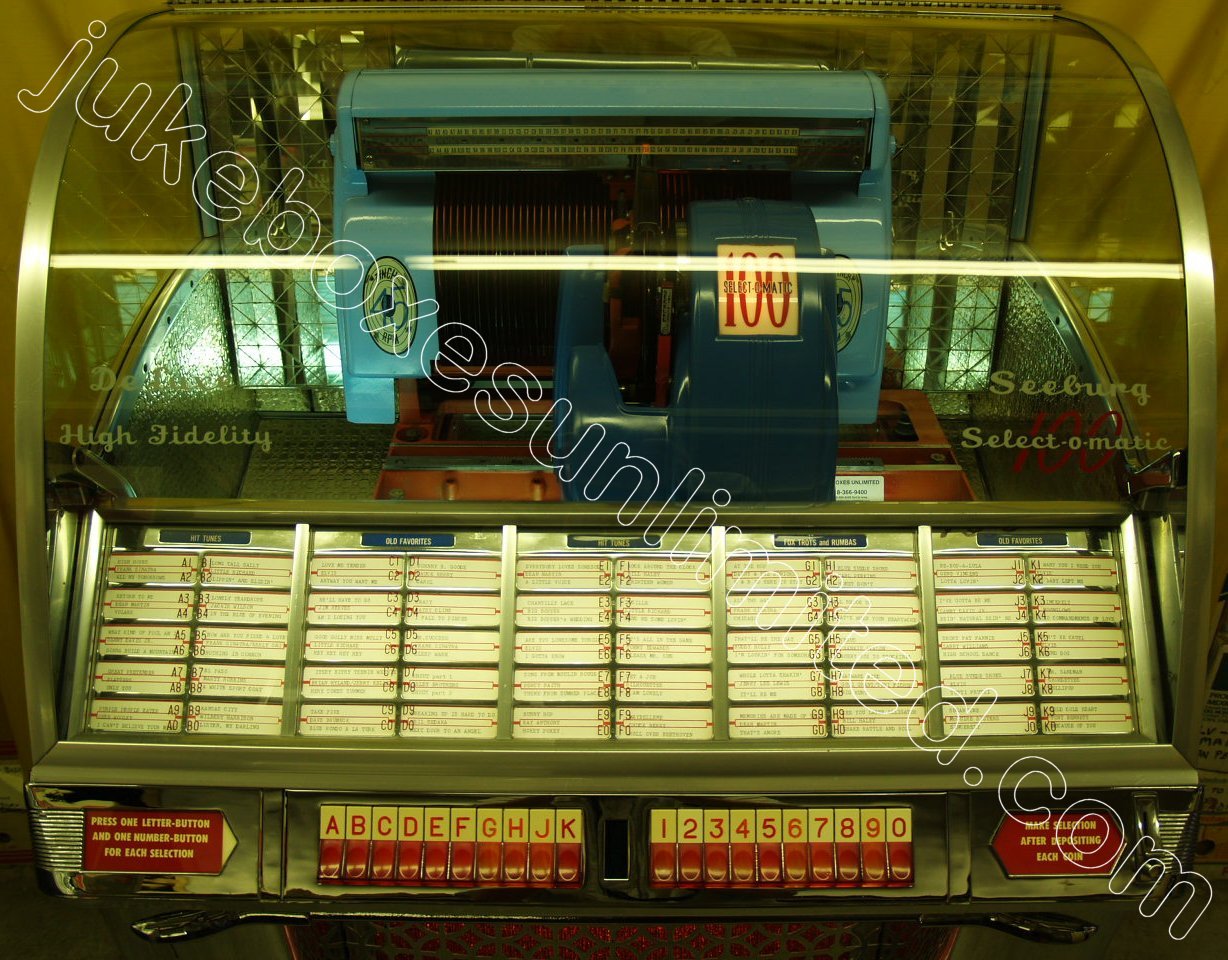 Before.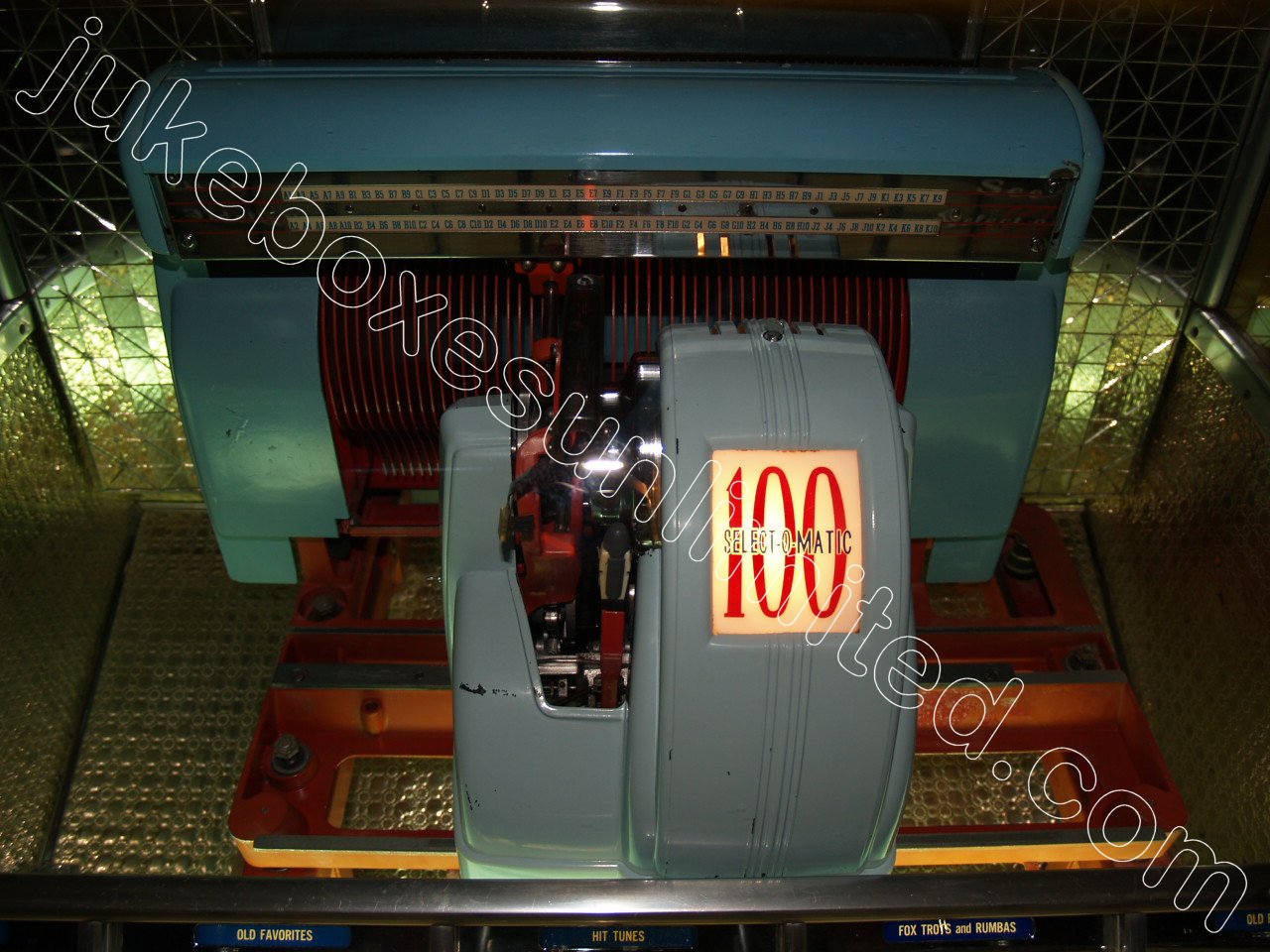 After.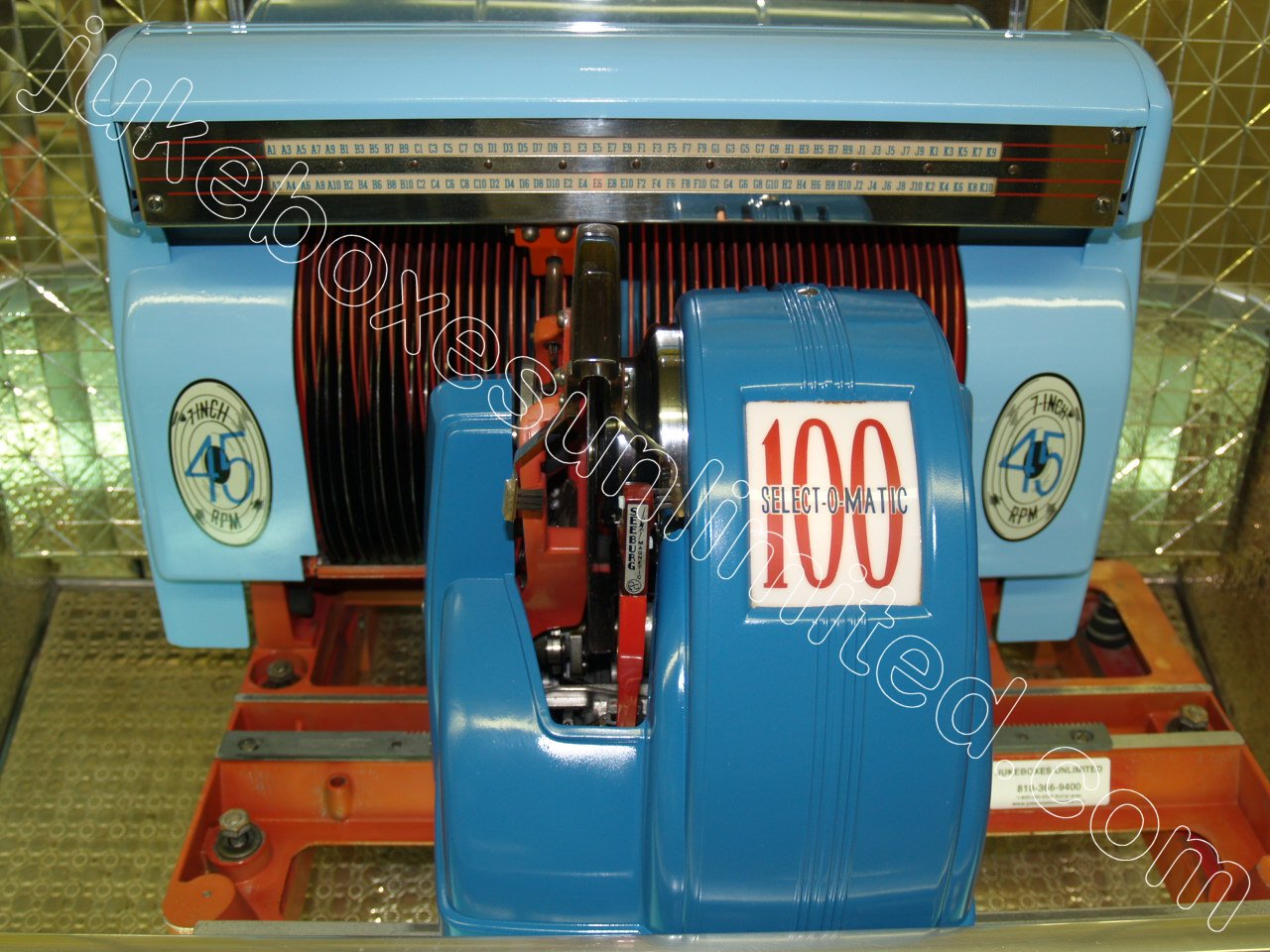 Before.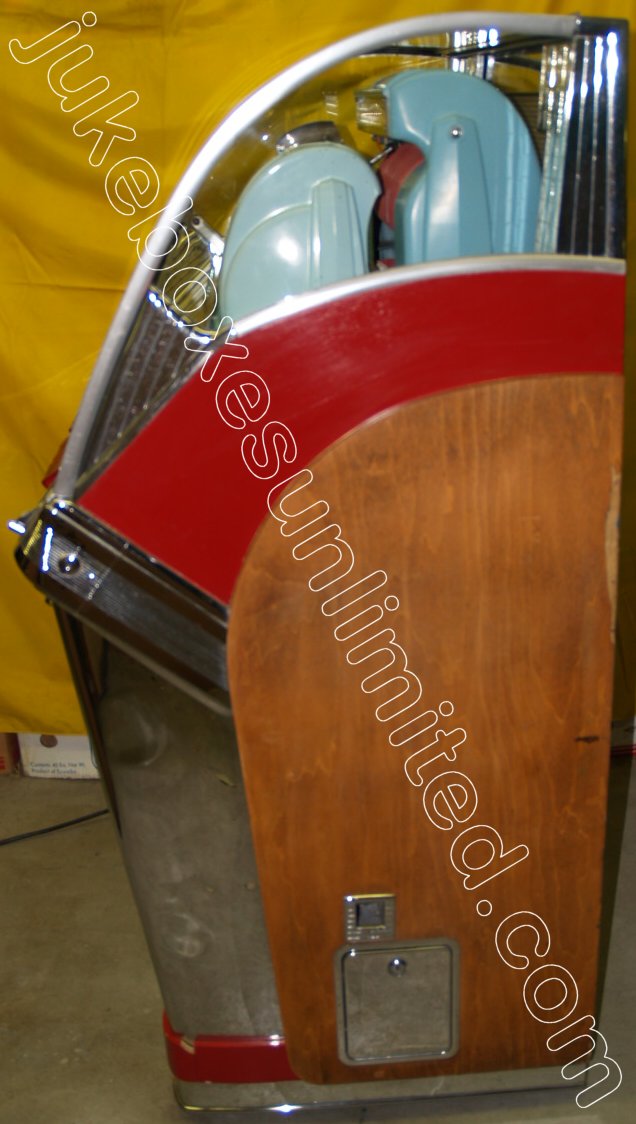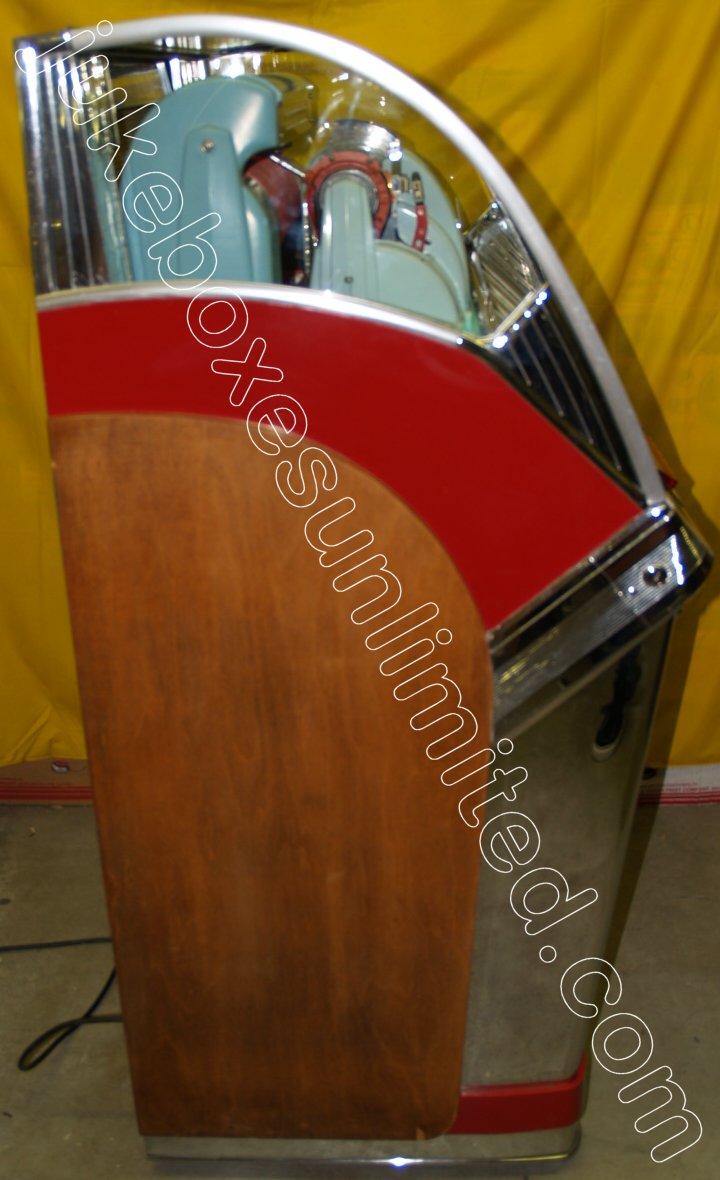 After.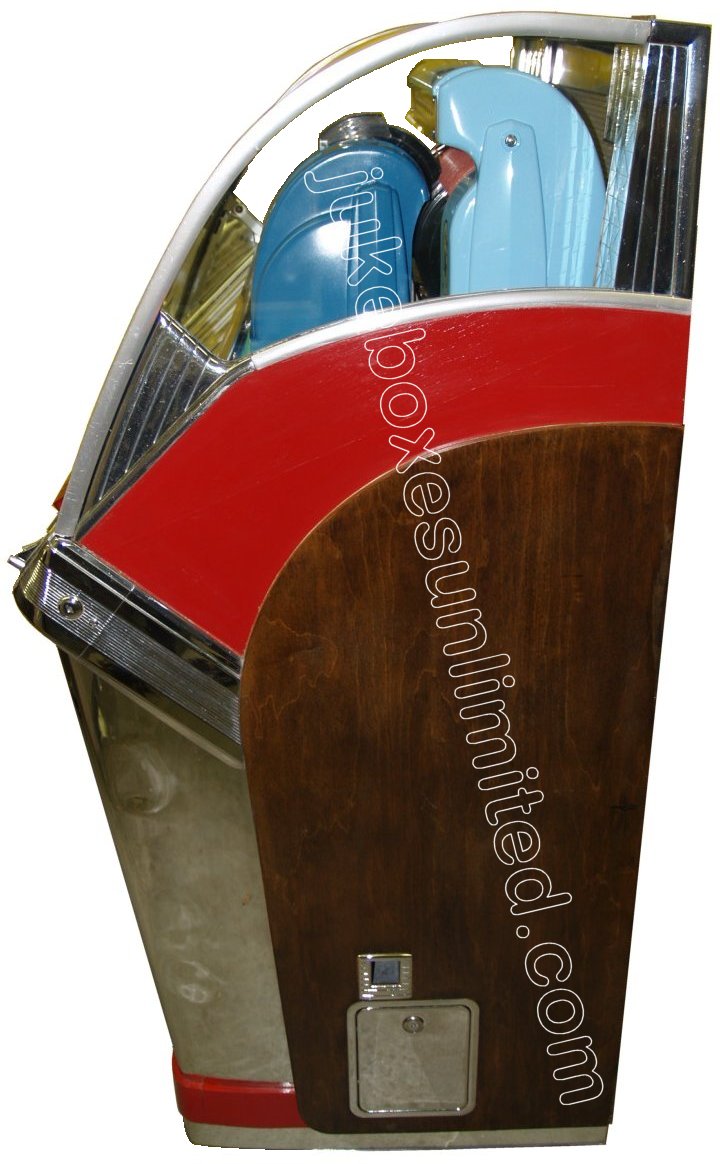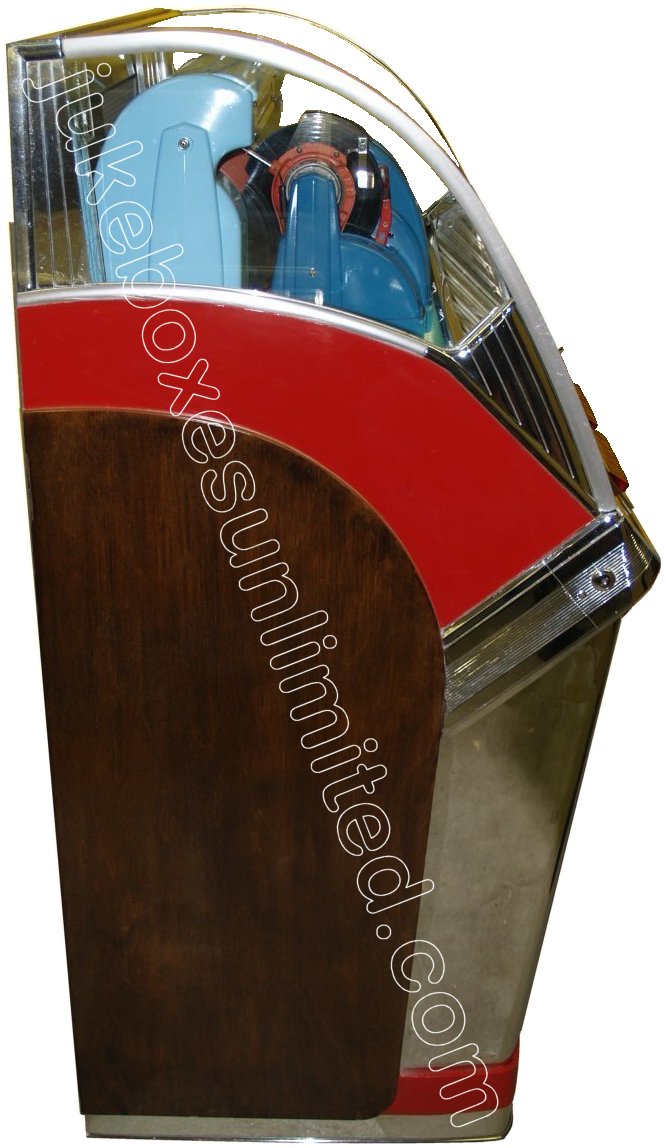 Before.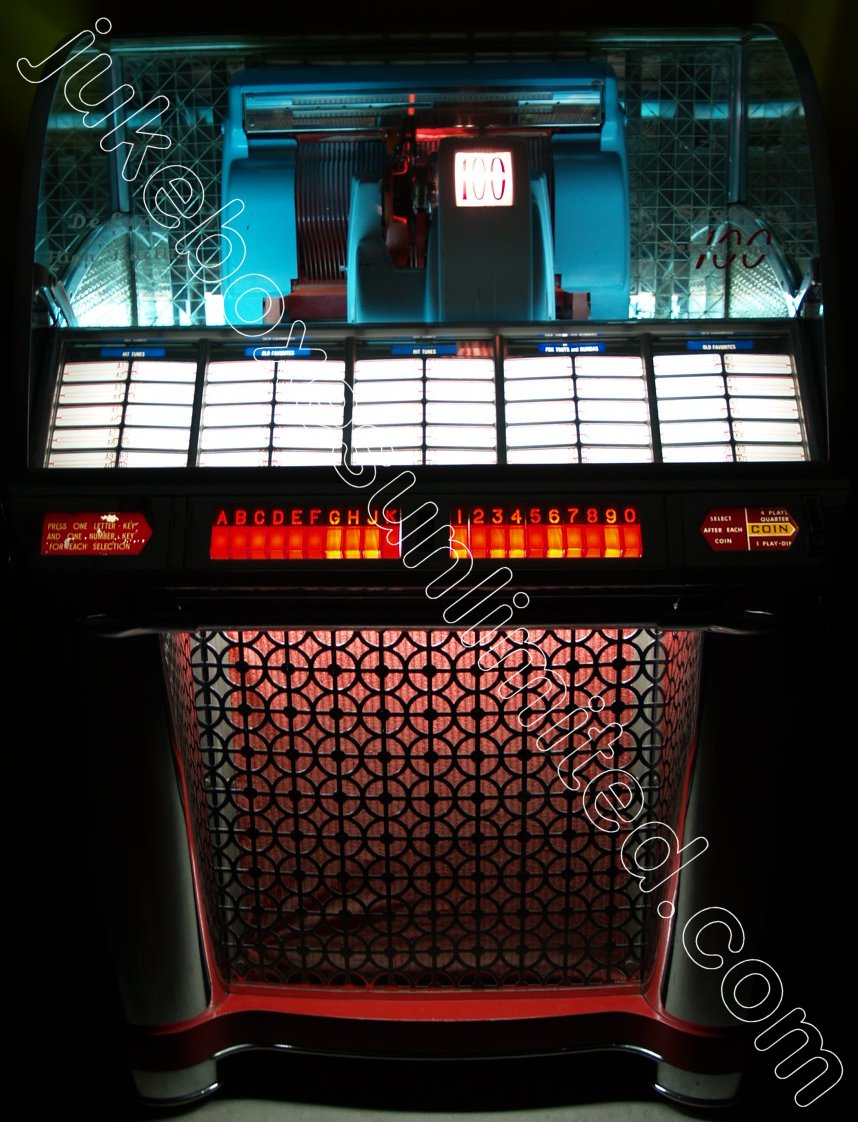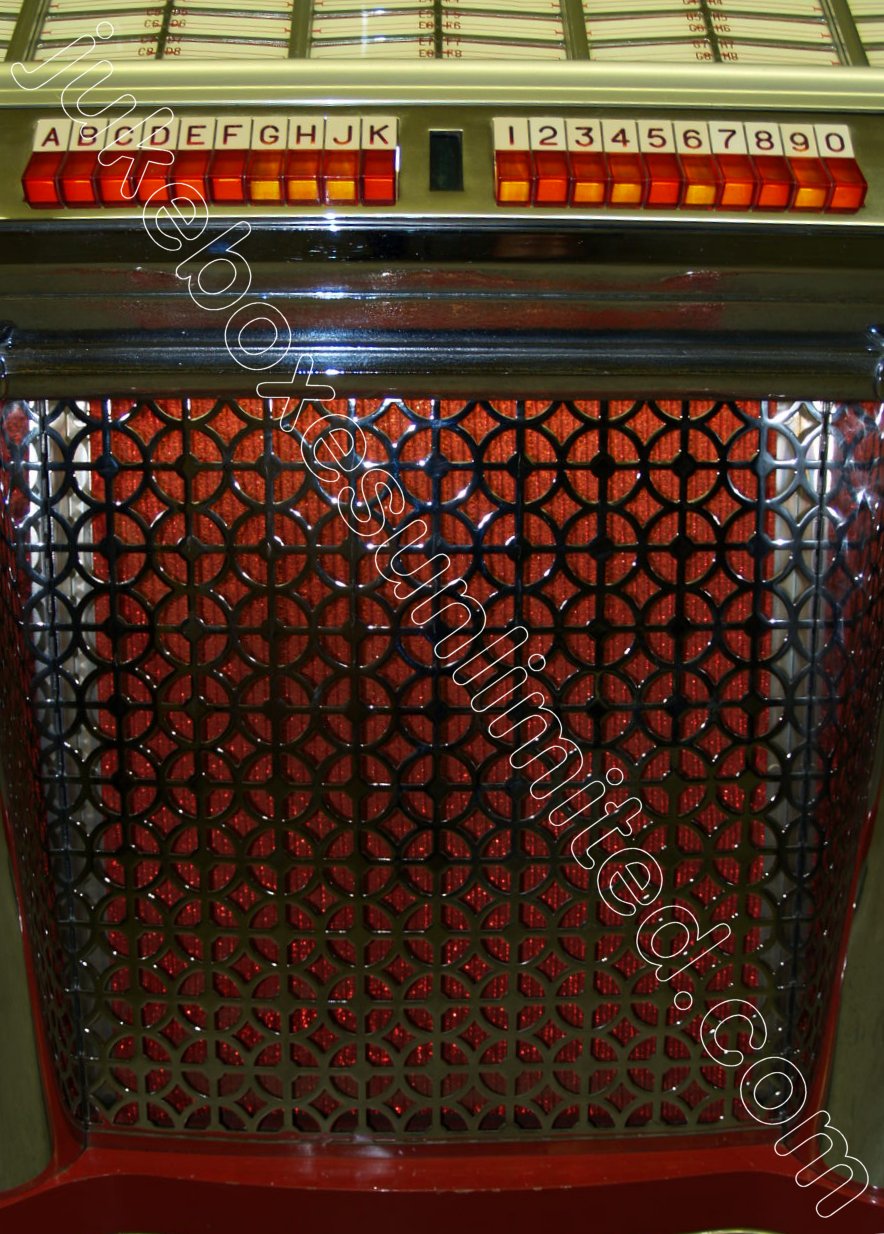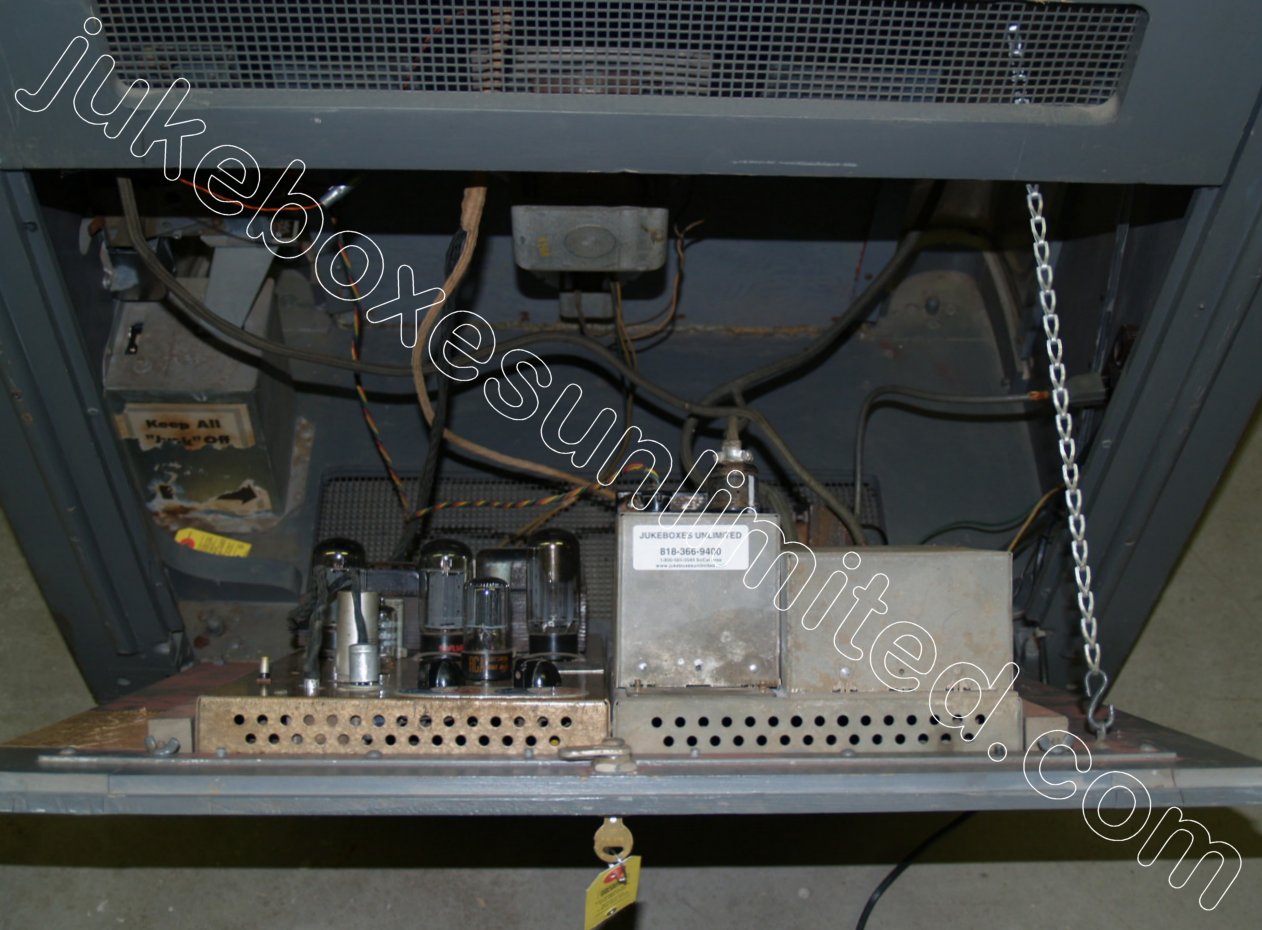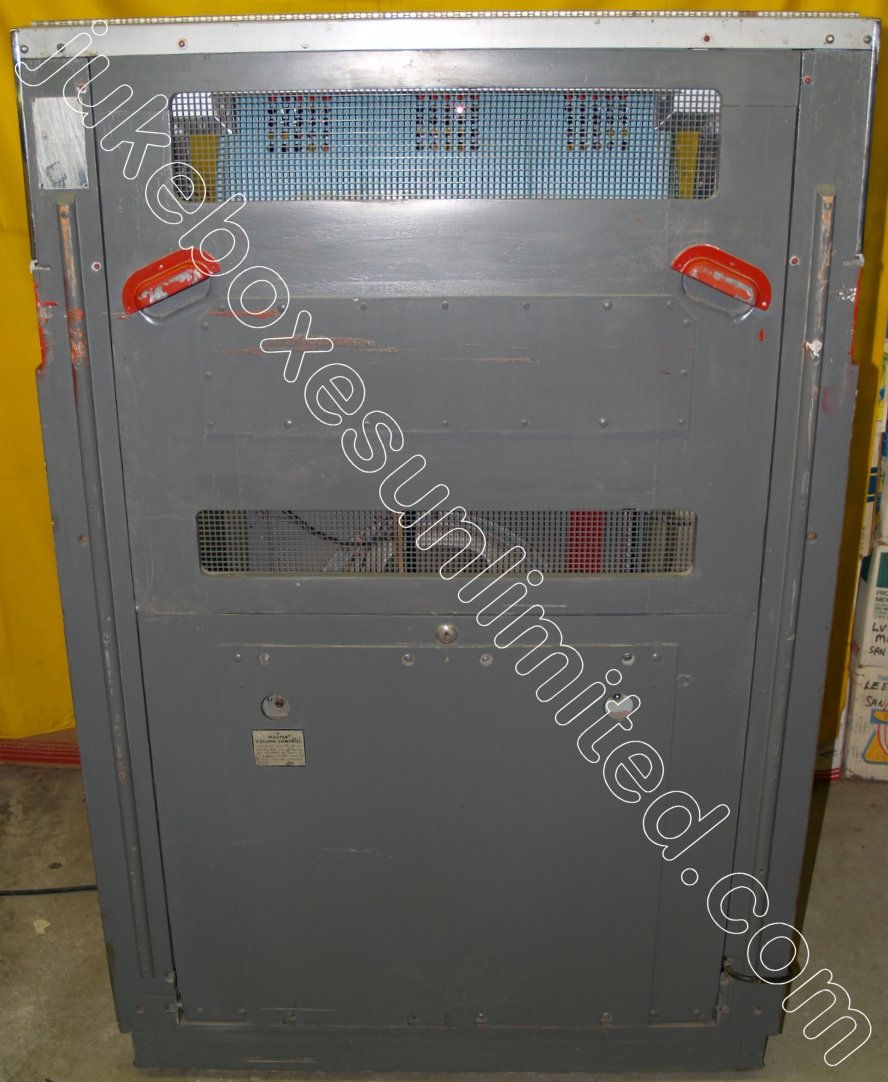 We ship worldwide and to insure proper care we crate the jukeboxes ourselves. Call us with your shipping address and we'll get you a competitive shipping/insurance quote (prices vary according to value and destination), unless you'd like to pick it up or have us deliver it in the Southern California area.
Our experience in servicing jukeboxes bought elsewhere through the Internet is that many sustain some kind of damage in transport. When you buy a jukebox from us we make sure the components inside are properly secured. In some cases we can send you detailed photos and instructions on how to unpack the unit and get it up and running.

"We only sell quality reconditioned jukeboxes that we'll be happy to service in the future.
This we've done since 1971."



If you're interested in any of our other jukeboxes call us at:
1-818-366-9400, 10AM-6PM P.S.T. Mon.-Sat. or e-mail us: Info@JukeboxesUnlimited.com.

For jukebox rental information in the Los Angeles area visit Jukeboxes For Rent ®.