JUKEBOXES UNLIMITED.com®
Established 1971
Los Angeles, CA 91394
1-818-366-9400

This jukebox has been professionally rebuilt/restored
and includes a full one year parts warranty.

We ship worldwide.



1947 Seeburg
78 - RPM Jukebox
Model "1-47"
"Symphonola"
"Trashcan"
20 Selections
Coming soon!
Call us today for more details!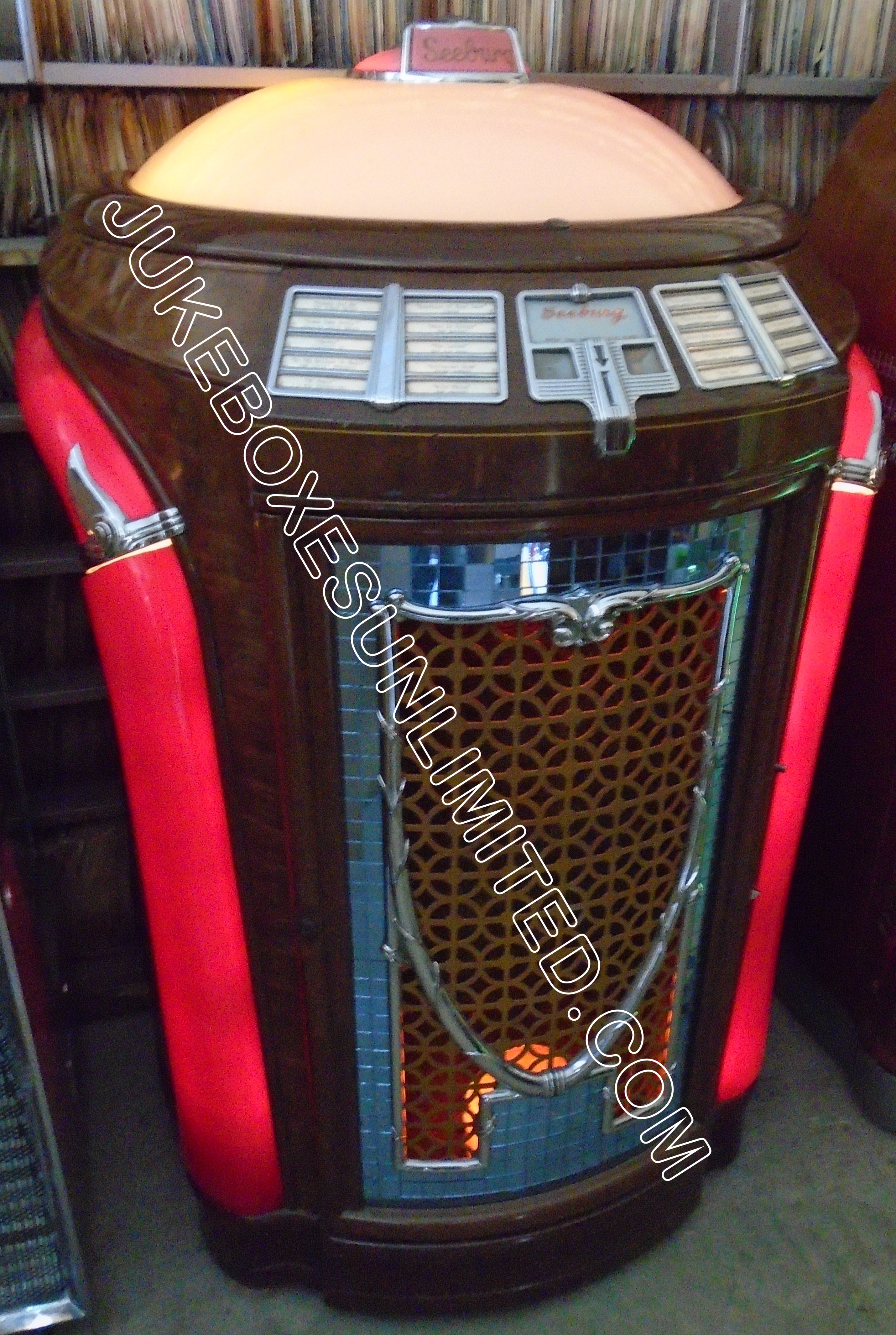 While Seeburg was secretly developing the "M-100A" that would be introduced in December of 1948, they continued using a very dependable 20 selection sliding tray mechanism. It was tried and true having been used in all Seeburgs since the end of 1937.
The "1-47" model had slightly different coloring then the "1-46" the year before. It even had the basic, yet unique, selection buttons that all Seeburgs had been using since 1941.
The paper title strip was back lighted and magnified. So instead of needing to look away to press a button after choosing a tune, the title strip was the button. Very cool!
The first two of this series were made of wood while the "1-48" was completely aluminum. Admittedly we've not reconditioned a lot of this series of Seeburgs in recent years, but I can't imagine the aluminum cabinet could sound any where near as good as a wooden one.
I mean, when was the last time you purchased a pair of floor standing speakers made of aluminum?
In the last few years we've accumulated a few of these "Trashcans", but we just hadn't gotten around to doing one of them. I DO know that I'll be setting one aside for myself.
I think they are very cool besides looking like R2 D2 or a pedal actuated kitchen trashcan from the '50s. You buy one of these lovely light-ups and we'll recondition both yours and mine at the same time. Deal?
NOTE: We'd like to show you all the technical specifications of this unit, but we find when we post them, they're copied by unscrupulous folks for use on their own site or ad. A lot of this information isn't necessarily readily available to the general public or even folks in the industry. Its knowledge I've garnered through years in the business. So what they do is called plagiarism.

So if you see, on another site, the same wording as I've used to tell you about the jukebox above, that person is a thief and maybe you should think twice about dealing with someone who steals.
--------------------------------------------------------------------------------------------------------------
This is a professionally rebuilt/restored 1947 Seeburg 78 - RPM jukebox model "1-47" "Symphonola" with SN: (pending) from JUKEBOXES UNLIMITED ®/Los Angeles. This jukebox comes with a full one year parts warranty, excluding transportation. This jukebox is not perfect and may have blemishes and cosmetic distractions not visible in the accompanying photos.
---------------------------------------------------------------------------------------------------------------------
We ship worldwide and to insure proper care we crate the jukeboxes ourselves. Call us with your shipping address and we'll get you a competitive shipping/insurance quote (prices vary according to value and destination), unless you'd like to pick it up or have us deliver it in the Southern California area.
Our experience in servicing jukeboxes bought elsewhere through the Internet is that many sustain some kind of damage in transport. When you buy a jukebox from us we make sure the components inside are properly secured. In some cases we can send you detailed photos and instructions on how to unpack the unit and get it up and running.

"We only sell quality reconditioned jukeboxes that we'll be happy to service in the future.
This we've done since 1971."


If you're interested in any of our jukeboxes call us at:
1-818-366-9400, 10AM-6PM P.S.T. Mon.-Sat. or e-mail us: Info@JukeboxesUnlimited.com.

For jukebox rental information in the Los Angeles area visit Jukeboxes For Rent ®.