Established 1971
Los Angeles, CA 91394
1-818-366-9400

All of our jukeboxes have been professionally reconditioned
and come with a full one year parts warranty,
excluding transportation.

We ship worldwide.


1974 Rockola
45 - RPM Jukebox
Model "456"
"Console Deluxe"
160 Selections

SOLD!
Enjoying life in Edina, Minnesota.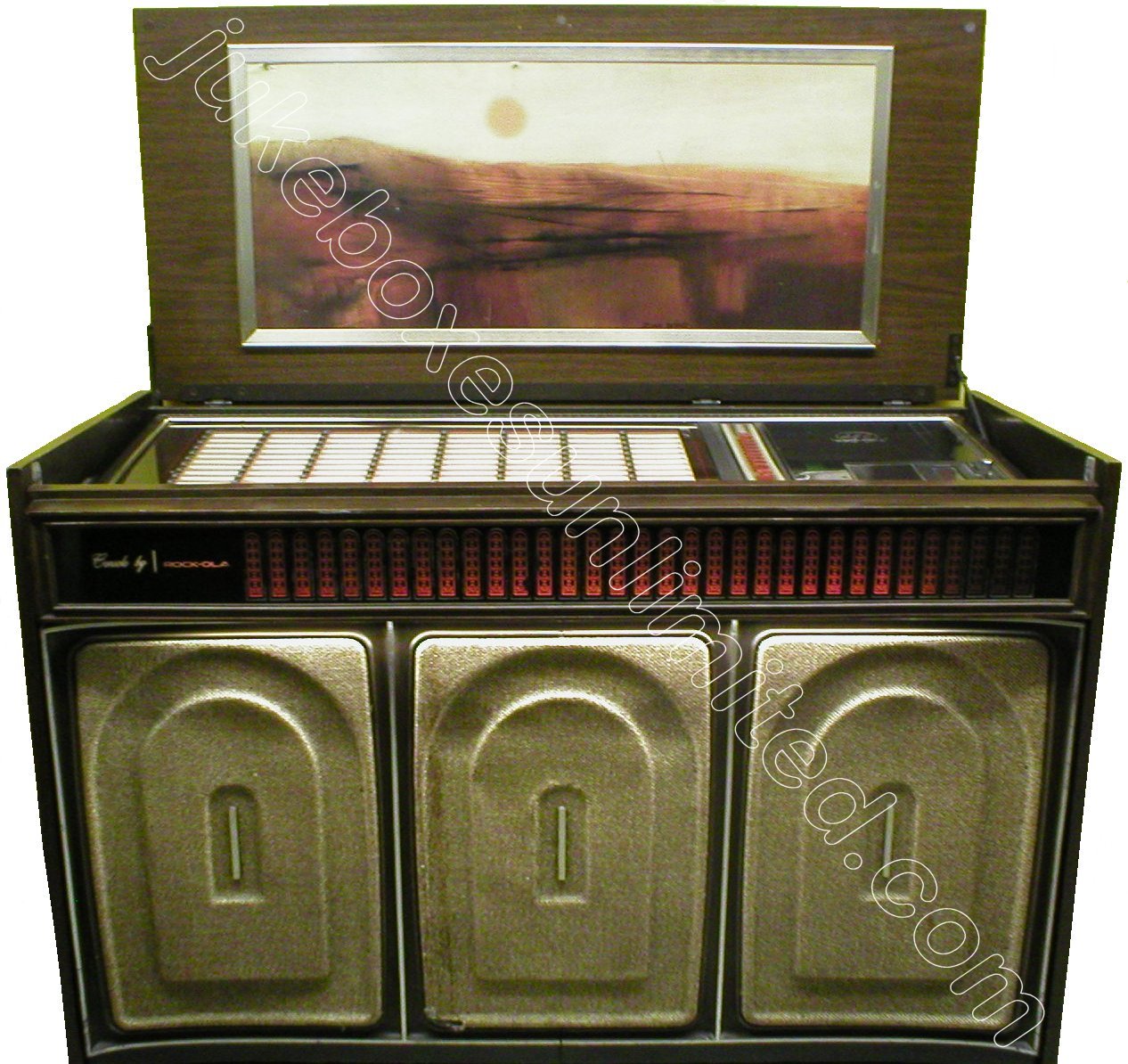 "The Sophisticated Jukebox".
At first glance it could easily pass for your folks old Admiral or Magnavox home stereo system. Remember the one that sat stately at one end of the living room?
Well this ain't your Dad's old AM/FM, 5 record, 3 speed changer. It's an 80 record, 160 selection, "retro" style juke that would just plain smoke that Westinghouse console from back in the day.
The stereo separation and killer sound that emits from this beautiful cabinet are unachievable in conventional jukes unless you connect remote speakers to them. The speakers are an amazing 31-inch apart! If you sit somewhere between 5 and 15 feet in front of this lovely beast, you'll be blown away by the stereo separation.
The rugged Shure M-44 cartridge (we used them in radio stations) sends its signal through a powerful (100 watt) solid state stereo amplifier into two 6-inch mid and high frequency speakers and two 12-inch full range speakers.
Although intended for use in fancy restaurants and classy lounges it came along during a time when jukebox use in exactly those places was waning. Thus not too many of this style were ever sold.
Then once they were retired from service by the jukebox operators, they tended to get banged around a bit. They normally ended up acting as storage since they had a nice flat top. Luckily that surface was a burn and mar proof polyester material. In the end they'd get torn down and stripped for parts that could be used in conventional jukes.
This particular unit has been in the living room of a sweet little ranch house in fashionable Porter Ranch in the San Fernando Valley of LA since it was new. The minor dings on the cabinet come from helping raise a family over 35 years.
The "innards" are spotless and the playmeter shows an accurate 3500 plays. As a comparison, a typical jukebox rented for a weekend party chalks up 200 to 500 plays in 3 days.
The mechanism is tried, true, dependable and simple. For a few bucks more, we'll throw in a nifty Rockola motorized remote control so you won't have to get up from your easy chair to turn it up or down, on or off or even cancel tunes.
So if you have a comfortable place in your home for the fun of a jukebox and the sophisticated look of a fine piece of furniture, this is it.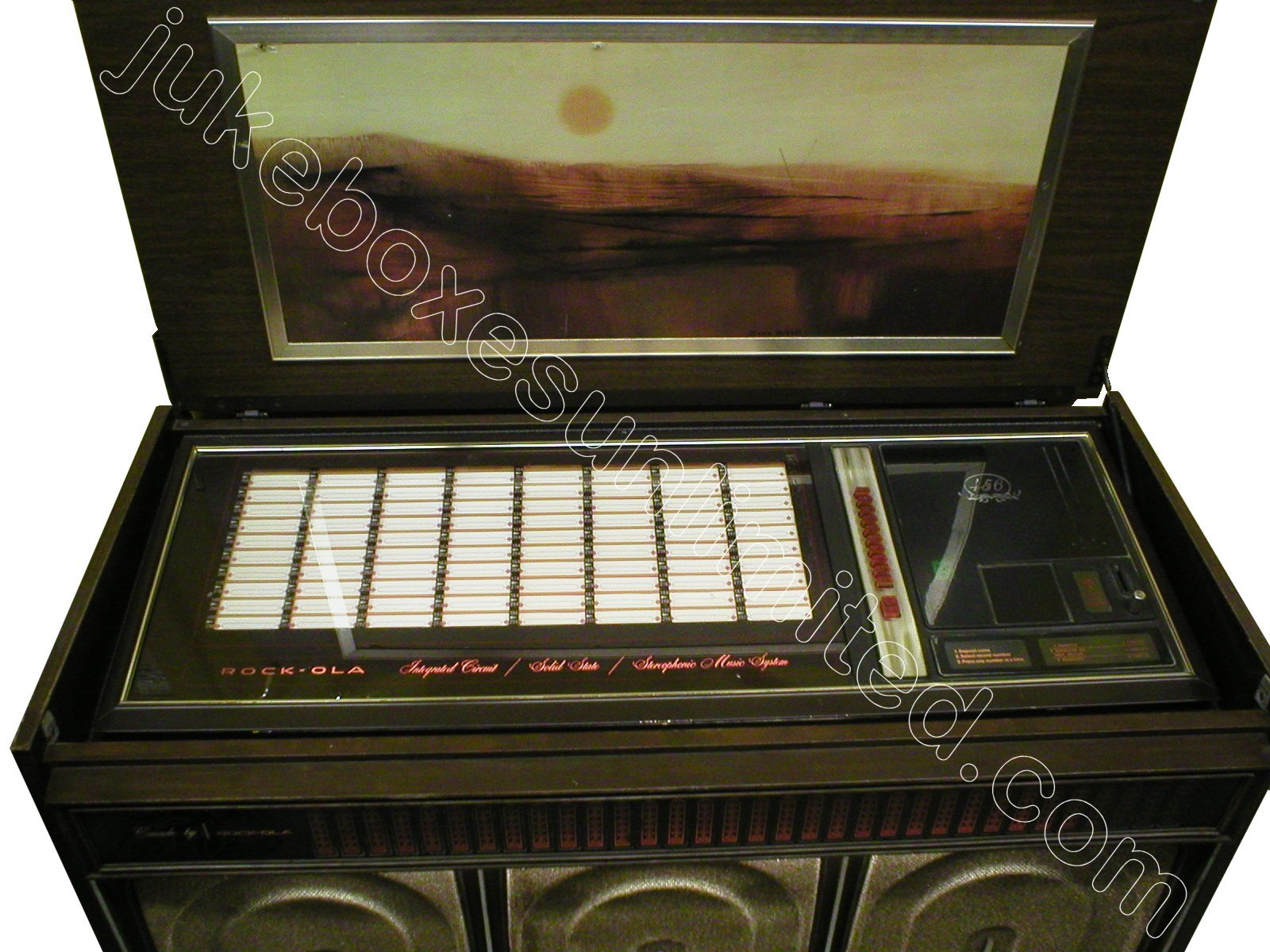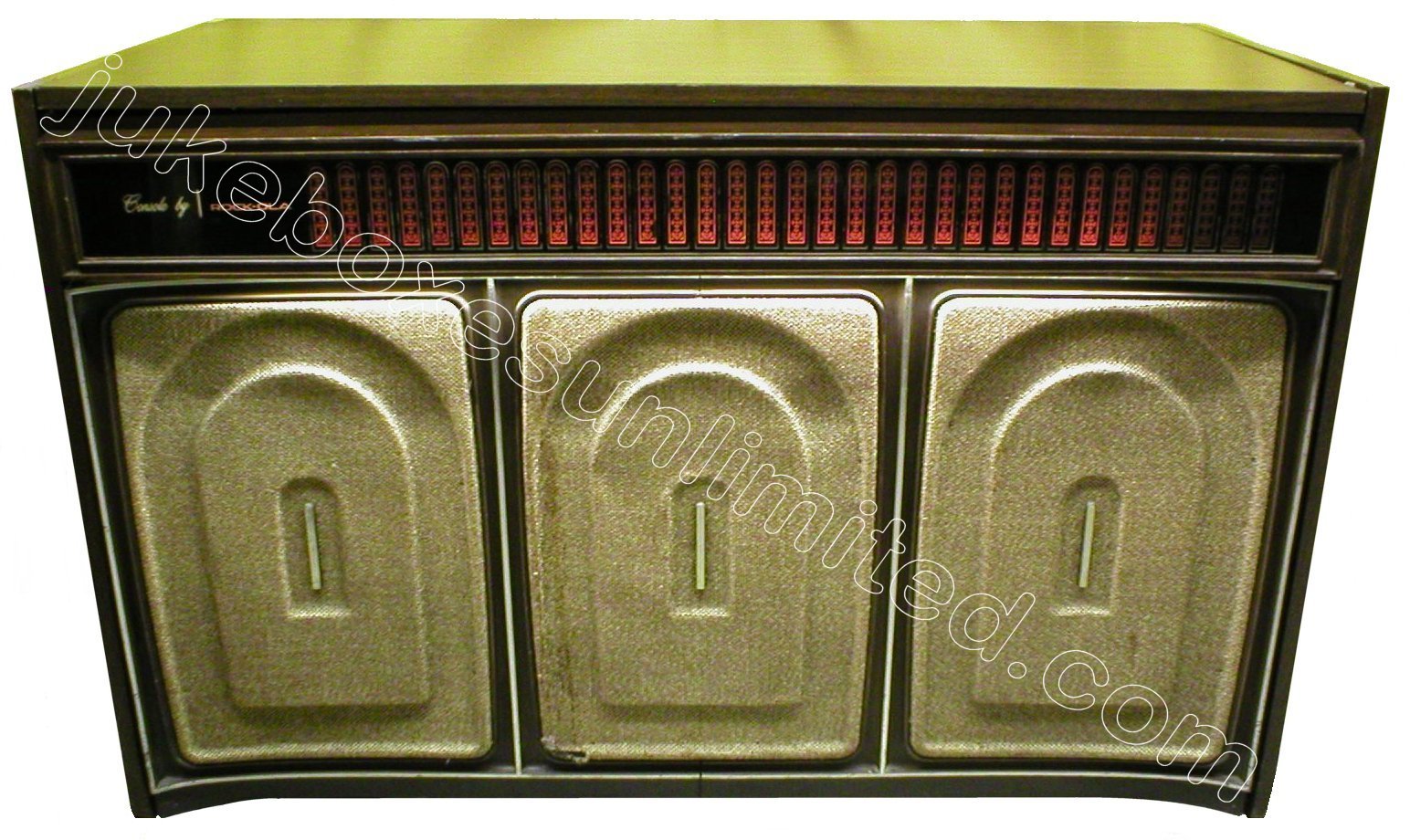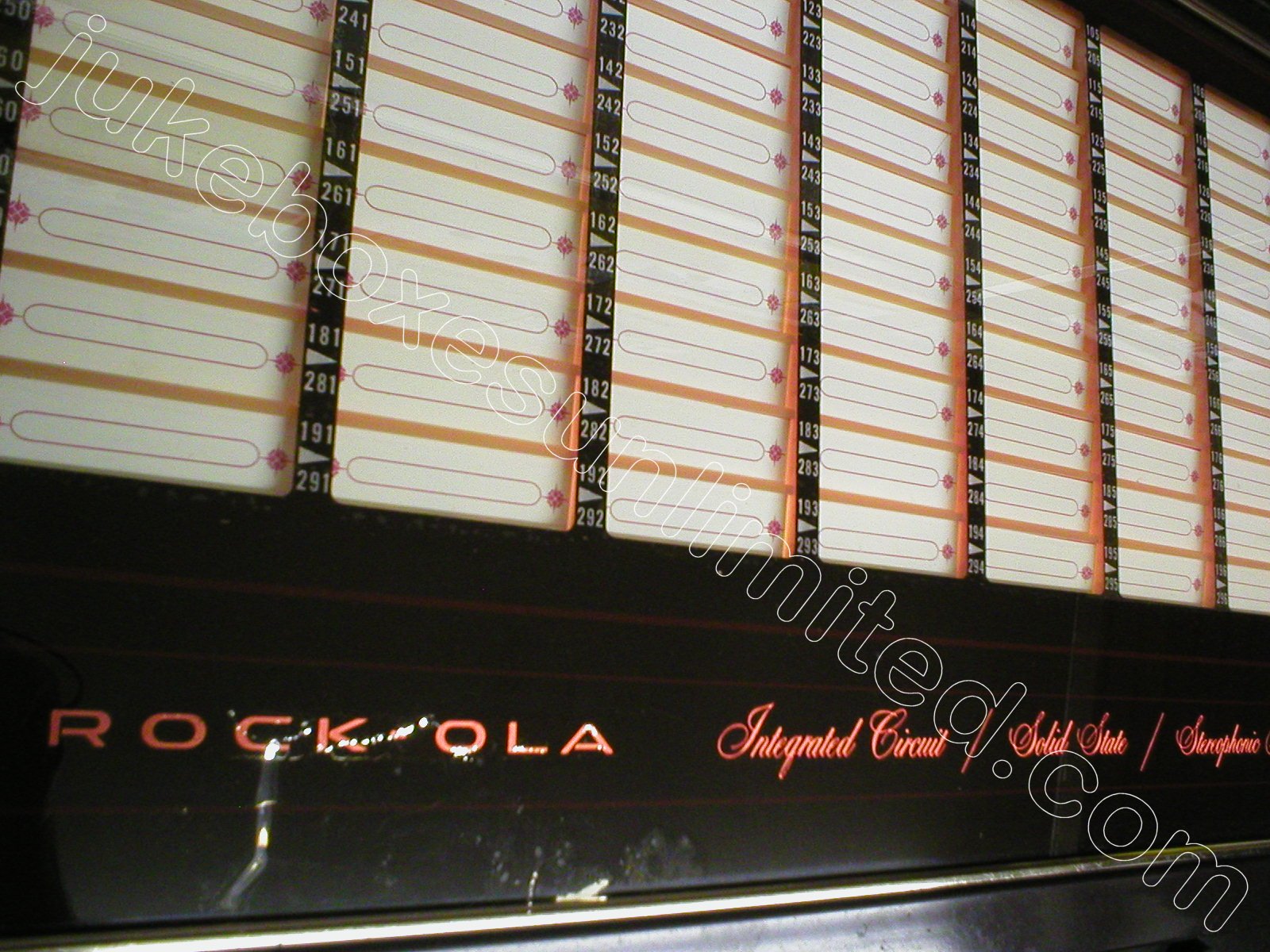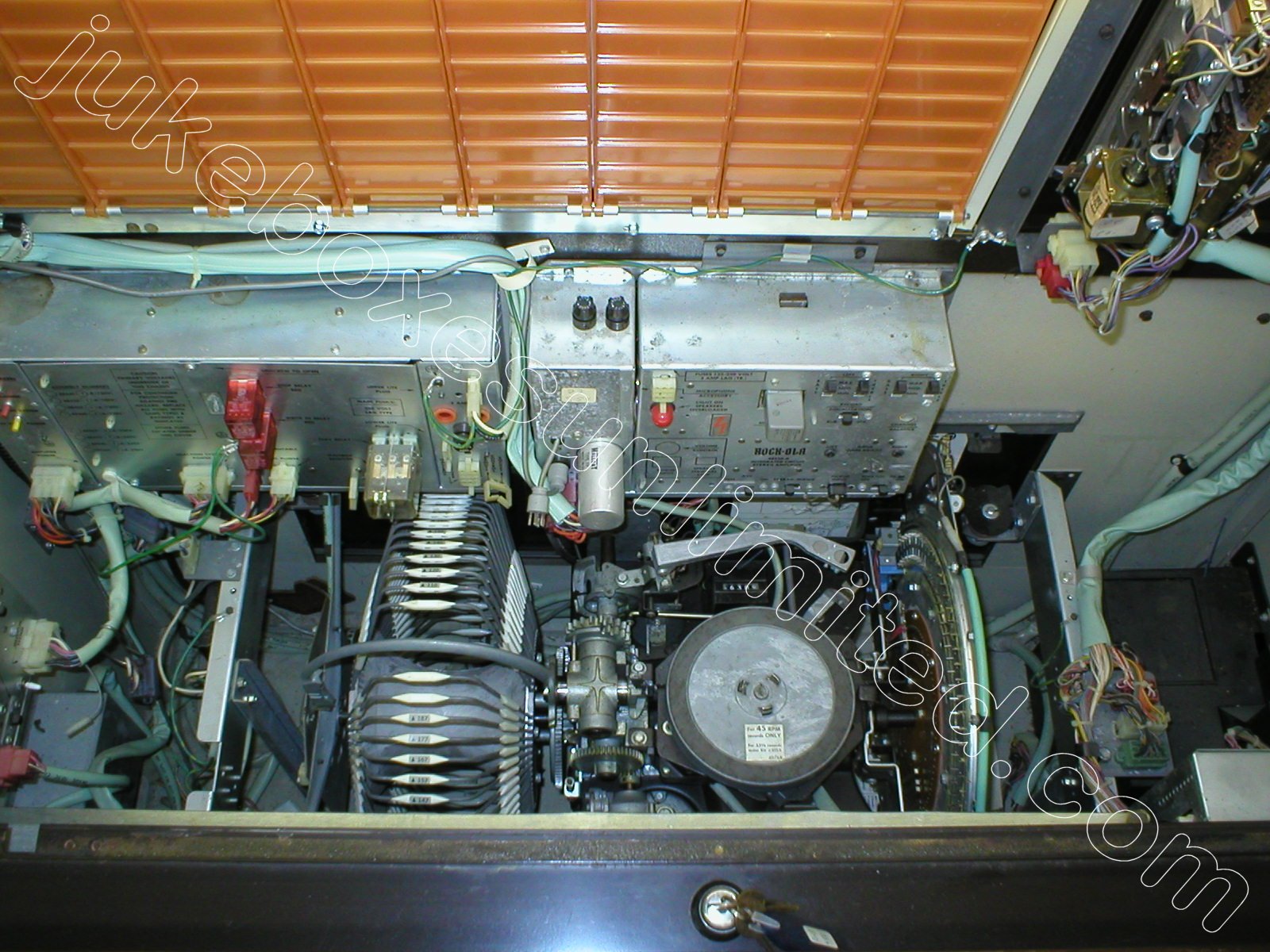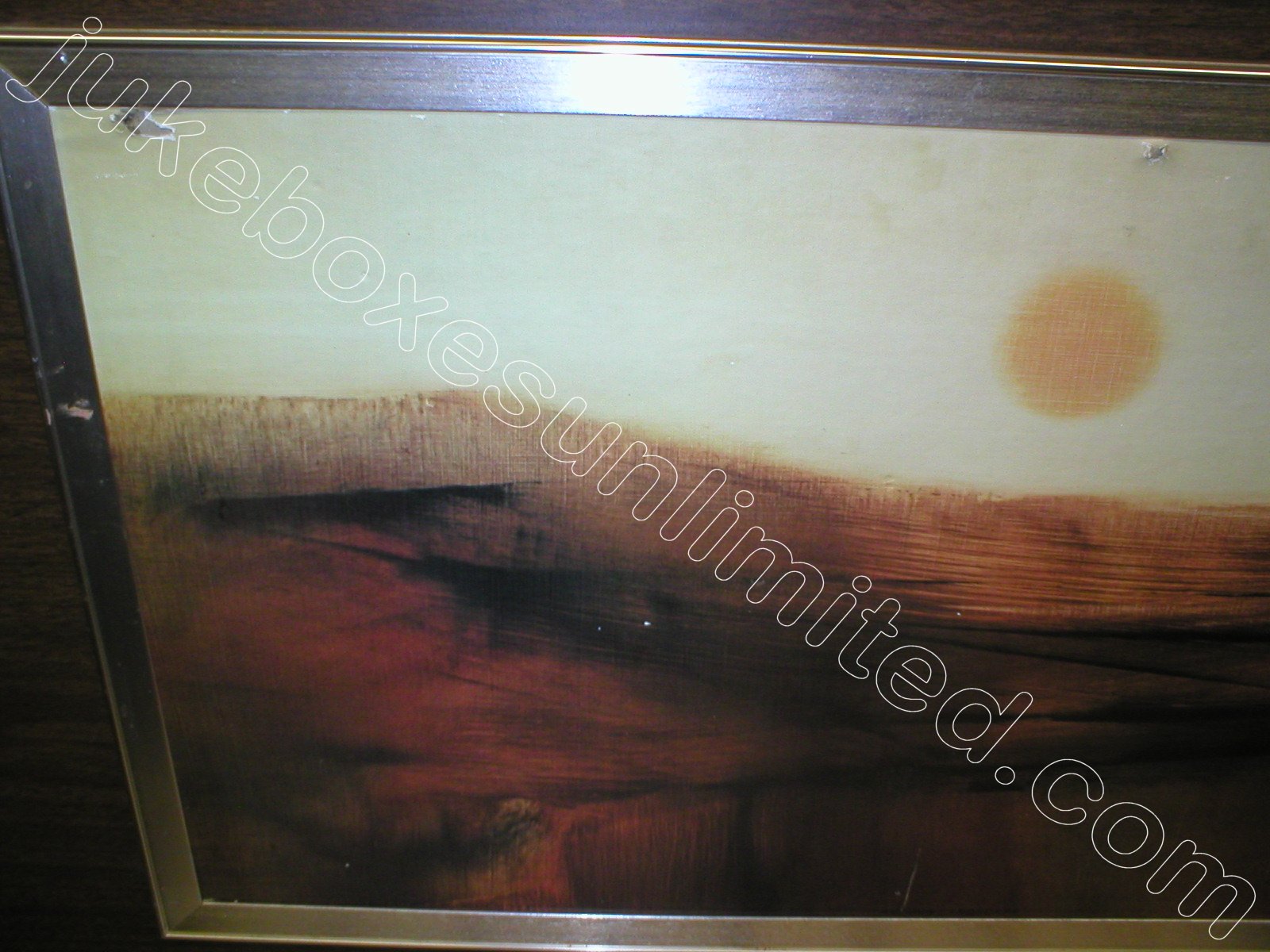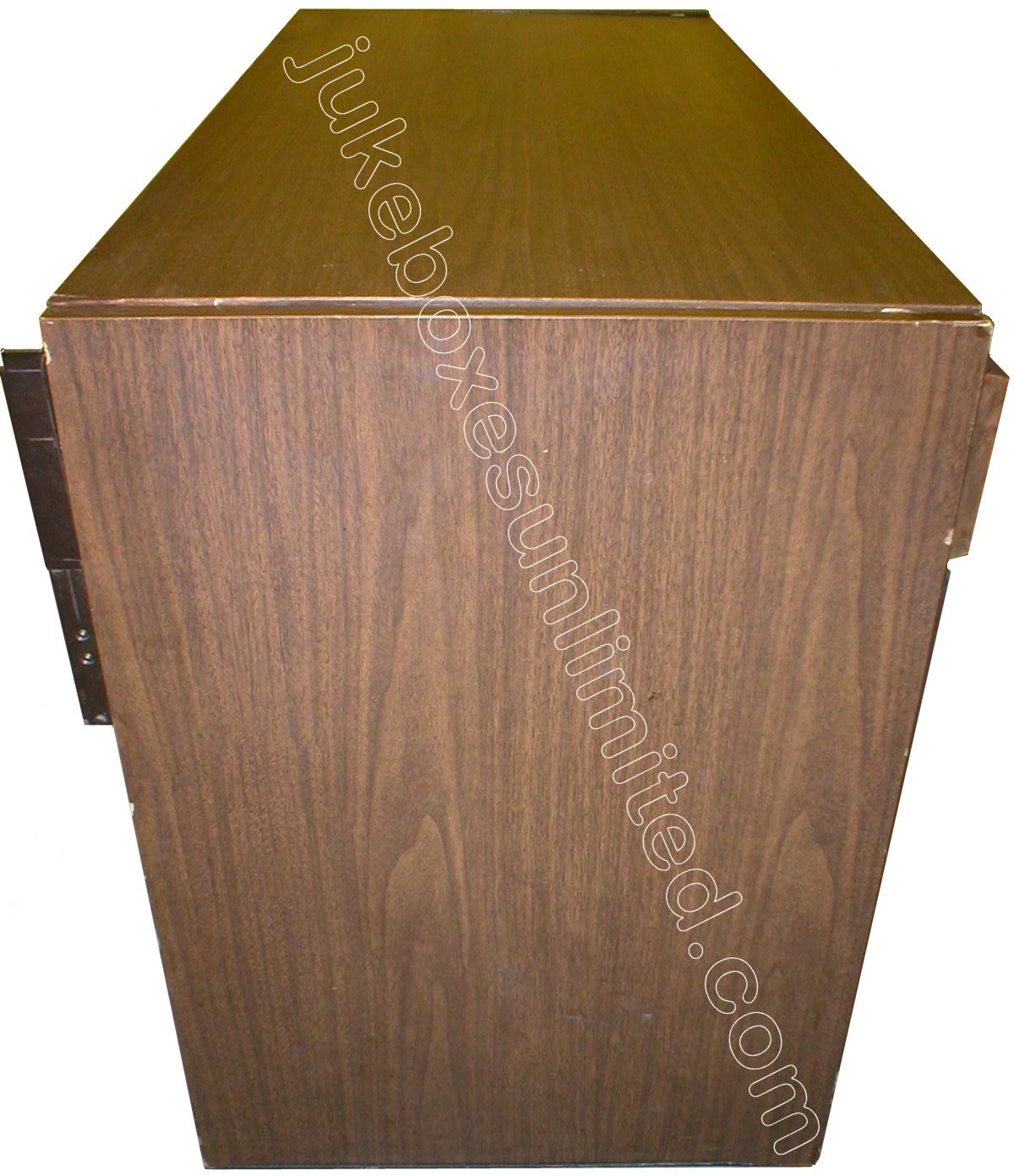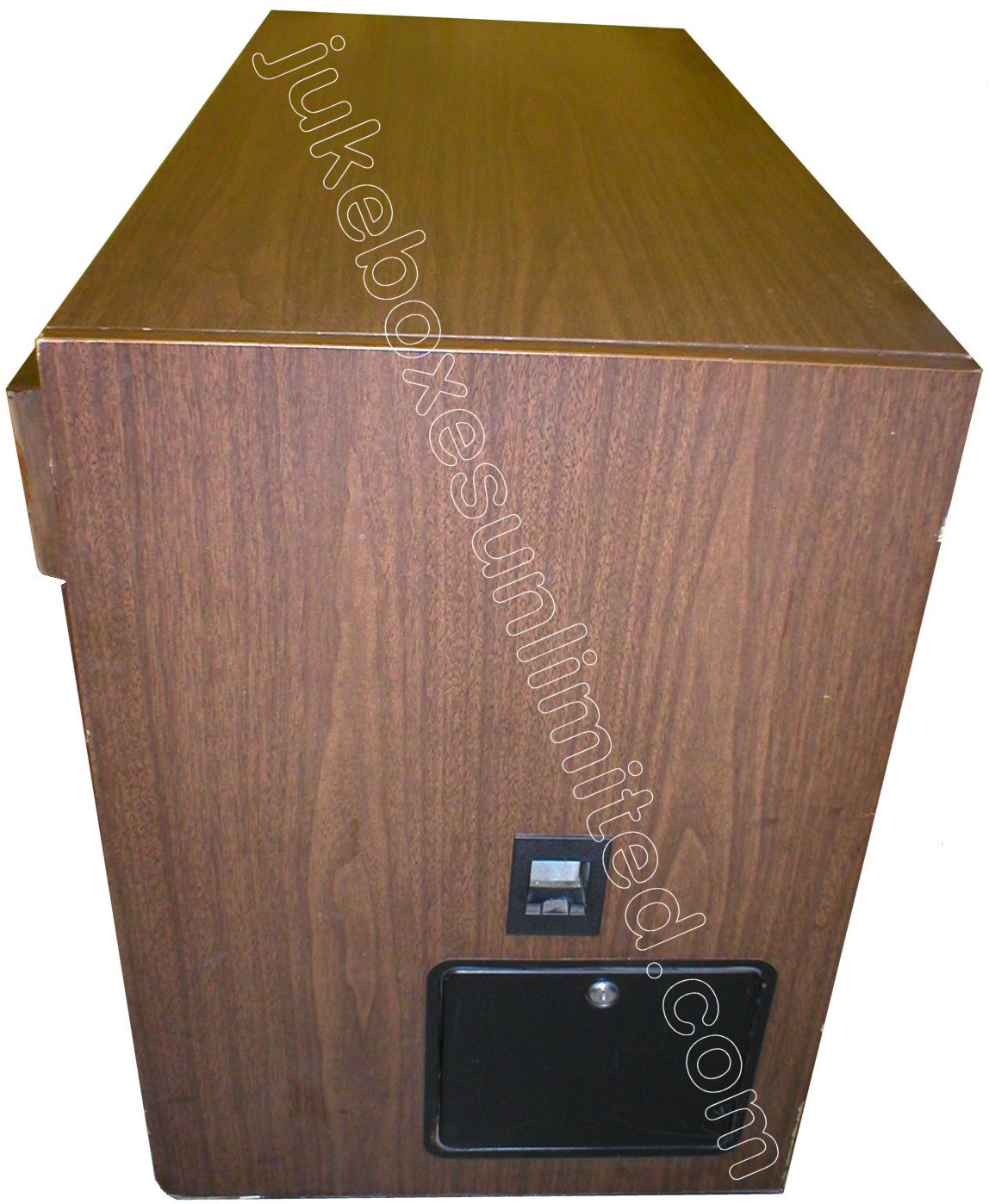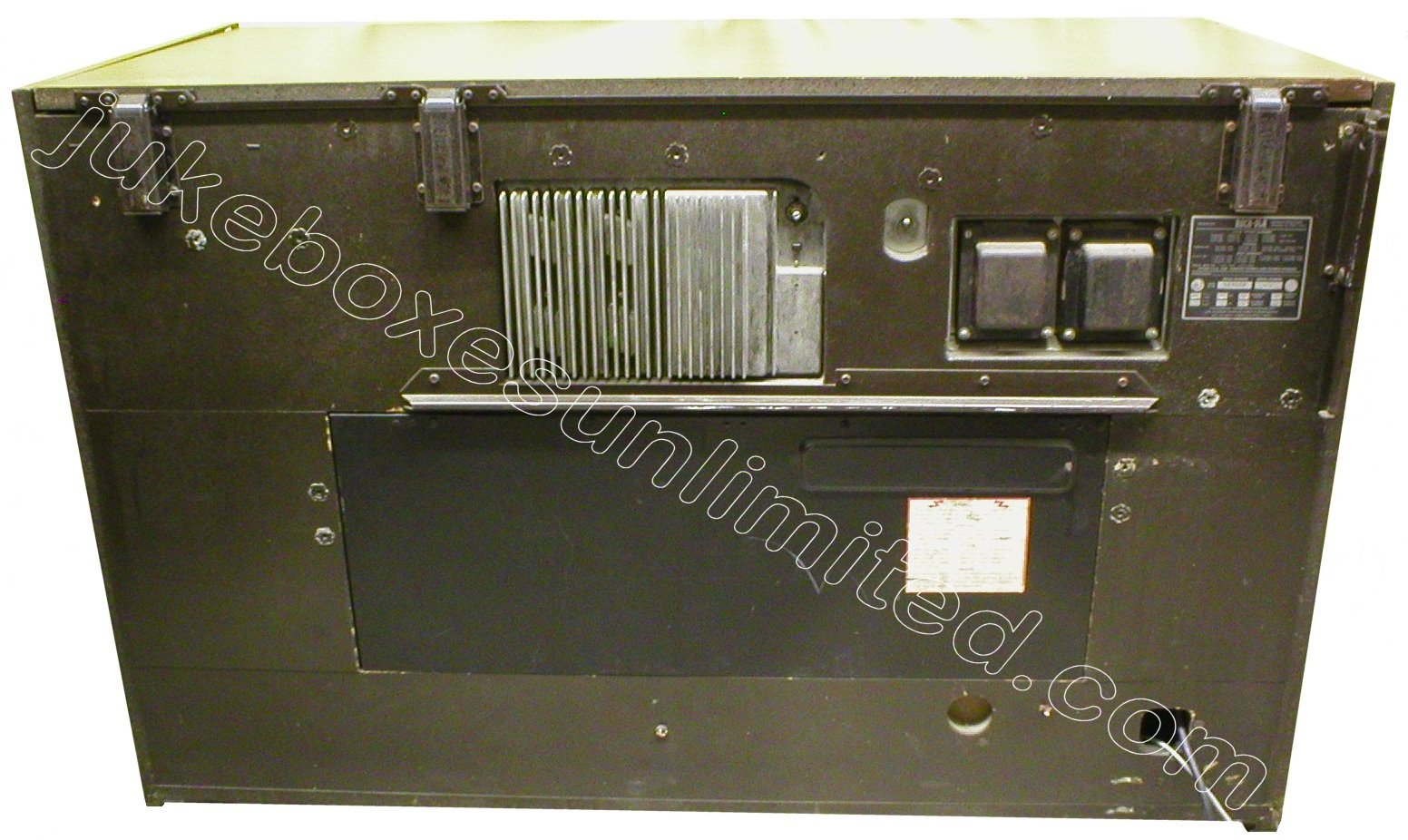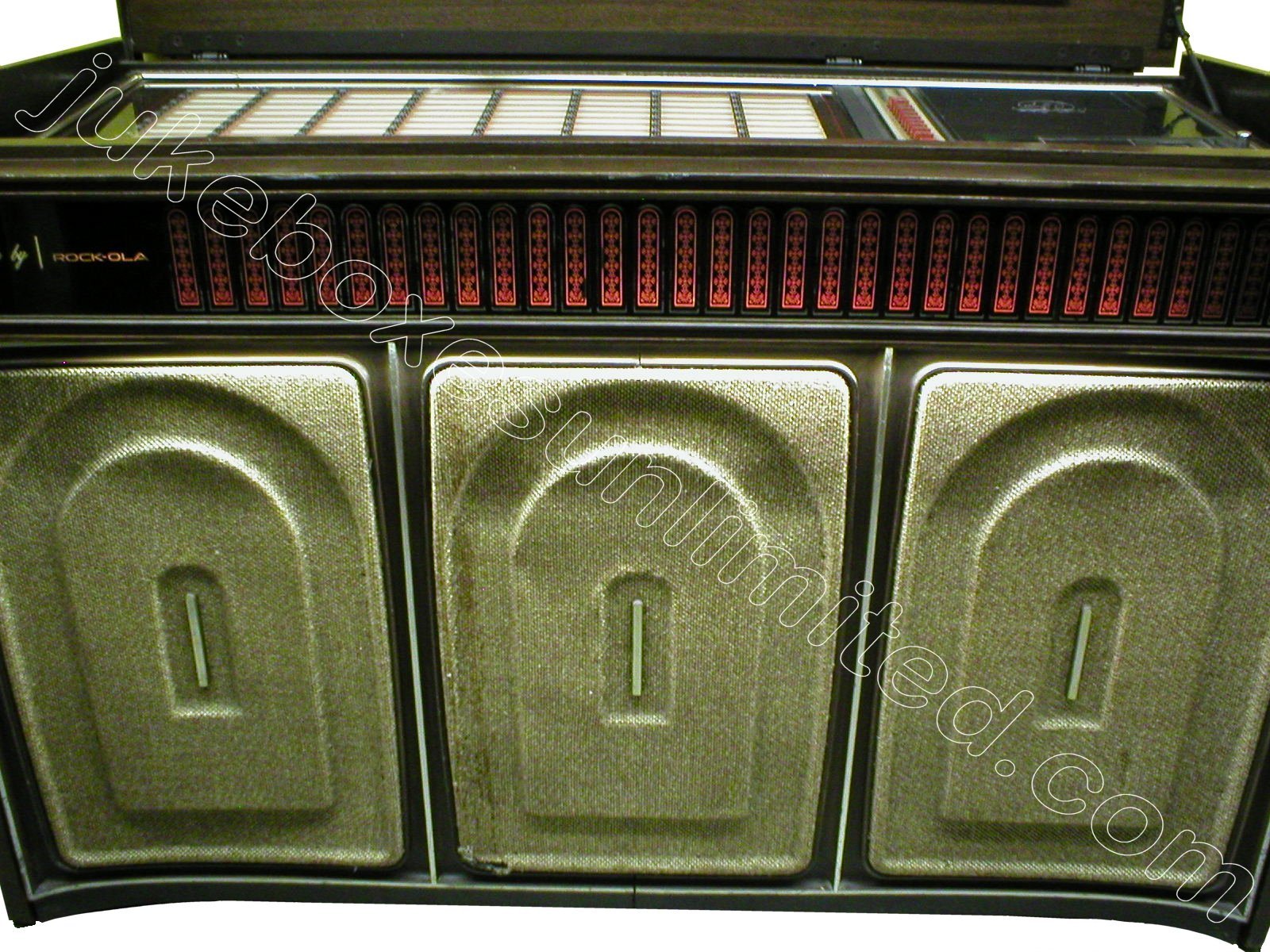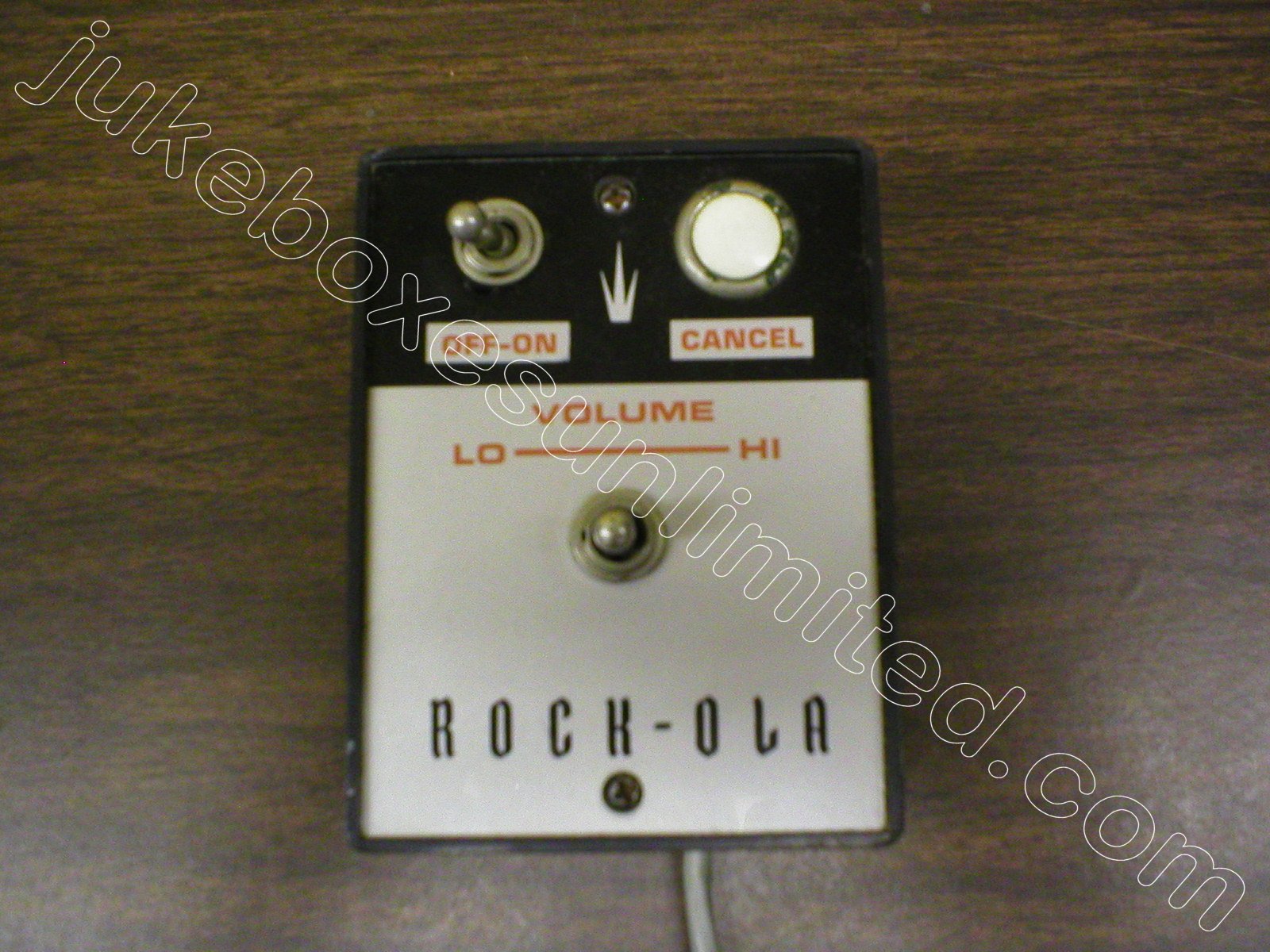 You can add a remote control unit too.
We ship worldwide and to insure proper care we crate the jukeboxes ourselves. Call us with your shipping address and we'll get you a competitive shipping/insurance quote (prices vary according to value and destination), unless you'd like to pick it up or have us deliver it in the Southern California area.
Our experience in servicing jukeboxes bought elsewhere through the Internet is that many sustain some kind of damage in transport. When you buy a jukebox from us we make sure the components inside are properly secured. In some cases we can send you detailed photos and instructions on how to unpack the unit and get it up and running.

"We only sell quality reconditioned jukeboxes that we'll be happy to service in the future.
This we've done since 1971."



If you're interested in this or any of our other jukeboxes call us at:
1-818-366-9400, 10AM-6PM P.S.T. Mon.-Sat. or e-mail us: Info@JukeboxesUnlimited.com.

For jukebox rental information in the Los Angeles area visit Jukeboxes For Rent ®.