JUKEBOXES UNLIMITED.com®
Established 1971
Los Angeles, CA 91394
1-818-366-9400

Our jukeboxes have been professionally rebuilt/restored
and include a full one year parts warranty.

We ship worldwide.



2001 Antique Apparatus
CD Jukebox
Model "CD-91"
Reproduction of 1942 Wurlitzer 71
Over 3,000 Selections*
SOLD!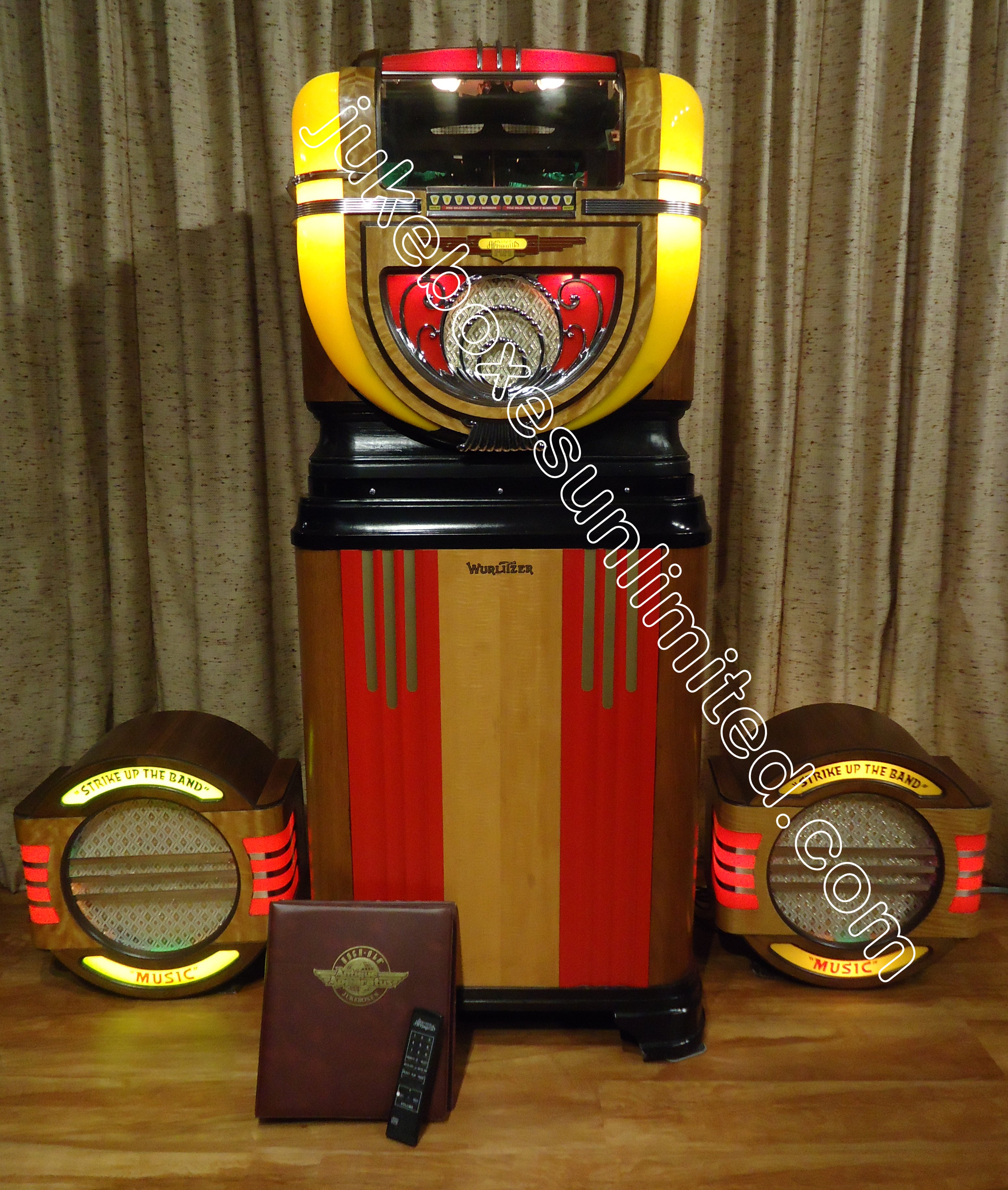 I'll be the first to admit, I'm not an expert on the history of either the 1940/1941 Wurlitzer Counter Model 71 or this Antique Apparatus CD-91 which is a reproduction of it.
That said I have two guys who work with me that probably know the "workings" of this CD-91 better than just about anybody in the country. One fella was in the service department of a Rowe Distributor for 26 years and the other worked in engineering at the Rockola factory when it was made.
What's nice about having these guys involved in the reconditioning is the extensive education they've earned working on them "out in the field" for years. They've learned improvements and "tricks" no service manual can ever show you.
(NOTE: Service manuals are written while a jukebox is being manufactured. Only after it's out there working in bars and restaurants do the unexpected problems pop up that the engineers might never have foreseen.)
So what do Rowe and Rockola have to do with this reproduction of a Wurlitzer you ask? Well here's the history as I know it: Glenn Streeter had begun building his full size Wurlitzer reproduction jukeboxes in Los Angeles back around 1982 with his company ANTIQUE APPARATUS. His craftsmanship with wood was not to be denied. He was and is good with woodworking.
About ten years into building full size jukes he began building reproductions of Wurlitzer counter top jukeboxes playing vinyl 45s with Rowe mechanisms.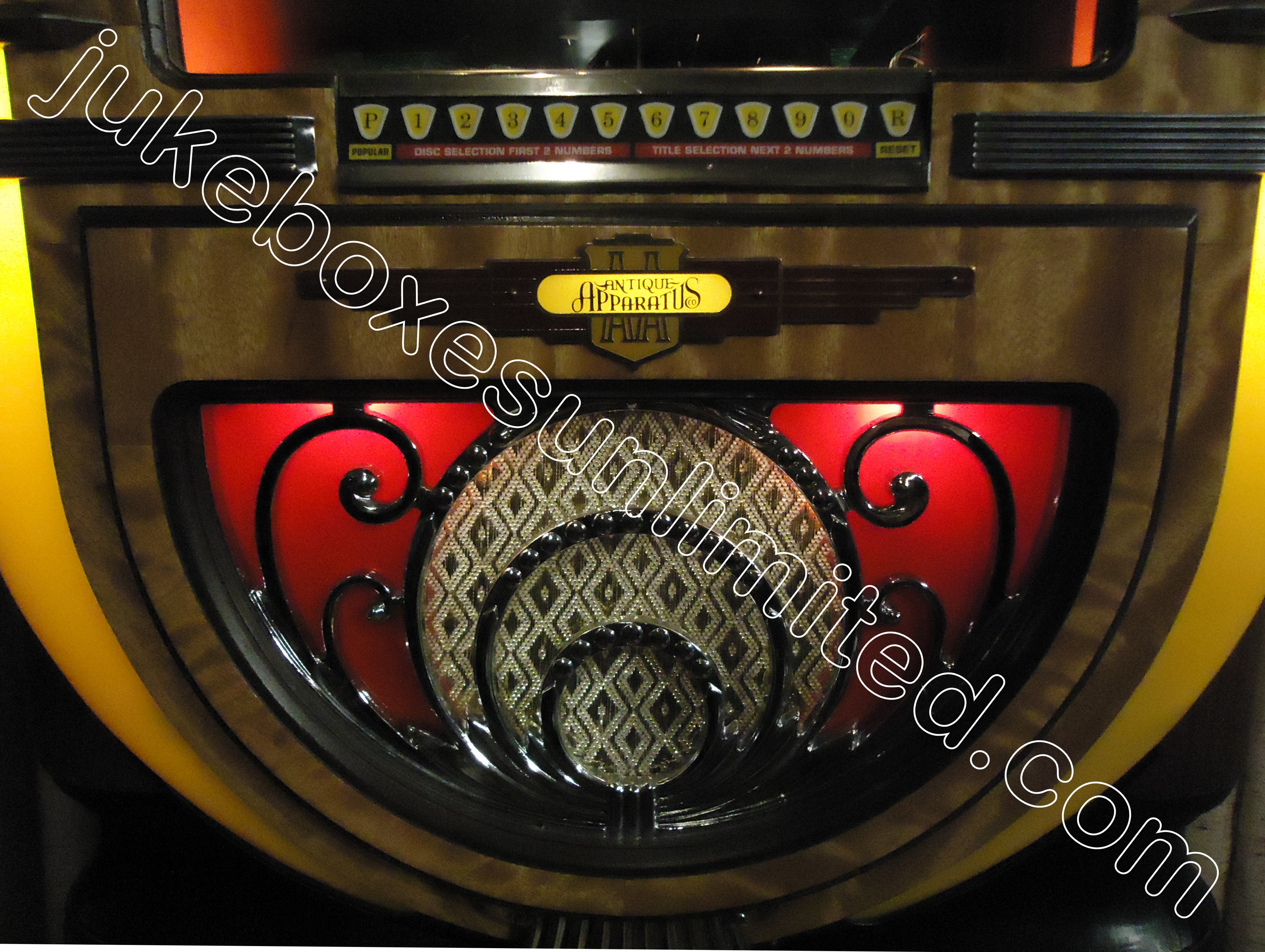 The CD-91 was the third in the series and it too had Rowe components in it; but this one plays CDs. One Hundred CDs in fact! As it came to be, Rowe made the most dependable CD mechanisms on the market which it dominated in America until the advent of "downloading" jukeboxes.
This little jewel is relatively amazing in that it is a "complete" jukebox with powerful 180 watt amplifier, graphic equalizer and stereo speakers on the front door. It even has RCA phono line-out jacks from the CD player to tie in with your existing stereo system and also jacks to connect external speakers.
The CD-91 cabinet is quality crafted from hardwoods and finished with walnut and satinwood veneer. This is what ANTIQUE APPARATUS is famous for.
With it comes a deluxe, fully programmable, Infrared wire-less remote control that allows you to mute, cancel, adjust the volume and actually make selections from your easy chair. Rare!
Although the CD-91 has its own stereo speakers, we thought to make this package ever more desirable we'd include the two external reproduction "Strike Up the Band" speakers (model RS 1800) shown with it.
Made by ANTIQUE APPARATUS and fashioned after the ones Wurlitzer offered (model 39) with their jukeboxes from 1939 to 1941. These beauties are hand made of bent wood and covered with walnut and satinwood. They have large 12" speakers inside. They light up. They are extremely rare.
I know you're wondering about the bottom section that has a Wurlitzer decal on it and looks like a stand. Well it is. It's a reproduction of the base Model 710 made especially to hold the "71" back in 1940-41. This ANTIQUE APPARATUS reproduction base is flawless, beautiful and sturdy. Crafted of fine woods, it has a shelf inside that could easily hold all 100 CD jewel cases …. so you don't lose track of 'em.
Speaking of holding things, this set also includes the large (11x12), extremely rare, authentic ROCKOLA, vinyl covered album binder. It has clear vinyl pockets to hold all the title cards for all 100 CDs. Then next to each one of them is another pocket where you can insert the picture insert from the CD's jewel case.
We just acquired both these units from their original owner who had them stored nearly this entire time. They're practically "new". And although the jukebox just lifts right off, we intend to sell all the pieces as a "set".
No matter where this "set" is placed, it will glow softly, play perfectly and draw humans to it like a moth to a flame.
As rare as the jukebox is alone, finding all these rarer pieces at one time in one purchase together would be nearly impossible today. In 43 years in the business, I've never even seen most of these products in person.
It could take years to find and purchase all these wonderful musical toys, but here they are right now available to you. Is there someone you know who thinks he or she has everything? Well here ya go; prove 'em wrong.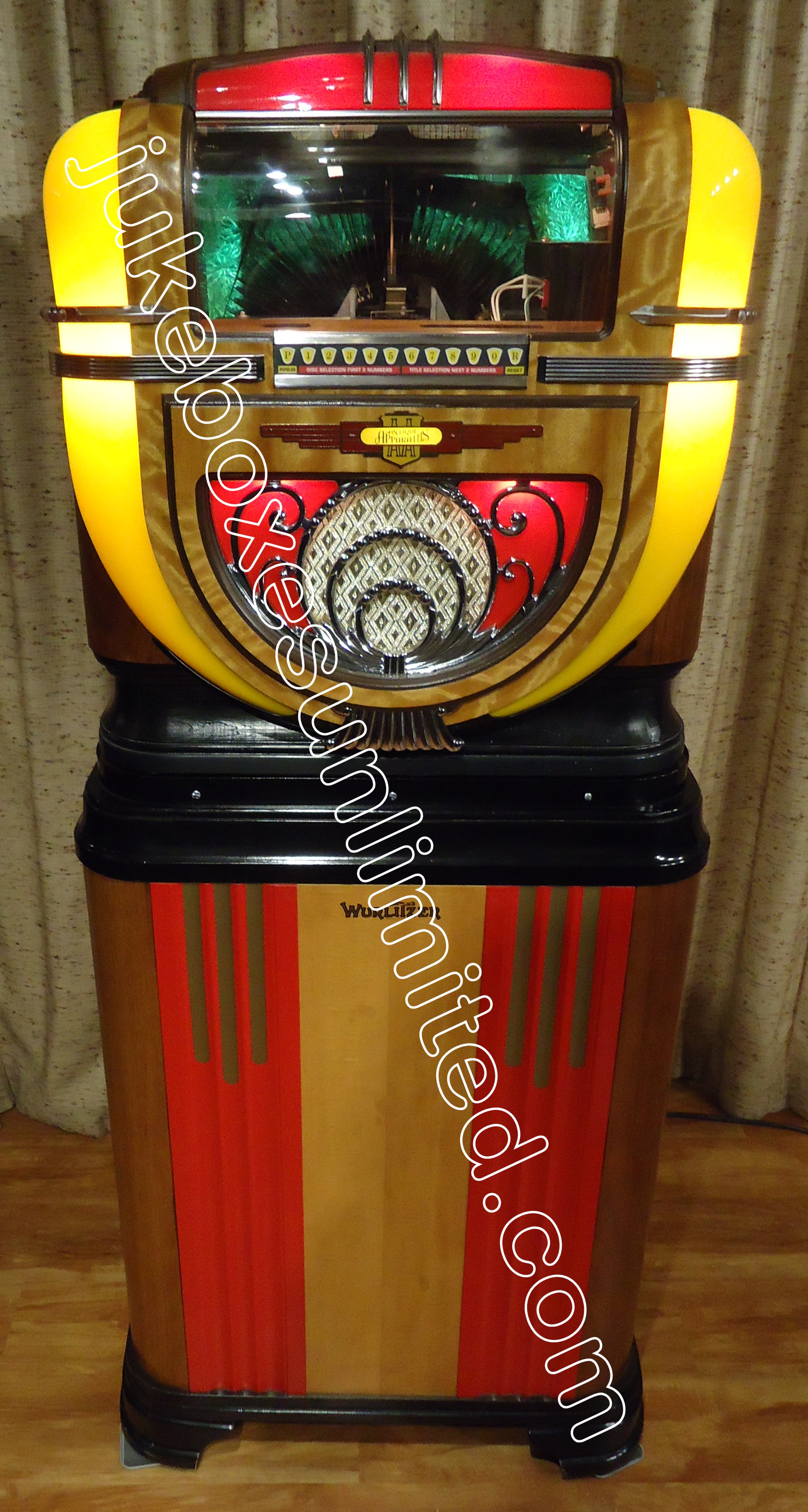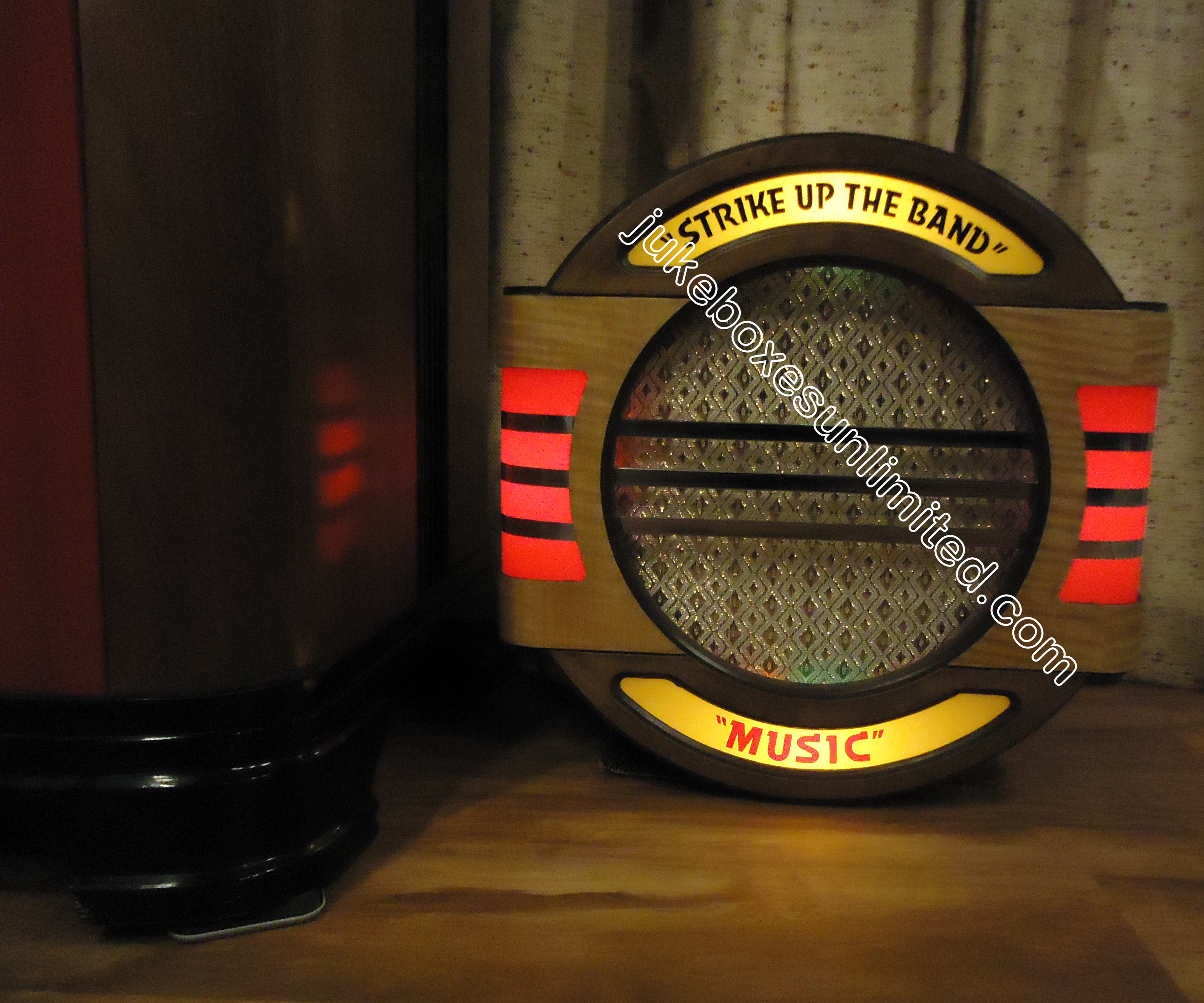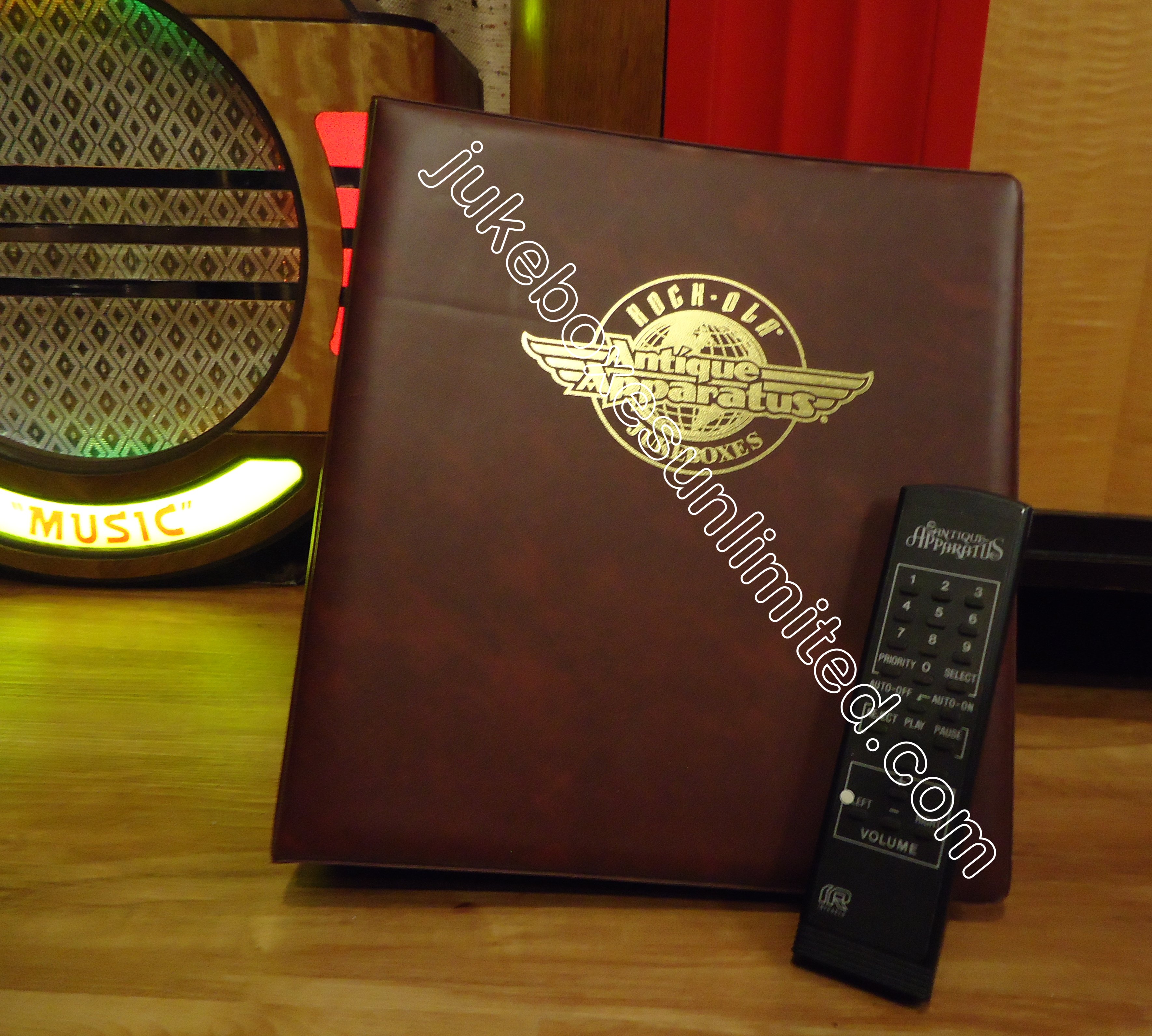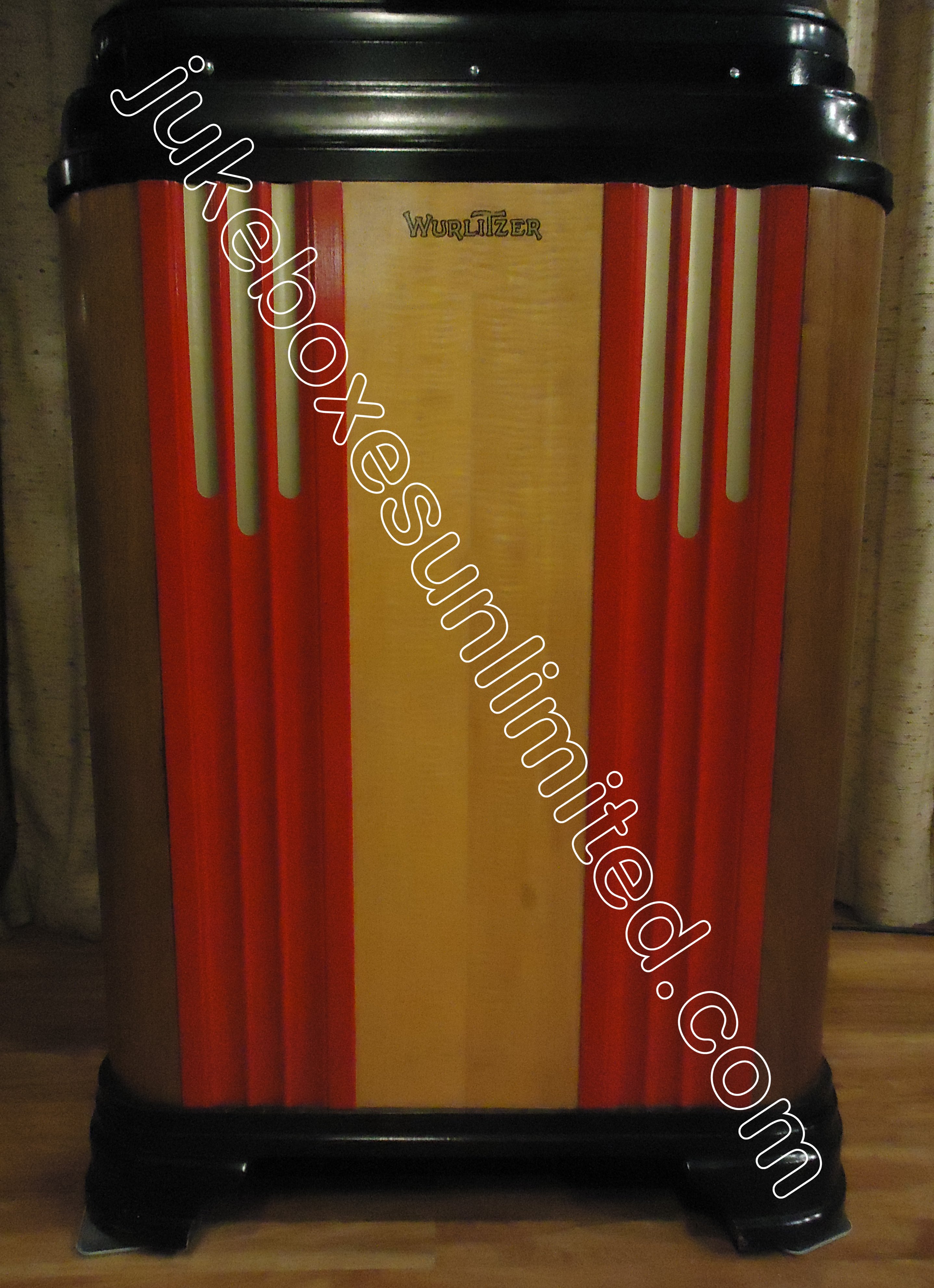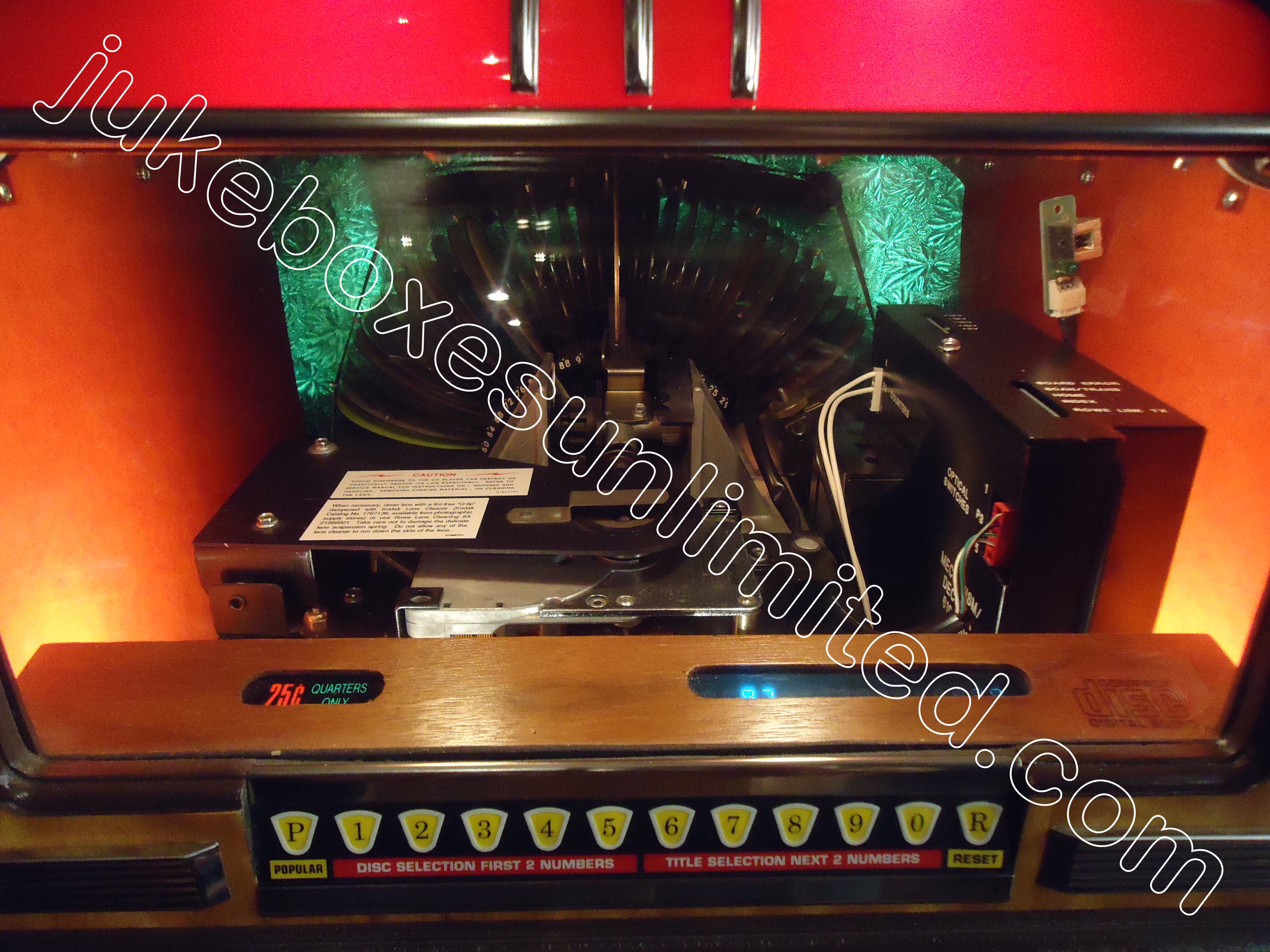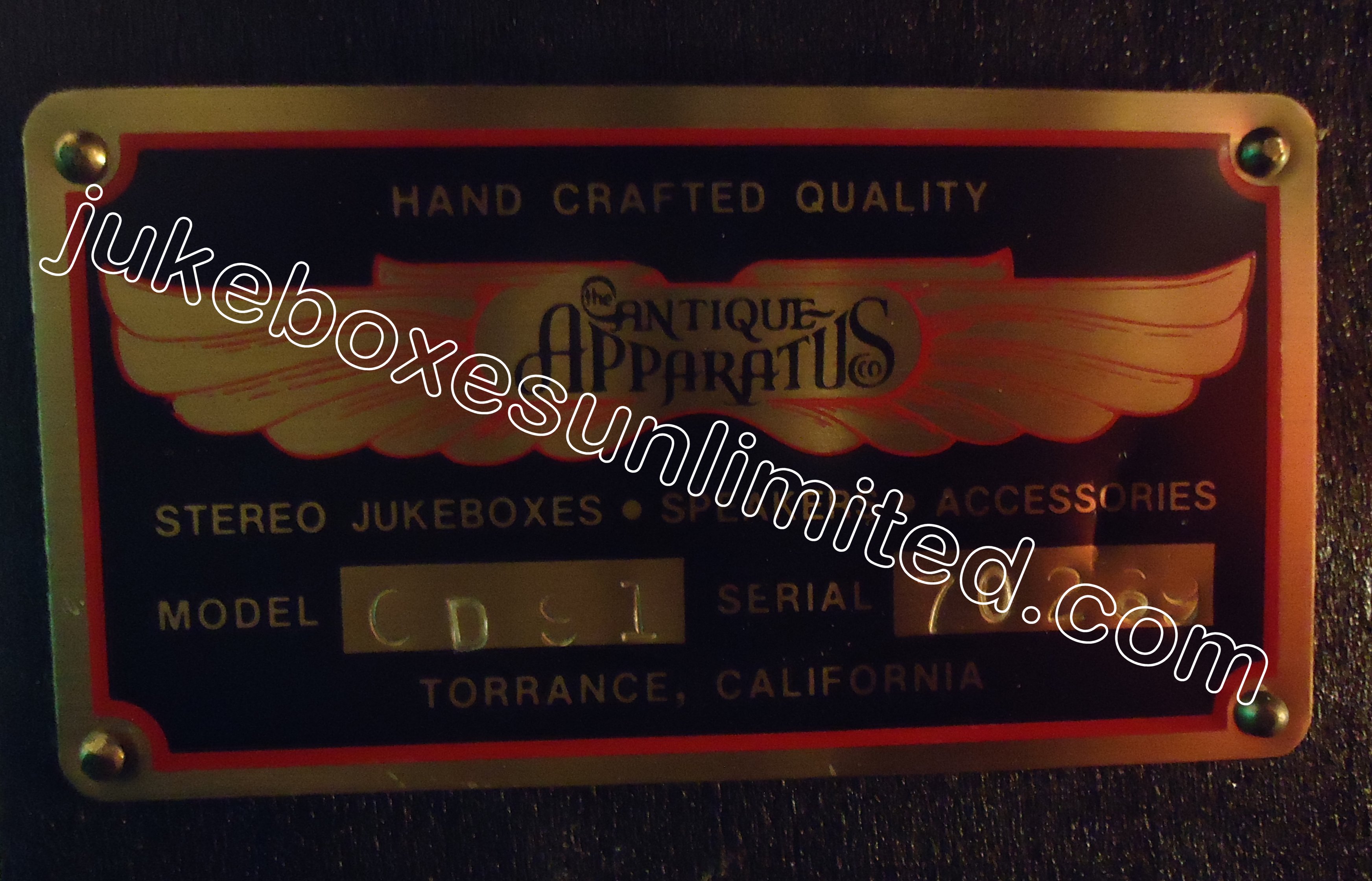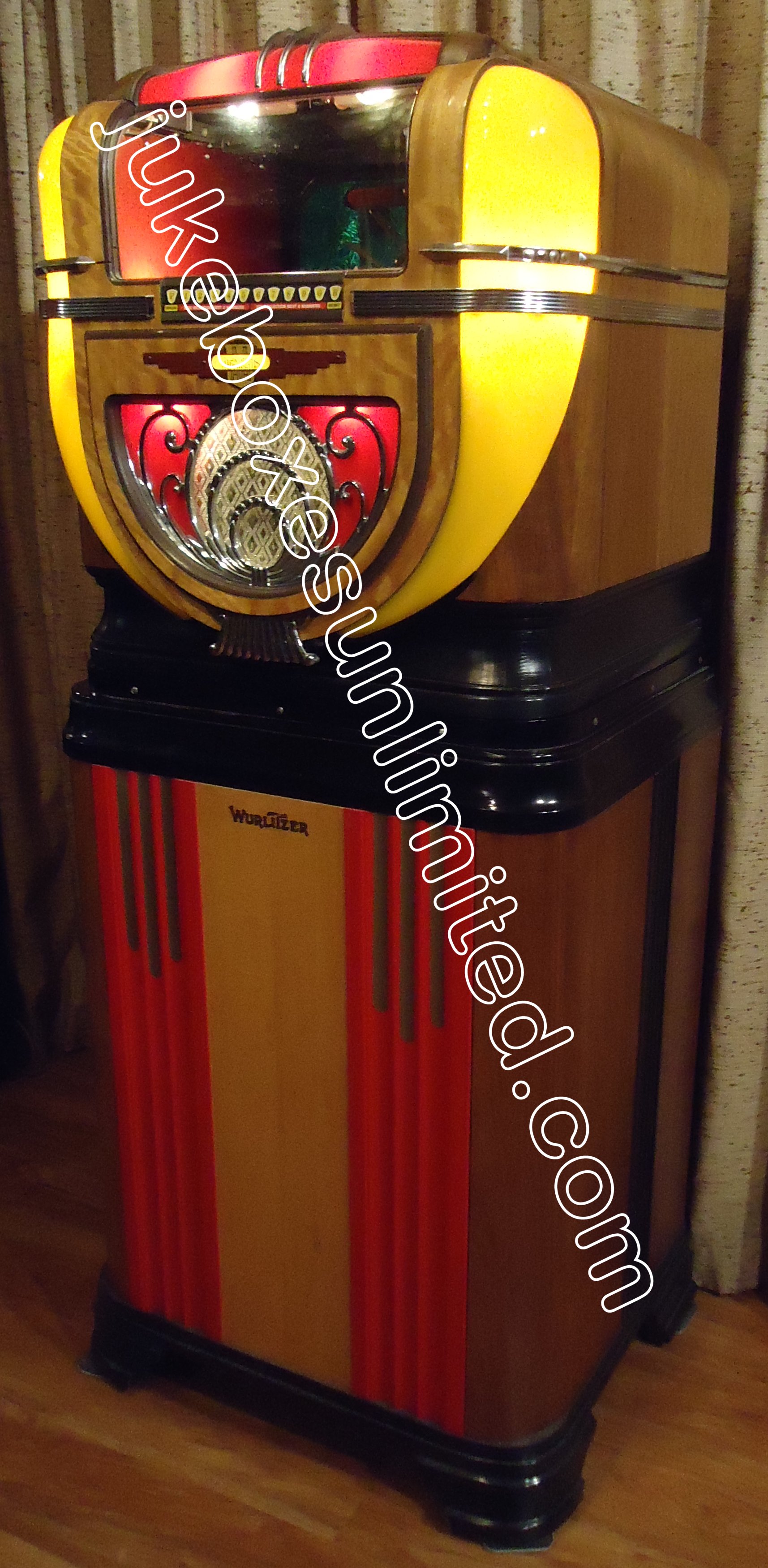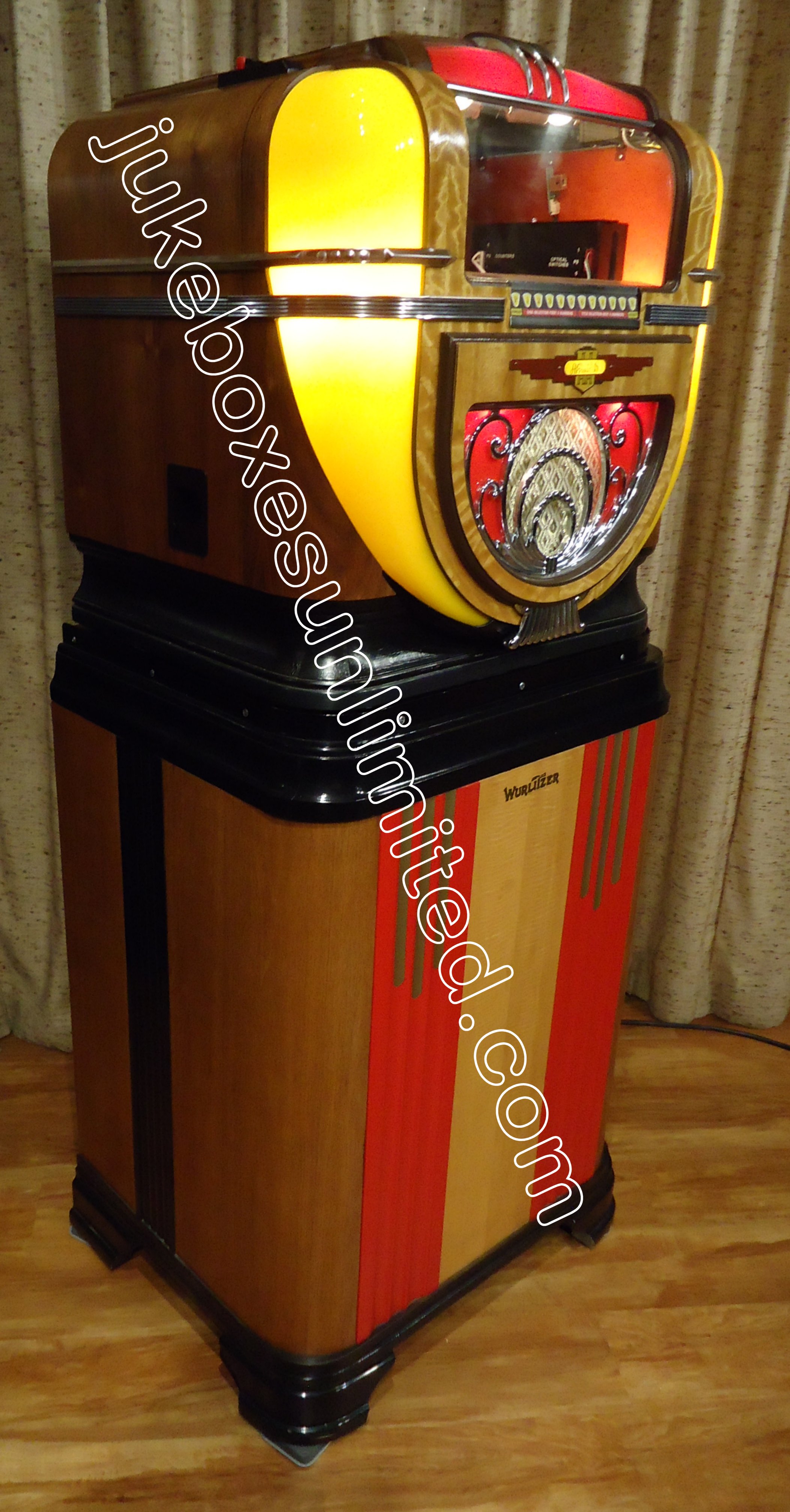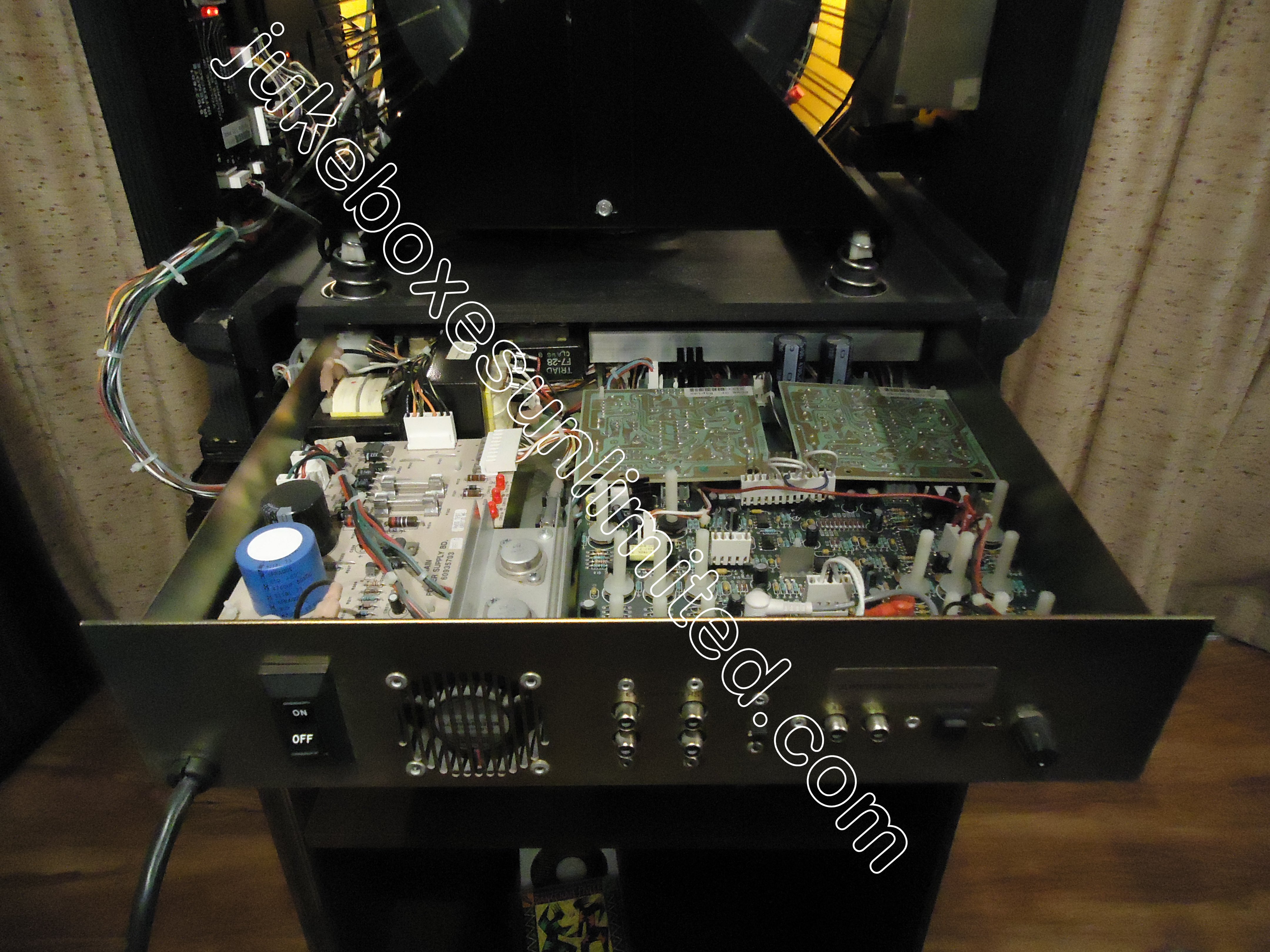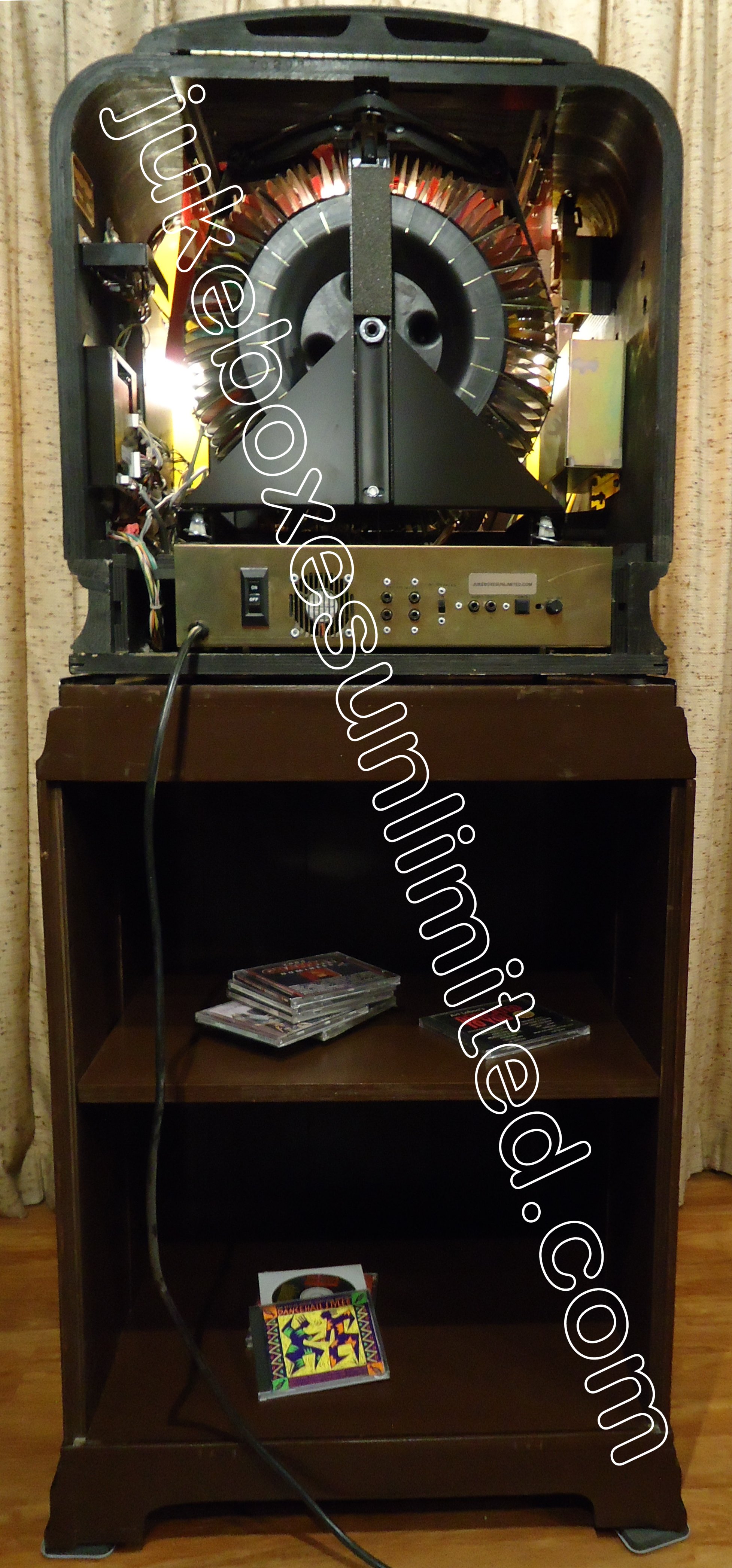 We ship worldwide and to insure proper care we crate the jukeboxes ourselves. Call us with your shipping address and we'll get you a competitive shipping/insurance quote (prices vary according to value and destination), unless you'd like to pick it up or have us deliver it in the Southern California area.
Our experience in servicing jukeboxes bought elsewhere through the Internet is that many sustain some kind of damage in transport. When you buy a jukebox from us we make sure the components inside are properly secured. In some cases we can send you detailed photos and instructions on how to unpack the unit and get it up and running.

"We sell only quality rebuilt/restored jukeboxes that we'll be happy to service in the future.
This we've done since 1971."


If you're interested in this or any of our jukeboxes just e-mail us at: Info@JukeboxesUnlimited.com.

For jukebox rental information in the Southern California area visit Jukeboxes For Rent ®
or e-mail us at: Info@JukeboxesForRent.com.