JUKEBOXES UNLIMITED.com®
Established 1971
Los Angeles, CA 91394
1-818-366-9400

This jukebox has been professionally rebuilt/restored
and includes a full one year parts warranty.

We ship worldwide.


1958 Seeburg
45 - RPM Jukebox
Model "201" DH 200
200 Selections
SOLD!
No need to sleep in New York, New York.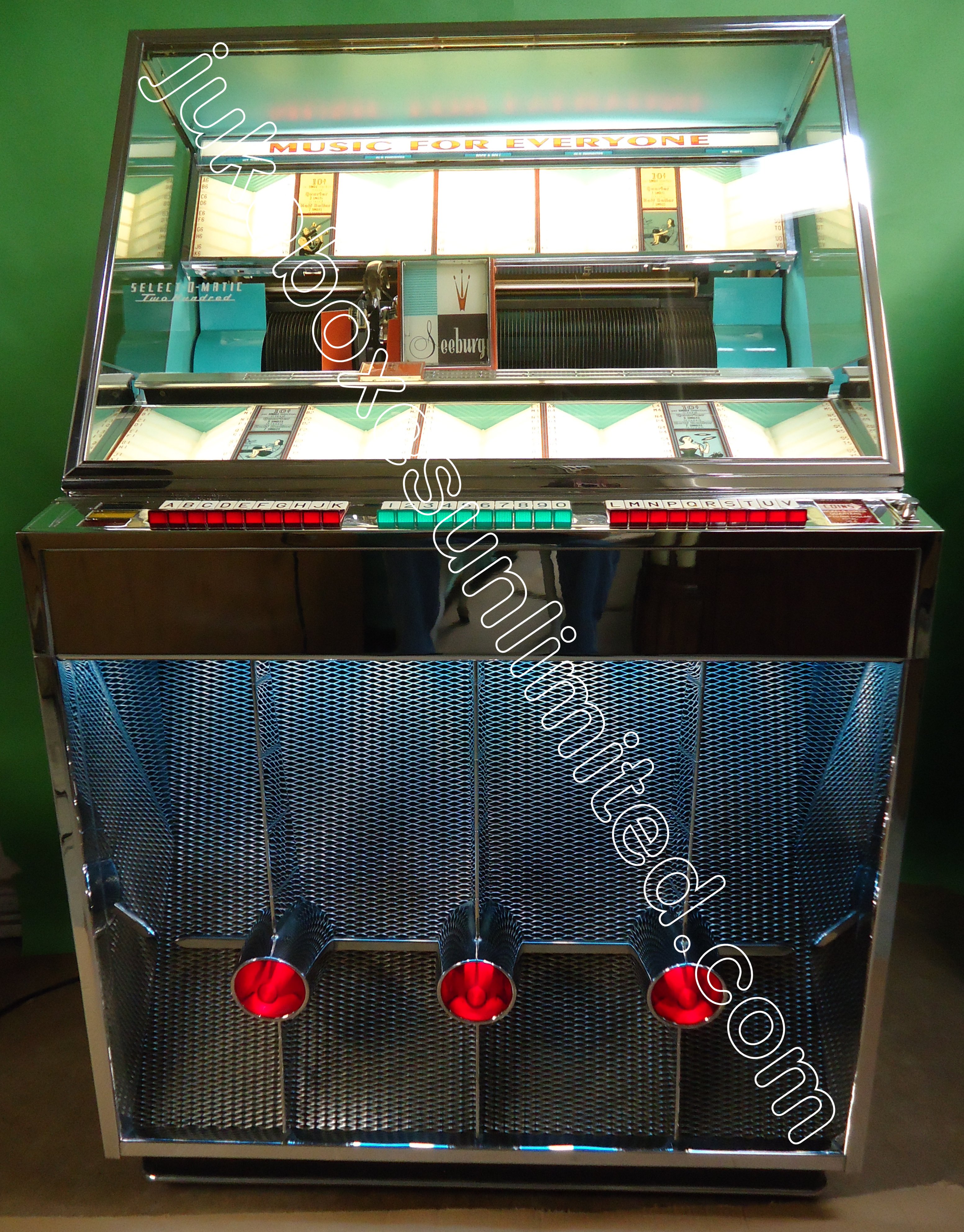 The "201" has been one of my personal favorites since I got into jukeboxes back in '71. It has the clean, sharp lines reflective of the times and the cars. Think of a '57 Chevy or even Cadillac Eldorado and their tail fins. They're all Classics with "CLASS".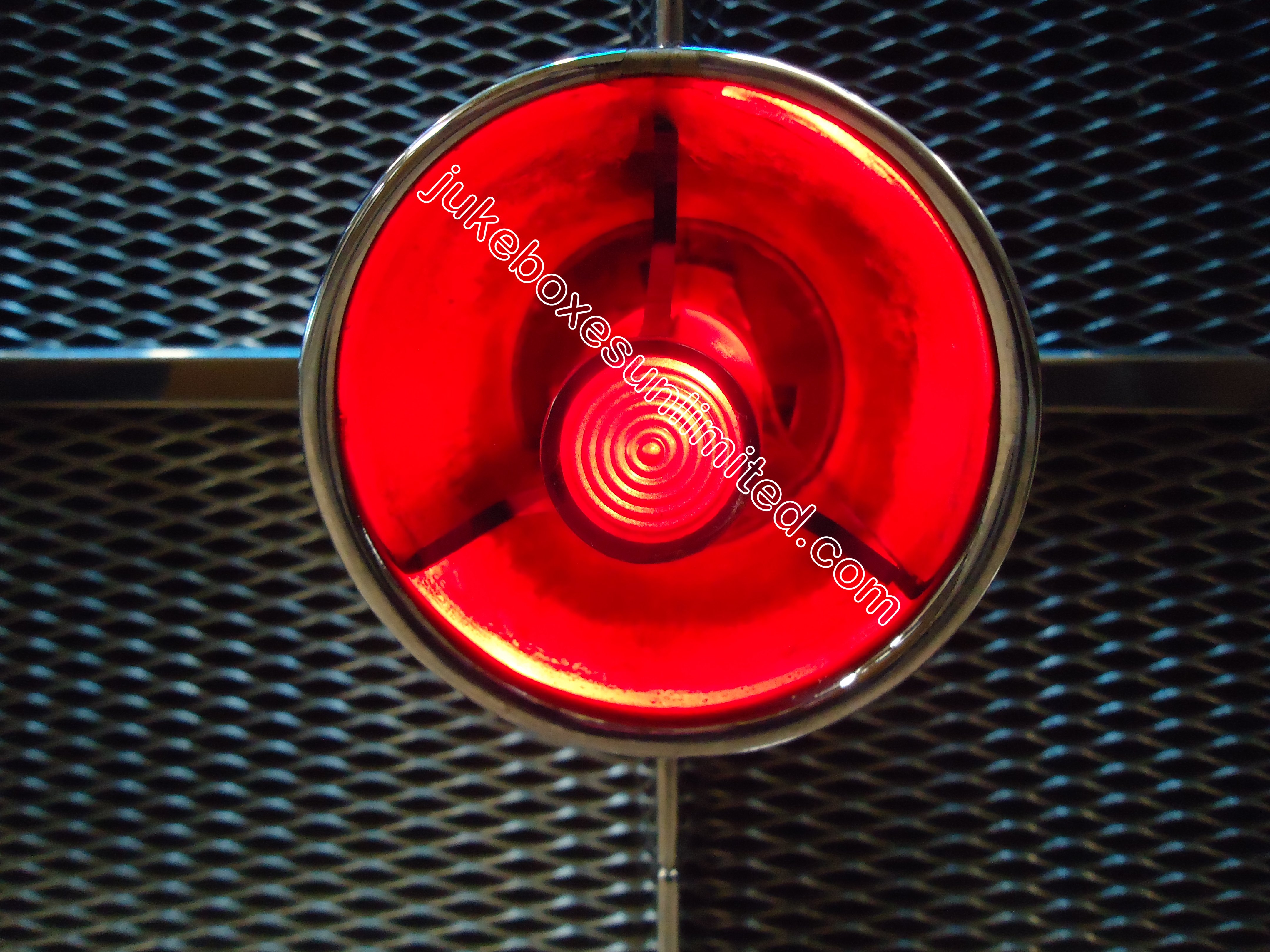 This was the second year of dramatic styling changes for Seeburg following the "L" and its big brother the "K" (KD). It was the fourth of only five 200 selection Seeburg models ever made. Those being the SICM of 1948, V200 of 1955, VL200 of 1956, KD200 of 1957, "201" of 1958 and the VMC of 1981. Ironic since Seeburg was the first with a 200 selection mechanism.
Although the "201" had the same amplifier power as its 45 rpm predecessors, I preferred it to them and it was unique to the "201". The "201" even had the same speaker configuration as them and the same great sound.
Interestingly enough Seeburg dropped the printed circuit boards in the power supply and amplifier that they had just introduced the year before and went back to the hard wired type.
But the coolest thing they carried over from the KD was the finned tail lights in the grill. This makes the "201" about the niftiest juke a car lover/collector could have in his garage or "Man-Cave".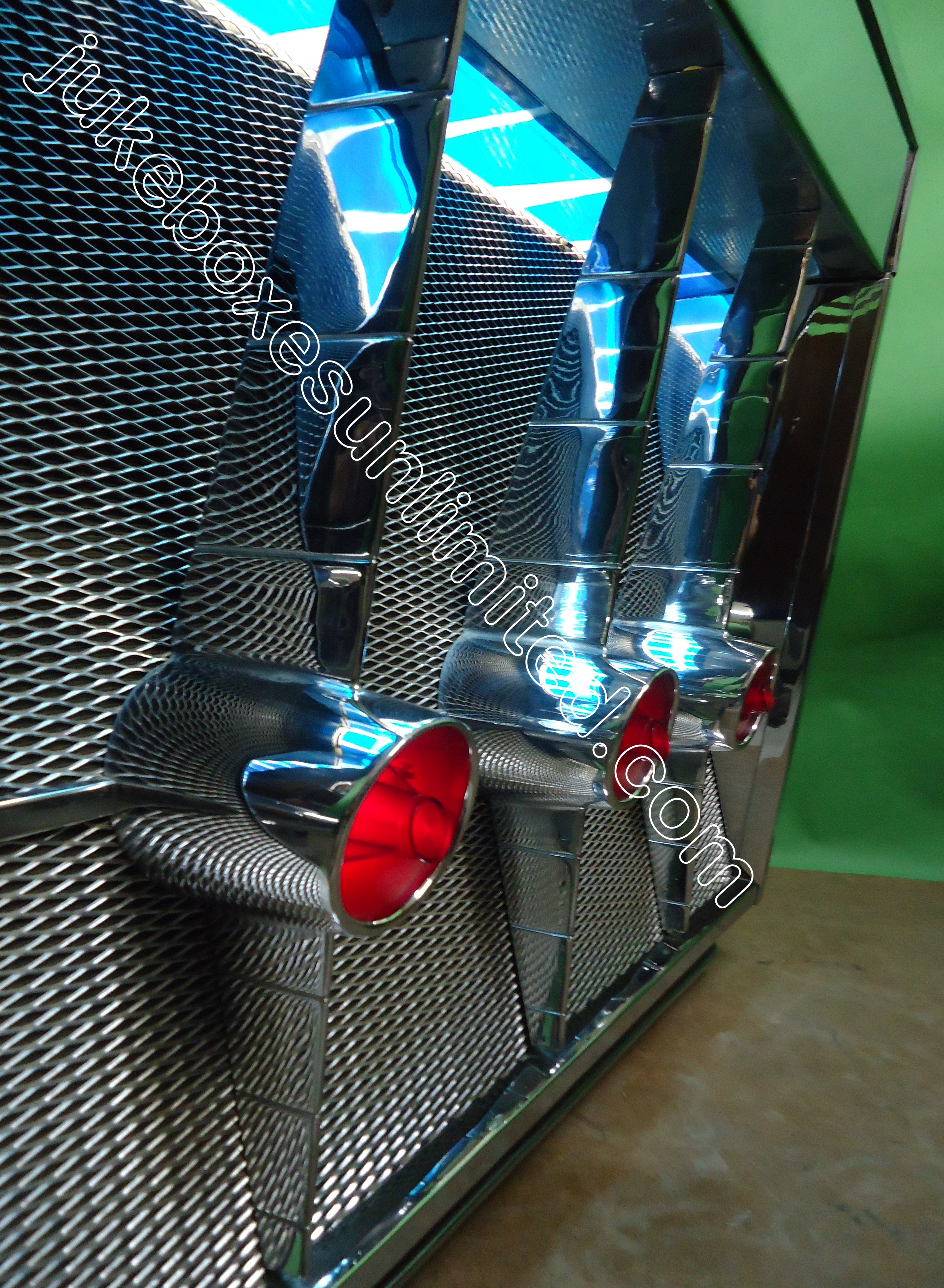 We just acquired this one from a $40 million home in Bel Aire that had just been sold. It was reconditioned locally and freshly chromed. I'd say it's relatively spectacular and I'm thinking of adding it to my own collection.
I believe we've only had about 5 or 6 of these beauties over the years. When they were introduced in January of 1958, they sold to jukebox operators for a pricey $1350. Consider this: you could buy a brand new car for $600-$700 more. So when factoring in inflation, we've kept the price right in line by adding a zero. Think of what a '58 Eldorado would be worth today.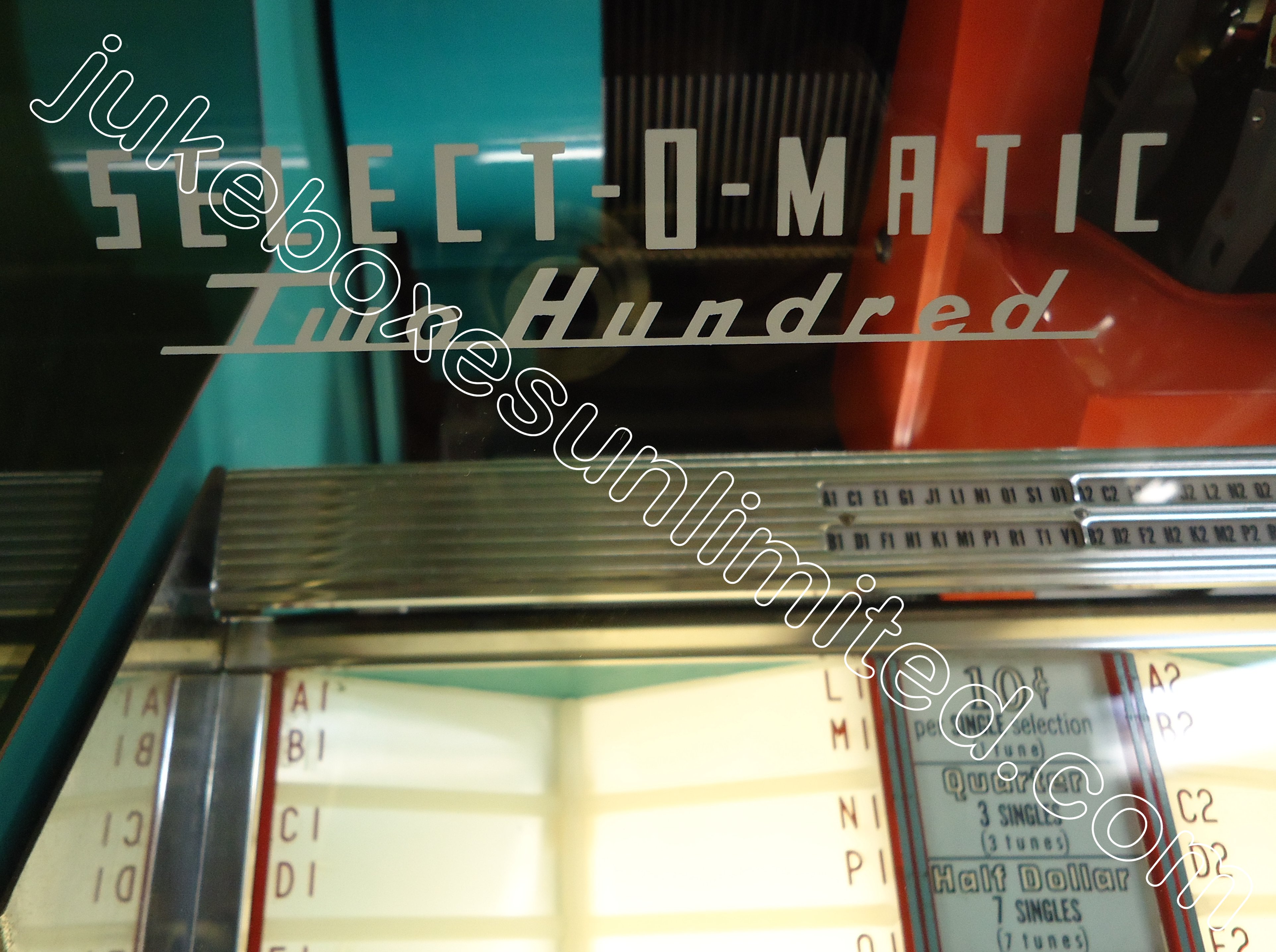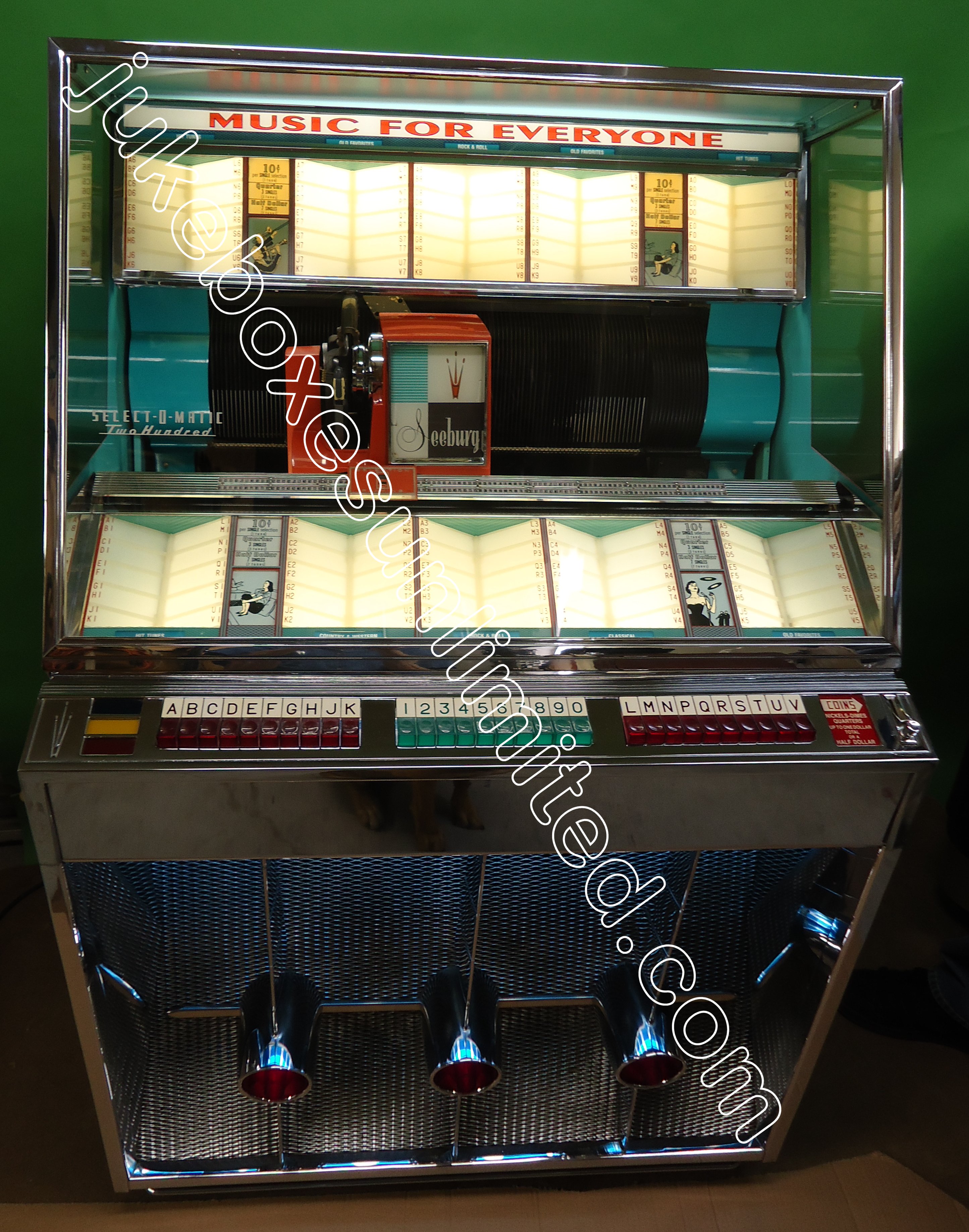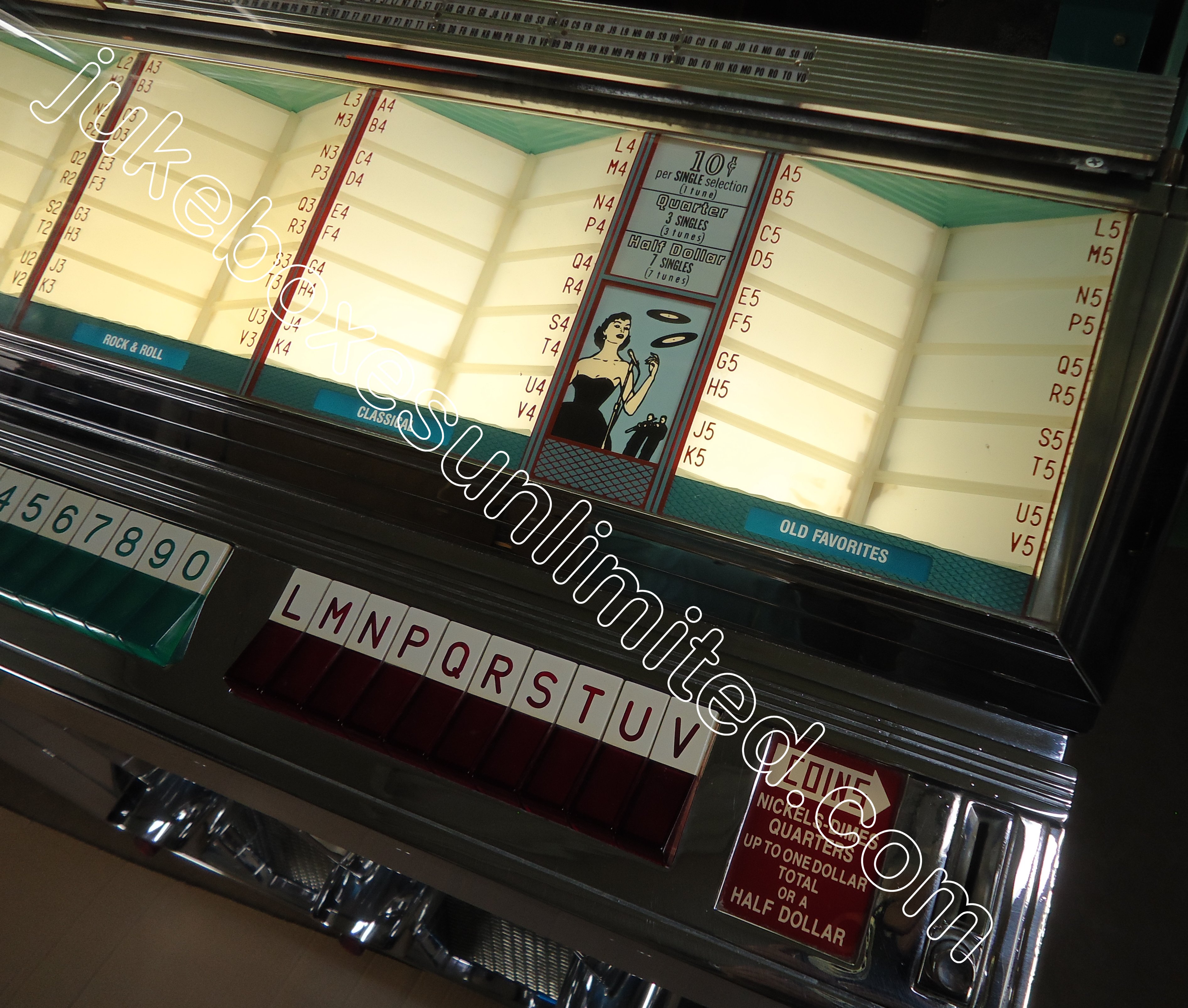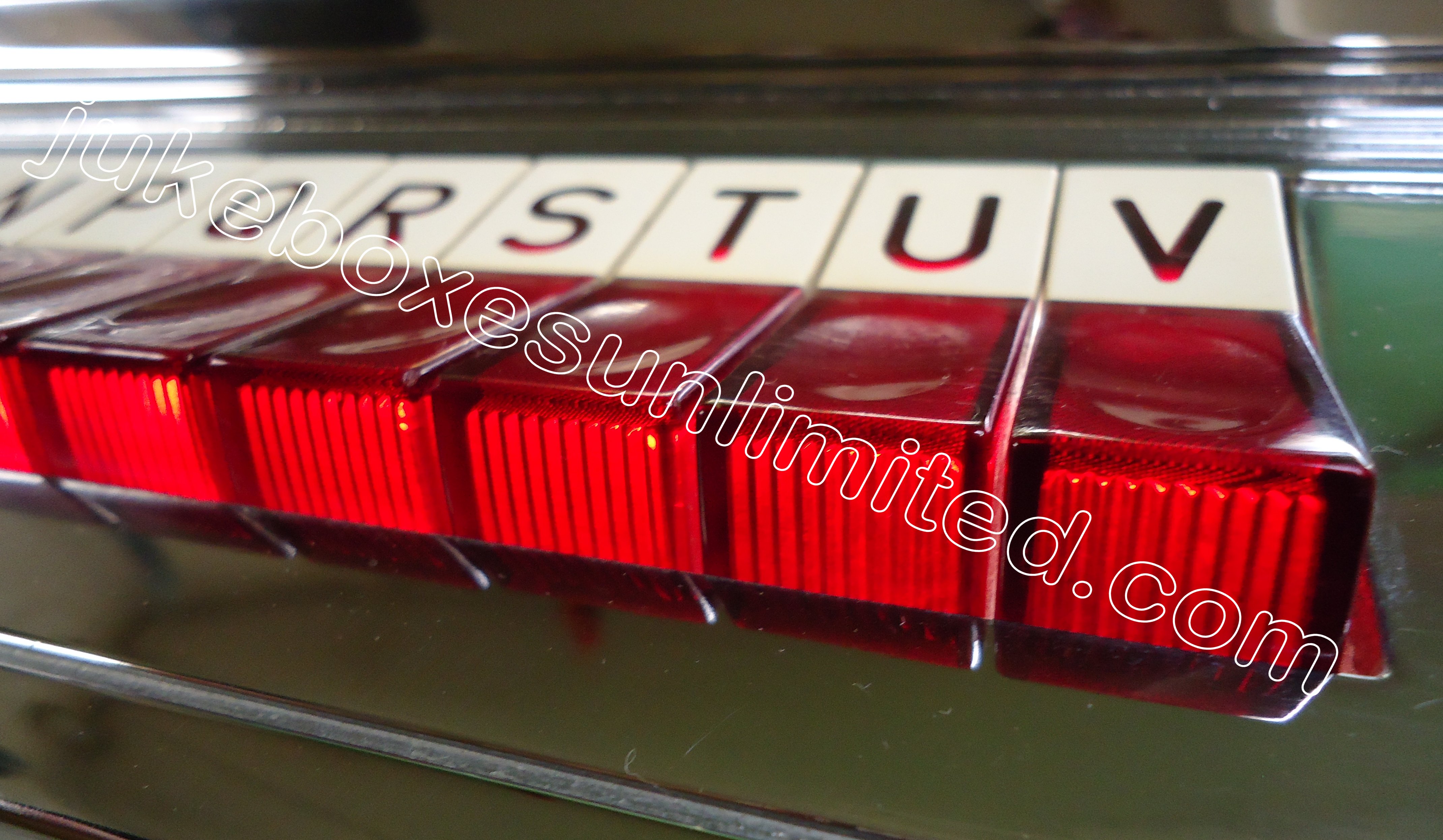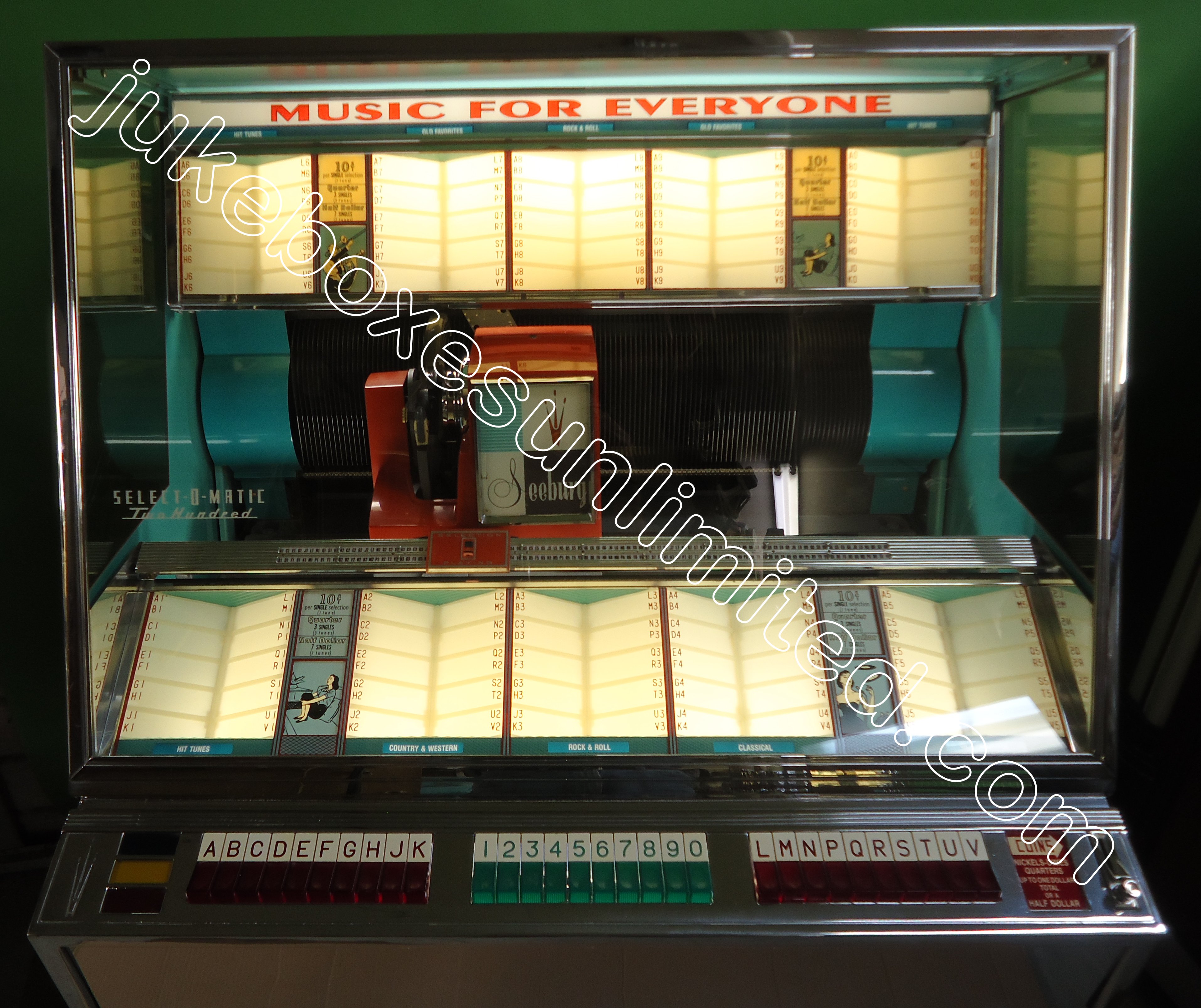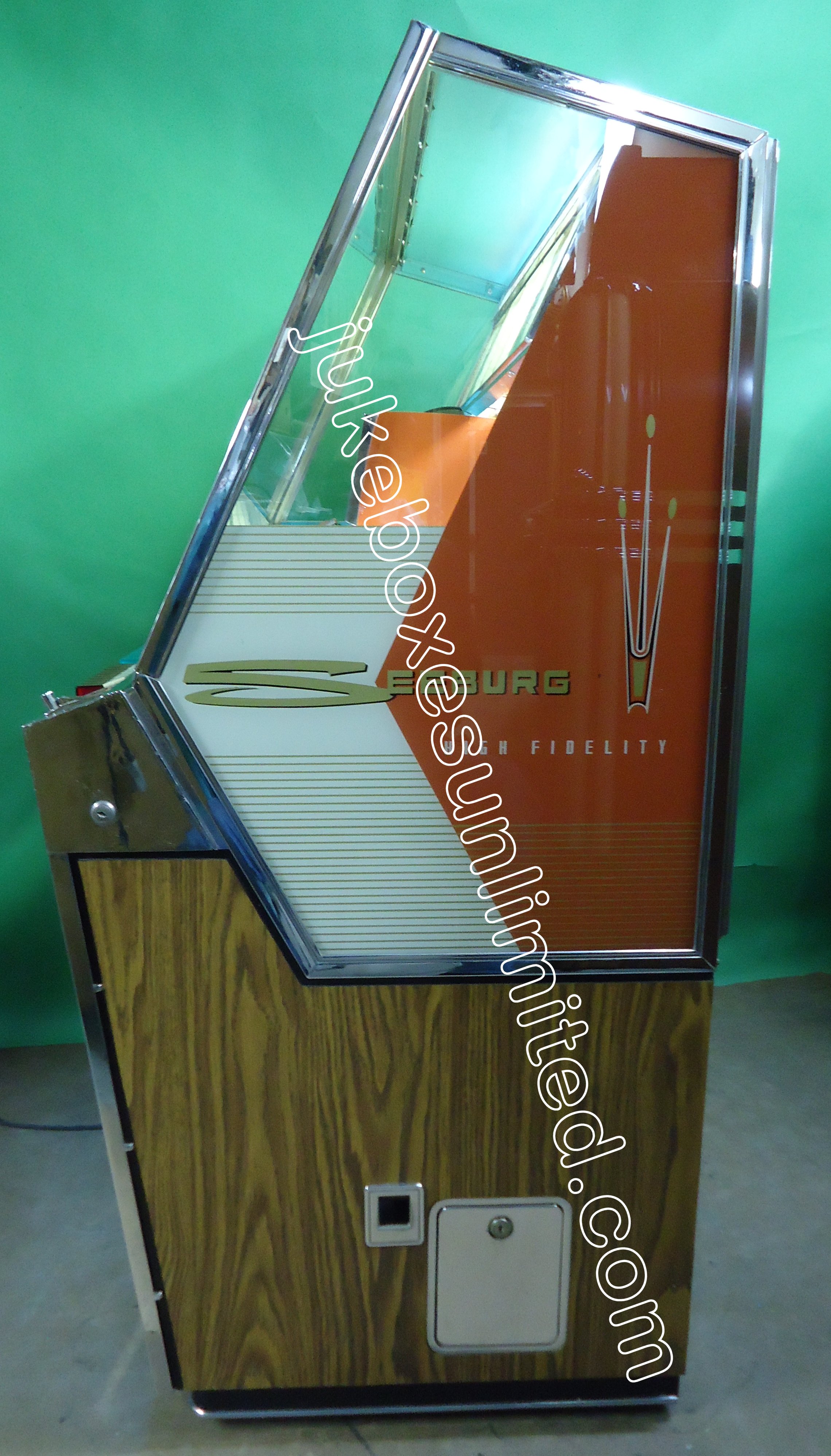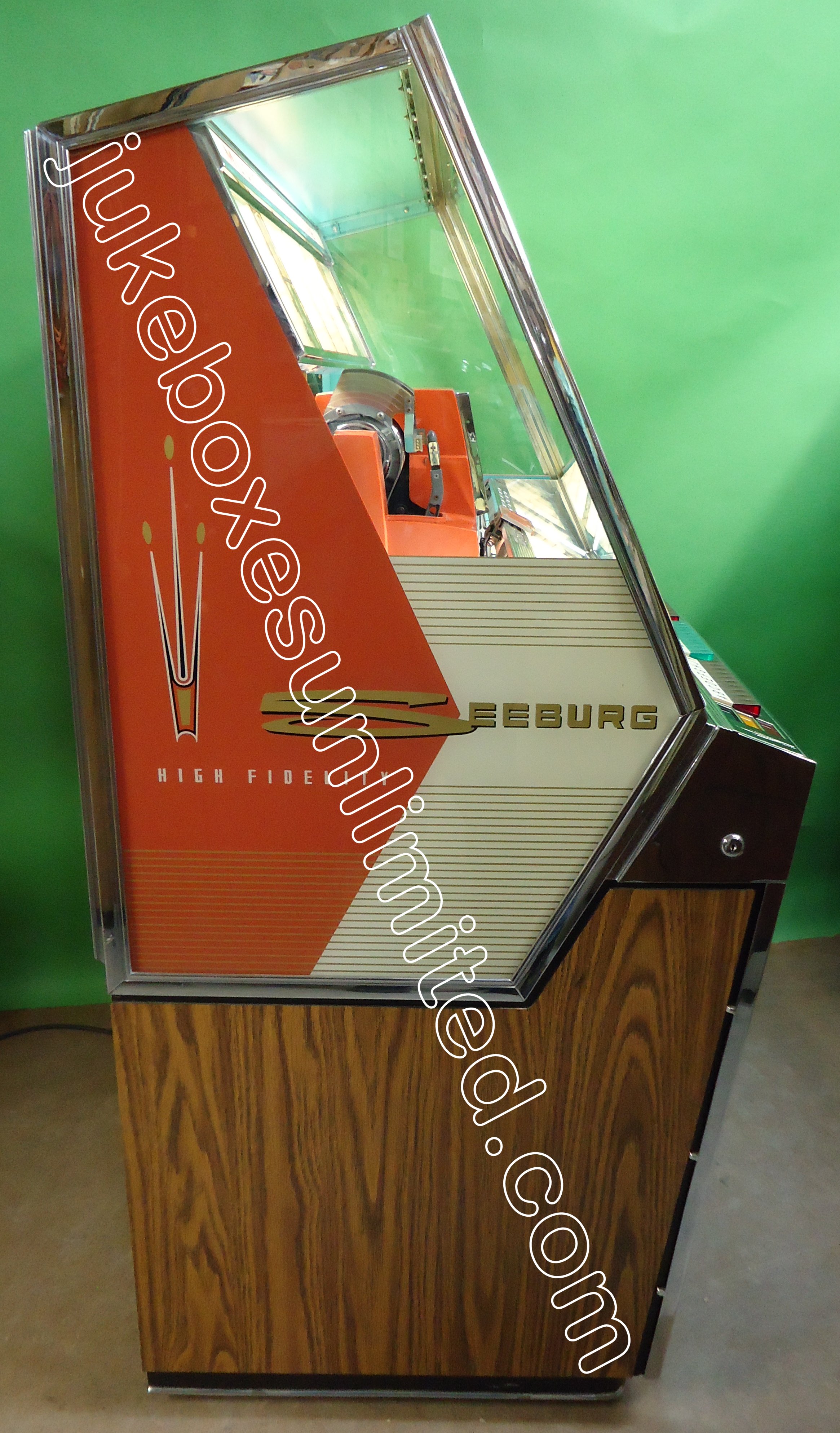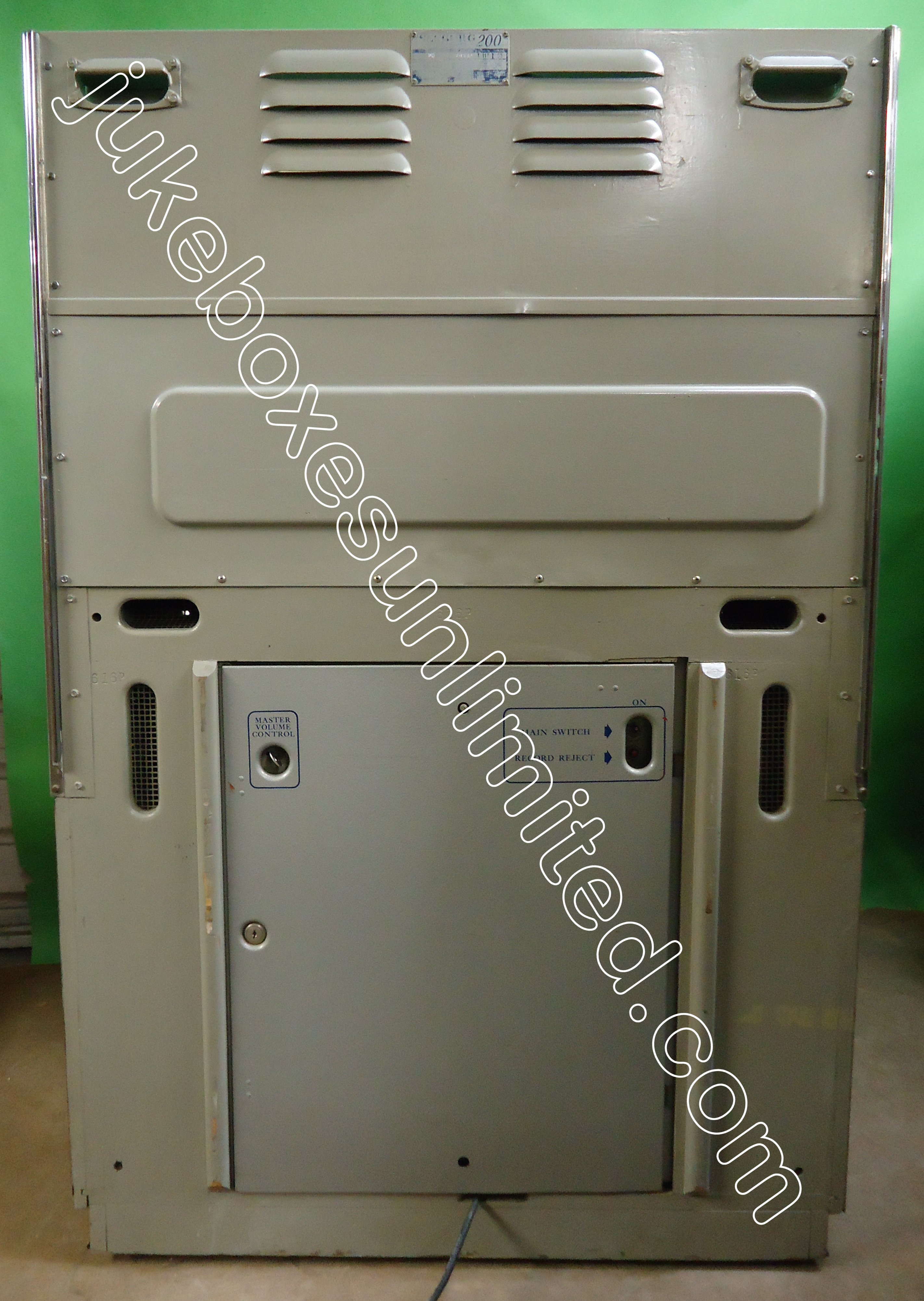 We ship worldwide and to insure proper care we crate the jukeboxes ourselves. Call us with your shipping address and we'll get you a competitive shipping/insurance quote (prices vary according to value and destination), unless you'd like to pick it up or have us deliver it in the Southern California area.
Our experience in servicing jukeboxes bought elsewhere through the Internet is that many sustain some kind of damage in transport. When you buy a jukebox from us we make sure the components inside are properly secured. In some cases we can send you detailed photos and instructions on how to unpack the unit and get it up and running.

"We only sell quality reconditioned jukeboxes that we'll be happy to service in the future.
This we've done since 1971."


If you're interested in any of our jukeboxes call us at:
1-818-366-9400, 10AM-6PM P.S.T. Mon.-Sat. or e-mail us: Info@JukeboxesUnlimited.com.

For jukebox rental information in the Los Angeles area visit Jukeboxes For Rent ®.